/ Source: TODAY Contributor
As a pediatric ICU nurse, Amber Boyd has cared for some very sick children. But when she met a 3-month-old preemie named Nicole, who was connected to numerous machines, Boyd felt a deeper, more profound connection: it felt maternal.
Nicole suffers from omphalocele, a rare condition where a hole in the abdominal wall causes the organs to develop outside of the body. Nicole's intestine, liver, gall bladder, and spleen grew in a sack outside her belly, which meant she couldn't breathe without a ventilator, eat normally, or even roll over. Her birth mother's parental rights were terminated, and Nicole became a ward of the state of New Mexico.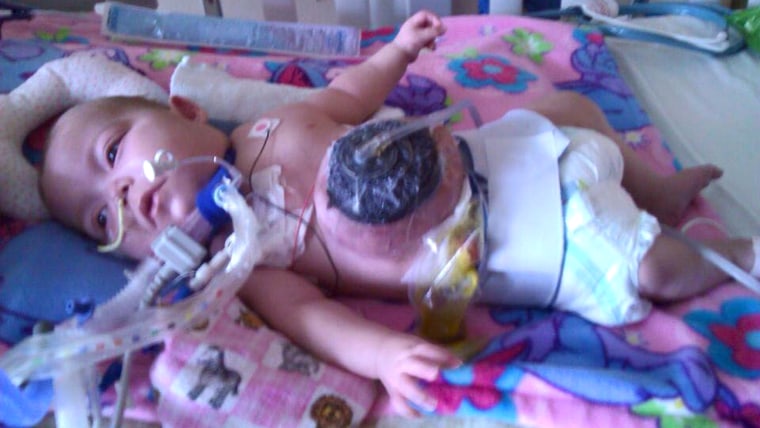 Soon after meeting her, Boyd asked to be Nicole's primary nurse.
"She was with us for 18 months and that whole time I was her primary nurse and formed that bond," Boyd, 28, tells TODAY. "She is just a fighter … she is just a great kid."
Until Nicole was about 11 months old, doctors kept her under heavy sedation and paralyzed her in order to treat her condition. Her health slowly improved, and case workers now had to discuss where Nicole would go after discharge. While leaving the hospital is normally a joyous occasion, for Nicole, it was an uncertain one. The biological aunt who cared for Nicole's twin, born without medical problems, couldn't adopt Nicole. And, a potential foster family fell through.
That's when Boyd had an idea—she could foster Nicole. She explained the girl's situation to her husband, Taylor, who agreed.
"I don't think I was surprised at all, honestly" says Taylor Boyd, 28. "I think [Amber's] just a very selfless personality. It is very much in her nature. Just any chance she gets, she does everything she can to be selfless."
Boyd herself was adopted, and the couple had talked about fostering and adoption. When Taylor Boyd met Nicole at 14 months, she was still on the ventilator, had a tracheostomy, and ate through a gastronomy tube inserted in her abdomen.
"The only part that kind of scared me [was] making sure I learned all the medical stuff. I wanted to make sure I didn't make her situation worse," he says.
But what he remembers about Nicole—and what's still true today—is her smile. Despite all her surgeries, treatments, and pain, Nicole grins constantly.
"She's a funny kid. She is just always really animated," he says.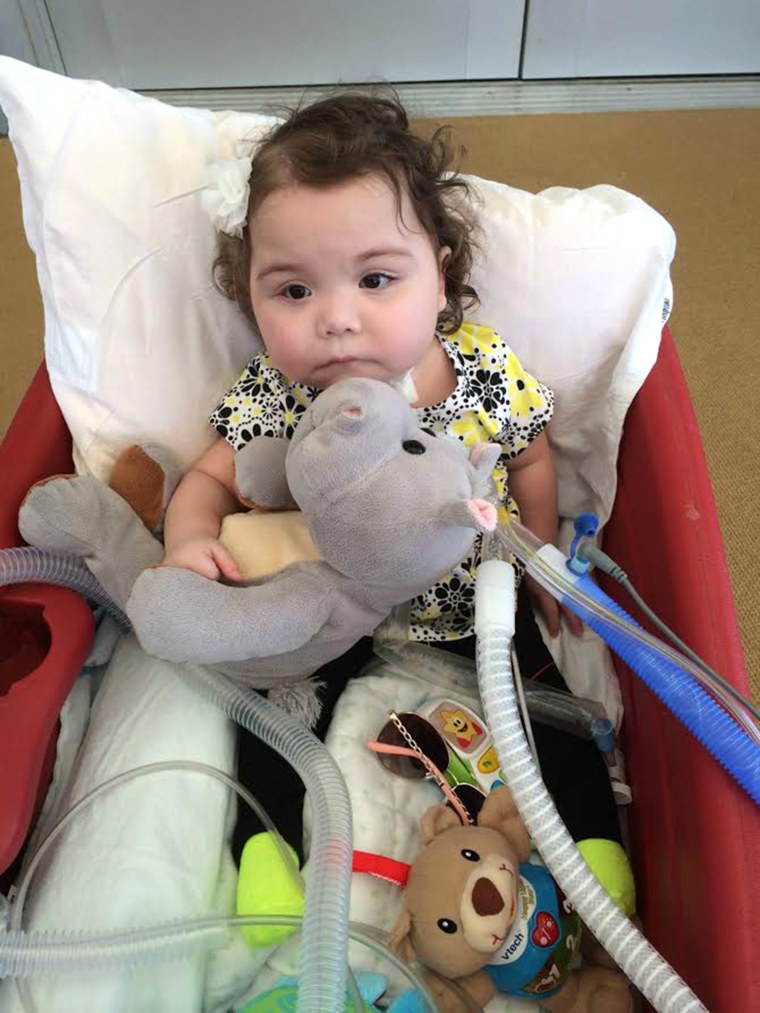 With the foster agreement in place, Nicole moved in with the Boyds, and over the past 18 months, she has flourished. In October 2015, she underwent surgery that finally closed up the opening in her belly and connected her abdominal muscles. Now 3, Nicole is able to walk, and doctors do not think she experienced brain damage. While she still has her tracheostomy and G-tube, doctors will eventually remove them and she'll be able to talk and eat like any other toddler.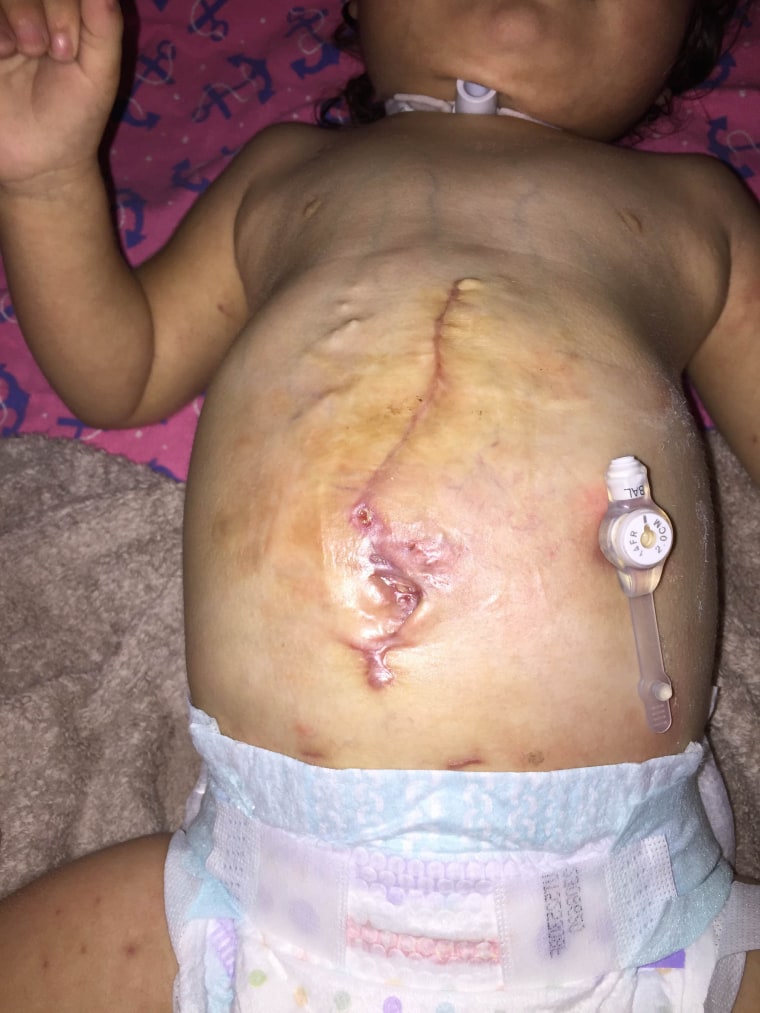 "She's incredible. She has learned in one short year … to crawl, stand, and walk," says Boyd.
While that might seem like normal development, Nicole's progress has stunned her physical therapists.
"We were pretty amazed that she could sit, because she was sitting without her abdomen being connected," says Taylor Boyd. Those core muscles that make sitting and standing possible weren't even attached when Nicole began sitting and standing.
While life with Nicole involves changing her trach and dressings daily and swapping out her G-tube every few months, cardiac arrests, surgeries (13 total so far), and hospital stays, the Boyds feel incredibly blessed.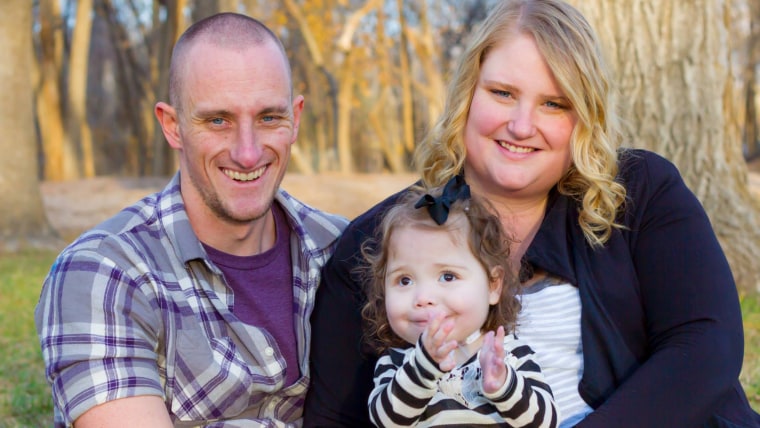 "I can't imagine a time without her," says Taylor Boyd. "We have only had her for a short amount of time [but] she has become a huge part of the family."
They knew they wanted Nicole to be more than just a foster child, and in February, a judge made the adoption official.
Nicole celebrated by fist-bumping the judge, while Boyd cried tears of joy.
"It is like a perfect fit. I don't know how to explain it, it was just right," she says.