A boy from Franklin, Massachusetts who was bullied at school for his painted nails got some touchdown-sized words of encouragement from Patriots tight end Rob Gronkowski, as well as from all around the internet.
Sam Gouveia, 5, was teased and mocked by classmates after he wore nail polish to school.
His dad, Aaron, shared the story.
"This is my son, Sam. He's 5. And today he learned how s----- and harmful #ToxicMasculinity is. My rage meter is spiking right now so excuse me if this is a little raw but there are some things I want to say about BS #gender norms (a thread)."
Noting that Sam is a "boy's boy" who is "rough and tumble," Gouveia explained that Sam also enjoys having "his nails painted bright colors because they look beautiful" and decided to wear nail polish to school one day.
Sam thought it was no big deal and was shocked when classmates mocked him.
Gouveia let him know that there is nothing wrong with a boy wearing nail polish and he shouldn't care what other kids think.
When Sam wanted to remove the polish, his dad told him a lot of men wear it. But he was at a loss when Sam asked if his favorite football player, New England Patriots tight end Rob Gronkowski, does, too.
In the end, Gouveia convinced Sam to keep the nail polish on and took it a step further by painting his own.
Twitter users reacted quickly and kindly, with images of boys and men wearing painted nails to show they stand with Sam.
Then, Sam's football hero chimed in. Star tight-end Rob Gronkowski made a video especially for Sam.
"Hey Sam, what's up? It's Rob Gronkowski here,'' Gronkowski said. "I heard some kids at school were giving you a hard time for wearing some nail polish. I just want to say, stay strong and do what makes you the happiest, and keep being yourself.''
Seeing Gronk, as he's known, made Sam's day. "He didn't quite grasp it at first," Gouveia said. "It took a few plays for him to realize this was a message from Gronk directly to him, but when he did figure it out you should've seen his smile."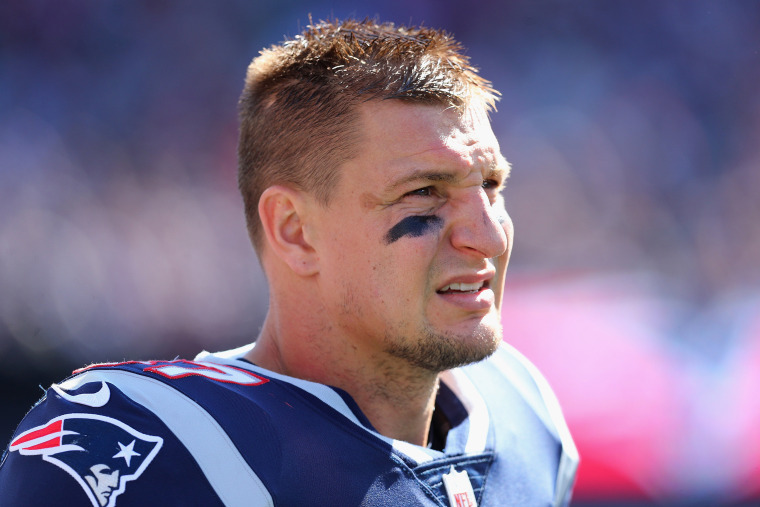 The entire episode has left a lasting impression on Sam. "It was the response from Twitter with all the people who sent in supportive words and guys sending pictures of themselves with nail polish on that convinced him it was OK to wear his polish proudly," Gouveia said. "I'll forever be grateful for the people who took the time to reach out and support a little kid from near and far. It truly made a difference."
Gouveia also believes there's a bigger lesson to be learned. "I'm hoping parents of boys who like traditionally feminine things won't feel so alone, and those kids will read this thread and see all the amazing men and boys who aren't afraid of being themselves."
Sam has no plans to stop wearing nail polish. In fact, his dad said, he even decorated his fingers with glow-in-the-dark skulls for Halloween.