It's safe to say that fraternal twin brothers Arman and Ronak Saxena are going places.
Arman was just named valedictorian at their Katy, Texas, high school, while Ronak is the salutatorian. Just how close was it? Ronak missed the top honor by half a point.
The ambitious 17-year-old twins credit their academic success to a friendly sibling rivalry.
"If he got an A on a test, I'd be like, 'Oh, I need to get this A as well,'" Ronak told NBC affiliate KPRC 2. 
Sara and Rohit Saxena, the boys' mom and dad — who both immigrated from India — have always encouraged their sons to do their best in all aspects of life.
"For academic success, we tried to expose them at a young age to different opportunities such as math competitions and reading competitions," Sara, who works as an engineer, told TODAY Parents. "Initially in the competitions, they didn't do well, so they learned to study harder, and when they saw better results — that inspired them to keep going."
Rohit, also an engineer, said his job was to make sure Ronak and Arman had fun.
"We didn't just focus on academics," Rohit told TODAY. "They played soccer and then later on, they did basketball. They're on the golf team."
Sara noted that her sons have completely different personalities. She described Arman as "introspective" and "wise beyond his years." Ronak is "the jokester in the family." But both are very humble.
"We asked them if they wanted to have a party to celebrate and they're like, 'Why?' they don't think it's a big deal," she said.
Both young men have a 4.865 GPA, and were enrolled in high school classes when they were in the seventh grade. They compete in chess and math tournaments, and founded Katy High School's quiz bowl team. Ronak noted that he and Arman have "always achieved the same level of success."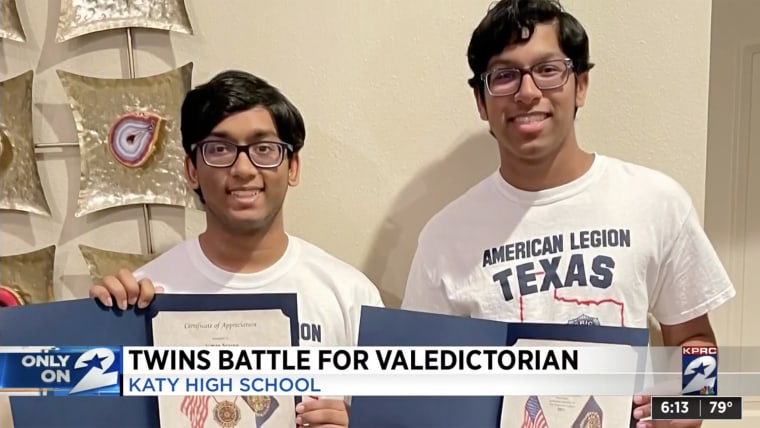 Arman and Ronak will continue cheering each other on at Rice University in Houston, Texas, in the fall. Arman plans to study statistics and business and Ronak wants to major in bioengineering.
"They have made it very clear to us that they will not be living together," Sara said. "They're very close — they've always been great friends — but they're also very independent."
In 2019, identical twin brothers Deontae and Deontre Wright were named the top two students in their graduating class in Toledo, Ohio. Deontae was the class valedictorian, while Deontre was the salutatorian.
Related: