It's the 50th anniversary of "Schoolhouse Rock!," the children's television show that made learning a blast.
The popular show, which premiered on Jan. 6, 1973 and ran every Saturday morning until the mid-1980s, featured animated shorts teaching kids topics like math, grammar, science and more.
One episode, titled "Three Is a Magic Number," demonstrated the value of the number 3 — in physics, patterns, math, and more. Other skits like "My Hero, Zero" showed how to count from zero through the perspective of a little boy who transforms into a superhero himself.
"Sure, it represents nothing alone, but place a zero after 1 and you got yourself a 10!" sang the boy. "See how important that is?"
Related: Find out what's new on 'Sesame Street' as it announces launch of season 53
According to the New York Times, advertising executive David B. McCall, who was perplexed by his son's ability to memorize song lyrics but not math equations, consulted singer-songwriter Bob Dorough about giving education a musical spin.
Some of the show's most popular bops included "Conjunction Junction," written by Dorough.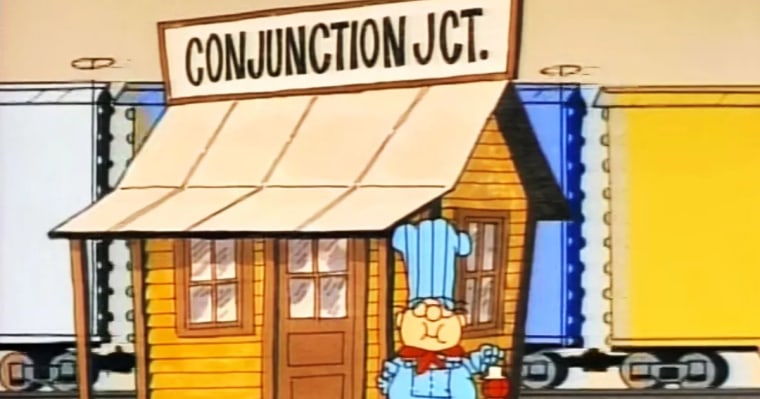 In the song, a cartoon train conductor explains the grammatical principal through snazzy lyrics:
"Conjunction Junction, what's your function?/ Hooking up words and phrases and clauses/ Conjunction Junction, how's that function/ I got three favorite cars that get most of my job done/ Conjunction Junction, what's their function/ I got and, but, and or/ They'll get you pretty far."
The tune "I'm Just a Bill" teaches how laws are made.
"I'm just a bill/ Yes, I'm only a bill/ And if they vote for me on Capitol Hill/ Well, then I'm off to the White House/ Where I'll wait in a line/ With a lot of other bills/ For the president to sign/ And if he signs me, then I'll be a law/ How I hope and pray that he will/ But today I am still just a bill."
And "Electricity, Electricity" was all about how electricity powers our lives.
The reach of "Schoolhouse Rock!" continues — in 2010, the U.S. Department of Education changed its hold music to "Conjunction Junction" so people in line could enjoy nostalgia.
In 2014, NBC's "Saturday Night Live" spoofed "I'm Just a Bill" during an episode in which Kenan Thompson (dressed as an "immigration bill") sings the song while being pushed down the steps of Capitol Hill by Jay Pharaoh, playing President Barack Obama.
Related video: