When Kamelia Zarka started working for Hawaiian Airlines as a flight attendant in 1992, she never dreamed that one day she would be breaking barriers as both a Tongan woman and mother.
Not long after Zarka began working for the airline, she pursued her private pilot's license and later took a leave of absence from working as a flight attendant to obtain additional certifications needed to fly commercial airplanes.
On her 38th birthday, seven years into her pilot's training, she received a call from Hawaiian Airlines to work for the company as a pilot, becoming the first Tongan woman to captain a commercial airliner in 1999.
"When I was hired, women made up four percent of pilots of the industry — now it's about eight percent industrywide — and even higher at Hawaiian," Zarka, 61, said in a news release earlier this year.
But Zarka wasn't done breaking barriers. On Aug. 31, the mom of two had someone special in the cockpit alongside her: First Officer Maria Zarka, her eldest daughter.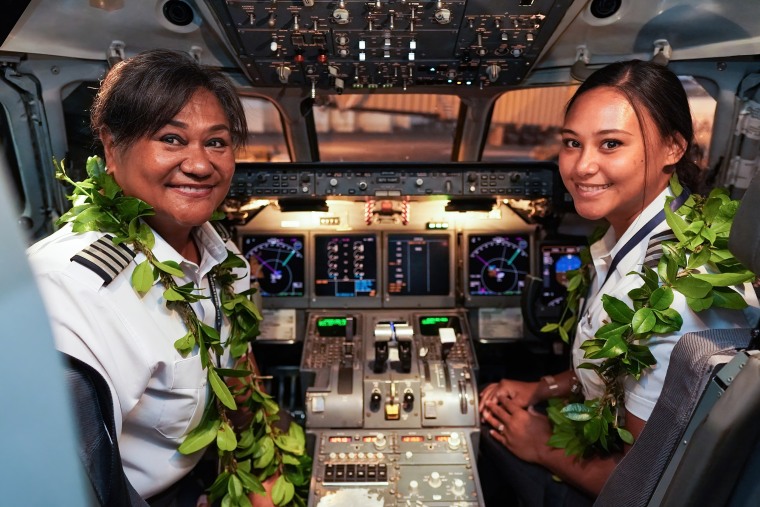 The mother-daughter duo shared the cockpit, flying between neighboring islands in a Boeing 717 aircraft.
"I can't reiterate how much of a gift sharing the cockpit with my daughter, Maria, was to me," Zarka told TODAY Parents, adding that memories of the day are ones she will treasure. "I always knew Maria would be a fantastic pilot — she's always been brilliant and professional — but sitting next to her as she flew the plane with such skill and ease still blew me away."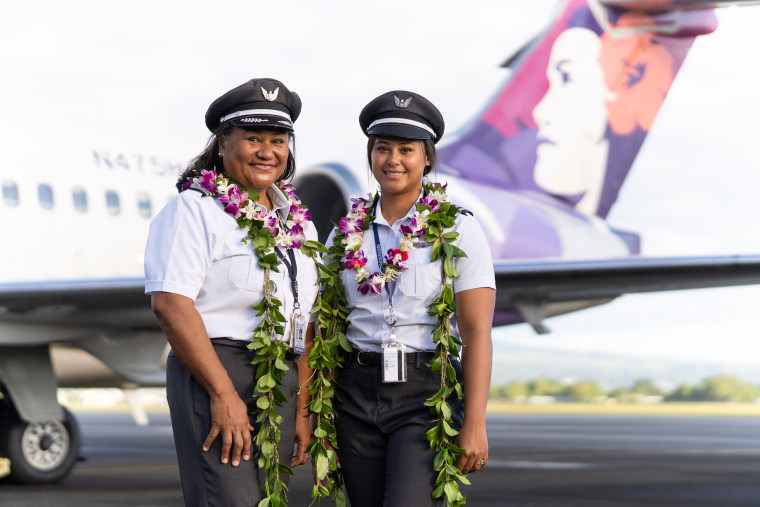 Maria was hired by Hawaiian Airlines earlier this year after working for Republic Airlines in New Jersey for two years.
Related: All-Black female crew operates airline flight to honor Bessie Coleman
The 28-year-old said that while she grew up traveling and spending time around planes, her love for flying didn't really "sink in" until college when she took her first demo flight, an experience that allows people to take controls of an aircraft under the guidance of a licensed flight instructor.
"Once I started flying, I was hooked and knew I wanted to follow in my mom's footsteps and become a Hawaiian Airlines pilot — which I did in April this year," Maria told TODAY Parents. "Our family is also excited for my little sister, Kaimana, who's currently working towards her commercial pilot license."
A spokesperson for the airline told TODAY Parents that the pair spent their day personally welcoming guests onboard, taking selfies with colleagues and encouraging young girls passing by to follow their dreams.
"I feel fortunate to have a mom who cares so much and has worked hard to pave the way for other females and me as the first Tongan female to captain a commercial airline," Maria told TODAY Parents. "And now it's my turn. I'm looking forward to continuing my mom's legacy while making my own mark as a Hawaiian Airlines pilot."
Added Zarka, "That day was a dream come true and instilled a sense of pride in me, as a mother and a captain, that I will never forget."
Related video: