Jennifer Aniston is celebrating her birthday by honoring the people who made her birth possible — John Aniston and Nancy Dow.
"The Morning Show" star turned 54 on Feb. 11, and one day later, she shared a sweet throwback photo of her as a child alongside her late father and mother.
"Thinking about these two humans that created me as I bask in the afterglow of a beautiful birthday🎈," Aniston wrote in the caption that accompanied the sepia-toned pic on Instagram.
In the photo, a young Aniston stands perched on a beachside rock as her actor parents, sporting some serious flashback fashion sense, stand in front of her.
John Aniston and Nancy Dow divorced during their daughter's youth, and the events around the split led to a strained relationship and several years of estrangement between the former "Friends" actor and Dow.
In a 2022 cover story for Allure, Aniston opened up about finding forgiveness in the wake of the family troubles. 
"I forgave my mom," she said. "I forgave my father. I've forgiven my family. ... It's important. It's toxic to have that resentment, that anger. I learned that by watching my mom never let go of it. I remember saying, 'Thank you for showing me what never to be.'"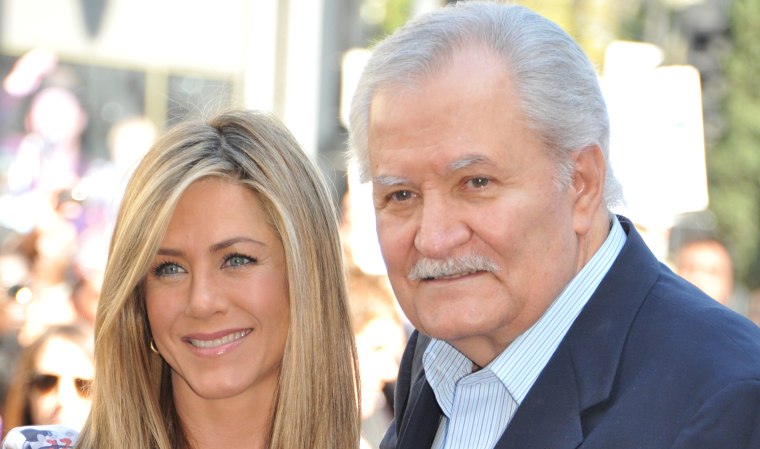 Dow died in 2016 at the age of 79, while the star's father died last November, at the age of 89.
In an Instagram message Aniston shared following her dad's death, she called him "one of the most beautiful humans" she'd ever known and added that she would love him "till the end of time."
As for her recent birthday post, Aniston closed that out with a note of thanks to her fans and followers.
"Thank you ALL for my beautiful birthday wishes," she wrote. "I felt sooooo much love from so many and ALL of it is going to carry me through this wild and beautifully unknown year ahead. I love you! ❤️🌸😘🙏🏼♒️"
Related video: