Family love can be the foundation of some of our life's deepest and most meaningful relationships. Family can also be the source of stress and anxiety, especially when it comes to major life events and holidays.
No matter how you slice it — for better or for worse — there's nothing quite like family.
While they're likely fully aware of just how much you love them, a friendly reminder is always a nice treat. And you don't need a special occasion to gush about the bond you share with your sibling, parent or grandparent, right?
90 family quotes to show your love
Whether you're seeking a short family quote to write inside a card for a sibling, a blessed family quote to share with a grandparent, or just a funny quote to make you laugh — these inspirational family quotes embody love, humor and the power of being thankful for the people we love most.
Inspirational family quotes
"If the family were a boat, it would be a canoe that makes no progress unless everyone paddles." — Letty Cottin Pogrebin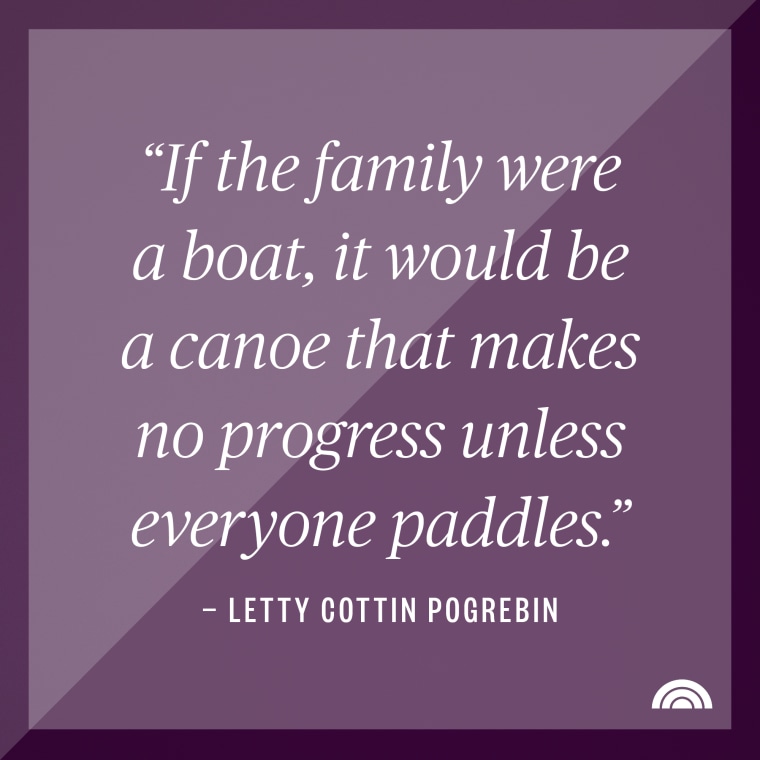 "Home is people. Not a place. If you go back there after the people are gone, then all you can see is what is not there any more."― Robin Hobb
"The strength of a family, like the strength of an army, lies in its loyalty to each other." — Mario Puzo
"A family is a risky venture, because the greater the love, the greater the loss … That's the trade-off. But I'll take it all." — Brad Pitt
"Family is family, whether it's the one you start out with the one you end up with, or the family you gain along the way." — Unknown
"To care for those who once cared for us is one of the highest honors." ― Tia Walker
"Family is the most important thing in the world." — Princess Diana
"Families don't have to match. You don't have to look like someone else to love them." — Leigh Anne Tuohy
"Being a family means you are a part of something very wonderful. It means you will love and be loved for the rest of your life." — Lisa Weed
"A man travels the world over in search of what he needs, and returns home to find it." — George A. Moore
"So much of what is best in us is bound up in our love of family, that it remains the measure of our stability because it measures our sense of loyalty." — Haniel Long
"That's what people do who love you. They put their arms around you and love you when you're not so lovable."― Deb Caletti
"My family is my life, and everything else comes second as far as what's important to me." — Michael Imperioli
"The love of family and the admiration of friends are much more important than wealth and privilege." — Charles Kuralt
"Our most basic instinct is not for survival but for family." — Paul Pearsall
"In every conceivable manner, the family is a link to our past, bridge to our future."— Alex Haley
"It is the smile of a child, the love of a mother, the joy of a father, the togetherness of a family." — Menacheim Begin
"Call it a clan, call it a network, call it a tribe, call it a family: Whatever you call it, whoever you are, you need one." — Jane Howard
"When everything goes to hell, the people who stand by you without flinching — they are your family." — Jim Butcher
"Families are the compass that guides us. They are the inspiration to reach great heights, and our comfort when we occasionally falter." — Brad Henry
"The homemaker has the ultimate career. All other careers exist for one purpose only — and that is to support the ultimate career." ― C.S. Lewis
"The greatest gift of family life is to be intimately acquainted with people you might never even introduce yourself to, had life not done it for you." — Kendall Hailey
"The world, we'd discovered, doesn't love you like your family loves you." — Louis Zamperini
"We may have our differences, but nothing's more important than family." — Miguel from "Coco"
"I believe the world is one big family, and we need to help each other." — Jet Li
"Family and friendships are two of the greatest facilitators of happiness." — John C. Maxwell
Short family quotes
"A man should never neglect his family for business." — Walt Disney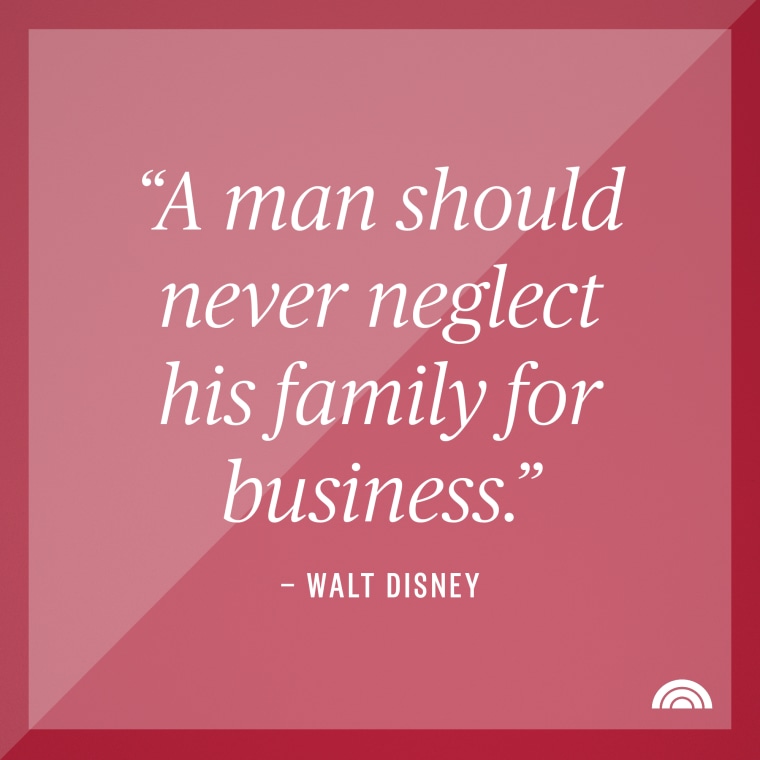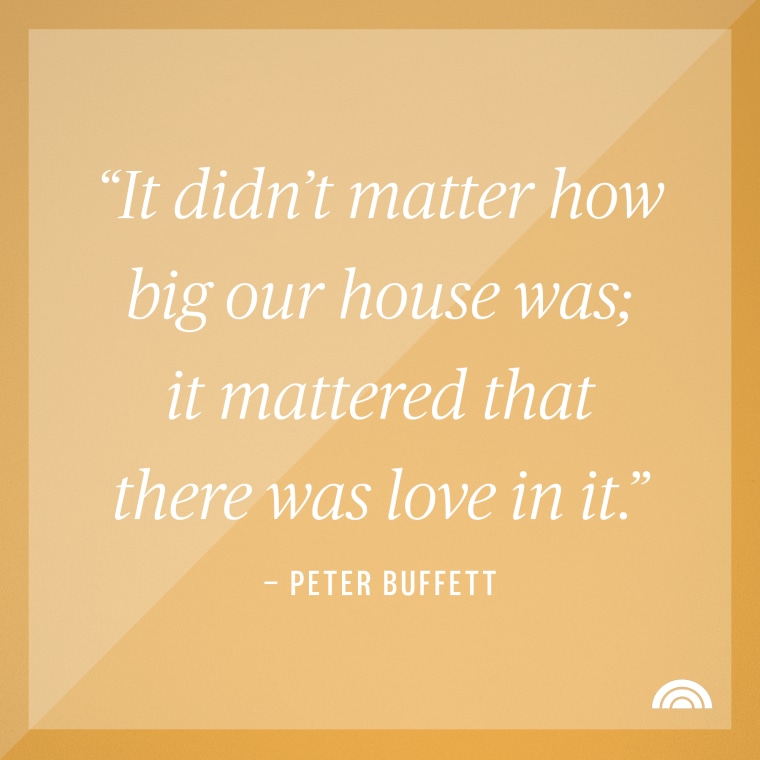 "The most important thing in the world is family and love." — John Wooden
"Alone, you are strong, but together, you'll be stronger than ever." – Unknown
"In time of test, family is best." — Burmese Proverb
"The family is one of nature's masterpieces." — George Santayana
"Family is not an important thing. It's everything." — Michael J. Fox
"Families are like fudge — mostly sweet with a few nuts." — Unknown
"Life is beautiful. It's about giving. It's about family." — Walt Disney
 "A happy family is but an earlier heaven." — George Bernard Shaw
"I have learned that to be with those I like is enough."― Walt Whitman
"Rejoice with your family in the beautiful land of life." — Albert Einstein
"Family is family." — Linda Linney
"Sticking with your family is what makes it a family." — Mitch Albom
"Life feels complete when you're together with your family." –Unknown
"Together, we make a beautiful family." — Unknown
"It didn't matter how big our house was; it mattered that there was love in it." — Peter Buffett
"Everyone needs a house to live in, but a supportive family is what builds a home." — Anthony Liccione
"Some people are worth melting for." — Olaf in "Frozen"
"Without a family, man, alone in the world, trembles with the cold." — Andre Maurois
"Many men can make a fortune but very few can build a family." — J.S. Bryan
"Family faces are magic mirrors. Looking at people who belong to us, we see the past, present, and future." — Gail Lumet Buckley
"It's all about the quality of life and finding a happy balance between work and friends and family." — Philip Green
Funny family quotes
"Obviously, if I was serious about having a relationship with someone long-term, the last people I would introduce him to would be my family."— Chelsea Handler
"A 2-year-old is kind of like having a blender, but you don't have a top for it."— Jerry Seinfeld 
"I grew up with six brothers. That's how I learned to dance—waiting for the bathroom." — Bob Hope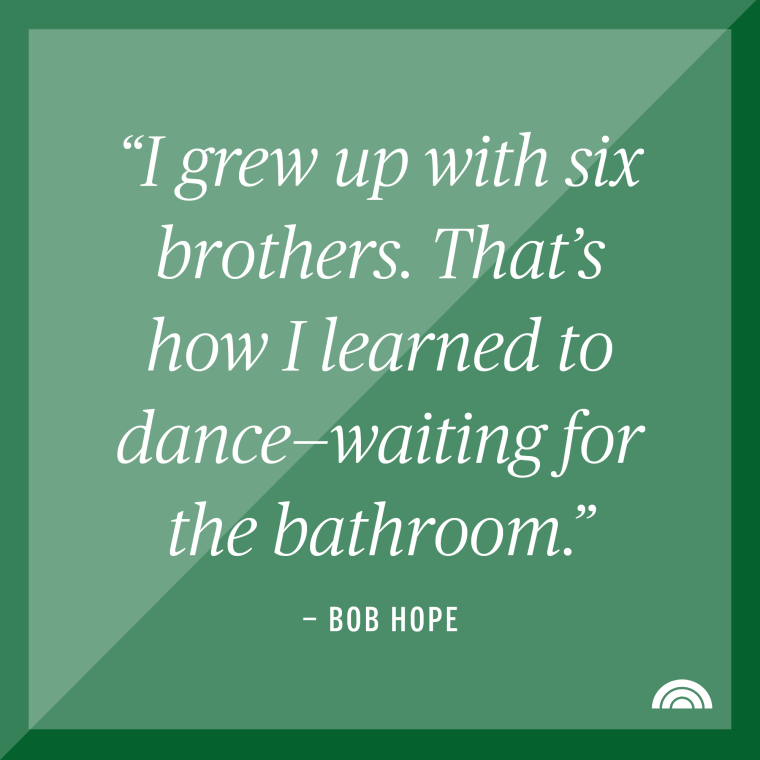 "Having one kid makes you a parent. Having two kids makes you a referee."— David Frost
"A family is a unit composed not only of children but of men, women, an occasional animal, and the common cold."— Ogden Nash
"If you cannot get rid of the family skeleton, you may as well make it dance."— George Bernard Shaw
"Being part of a family means smiling for photos." — Harry Morgan
 "One day you will do things for me that you hate. That is what it means to be family."― Jonathan Safran Foer
"All happy families are alike; each unhappy family is unhappy in its own way." — Leo Tolstoy
"When your mother asks, 'Do you want a piece of advice?' it's a mere formality. It doesn't matter if you answer yes or no. You're going to get it anyway." — Erma Bombeck
"My dear young cousin, if there's one thing I've learned over the eons, it's that you can't give up on your family, no matter how tempting they make it." ― Rick Riordan
"My grandmother started walking five miles a day when she was 60. She's 97 now, and we don't know where the heck she is." ― Ellen DeGeneres
"There is no such thing as fun for the whole family.¨ — Jerry Seinfeld
"Happiness is having a large, loving, caring, close-knit family in another city." ― George Burns
"The other night I ate at a real nice family restaurant. Every table had an argument going." — George Carlin
"Some family trees bear an enormous crop of nuts." — Wayne Huizenga
"I want my children to have all the things I couldn't afford. Then I want to move in with them." — Phyllis Diller
"Families are like fudge—mostly sweet, with a few nuts." — Les Dawson
"Family ties mean that no matter how much you might want to run from your family, you can't." — Anonymous
"As a child my family's menu consisted of two choices: take it or leave it." — Buddy Hackett
"Families are messy. Immortal families are eternally messy. Sometimes the best we can do is to remind each other that we're related for better or for worse...and try to keep the maiming and killing to a minimum." ― Rick Riordan
Blessed family quotes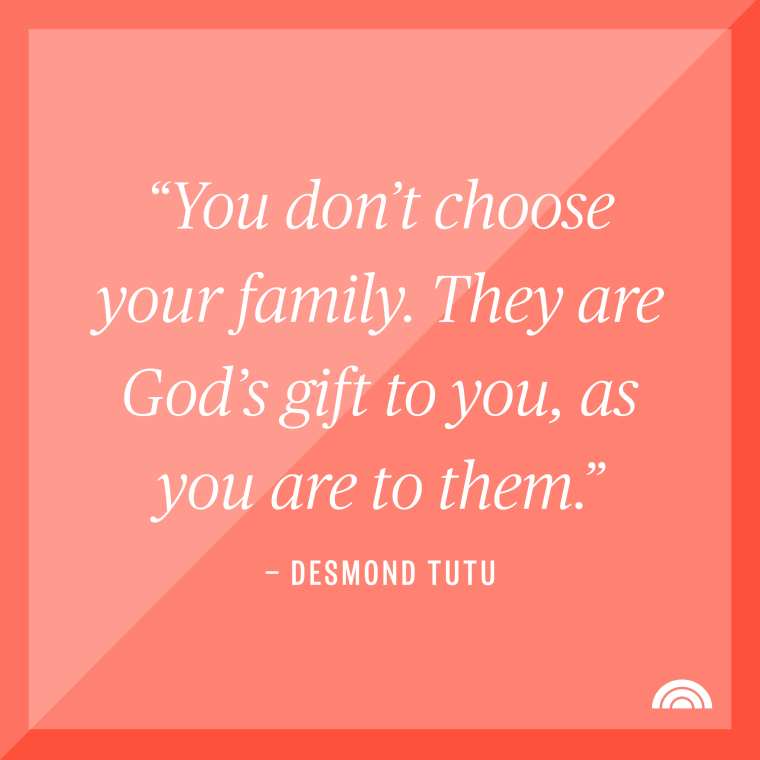 "You don't choose your family. They are God's gift to you, as you are to them." — Desmond Tutu
"There is no doubt that it is around the family and the home that all the greatest virtues… are created, strengthened and maintained." — Winston Churchill
"What can you do to promote world peace? Go home and love your family." — Mother Teresa
"To us, family means putting your arms around each other and being there." — Barbara Bush
"Children can never have too many positive adult role models in their lives." — Unknown
"When you look at your life, the greatest happinesses are family happinesses." — Joyce Brothers
"Being happy in your family is more important than being perfect." — Unknown
"The bond that links your true family is not one of blood, but of respect and joy in each other's life." — Richard Bach
"Parents were the only ones obligated to love you; from the rest of the world you had to earn it."― Ann Brashares
"The family is the first essential cell of human society." — Pope John XXIII
"Ohana means family and family means nobody gets left behind or forgotten." — Stitch from "Lilo & Stitch"
"I sustain myself with the love of family."― Maya Angelou
"I am blessed to have so many great things in my life — family, friends, and God. All will be in my thoughts daily." ― Lil Kim
"I have a wonderful shelter, which is my family." — José Carreras
"Having a place to go is a home. Having someone to love is a family. Having both is a blessing." — Donna Hedges
"You are the bows from which your children as living arrows are sent forth." — Khalil Gibran