/ Source: TODAY Contributor
It wasn't a splashy dream wedding, but it was a day that Patricia Armstrong, 24, will be forever grateful for — she married her love, Christopher Armstrong, 30, in a Lexington, N.C., hospice so that their son, Conner, could be in attendance.
The couple made the choice to wed in the unconventional setting when doctors advised them that Conner, who was diagnosed with a rare genetic disorder before birth, didn't have much time left.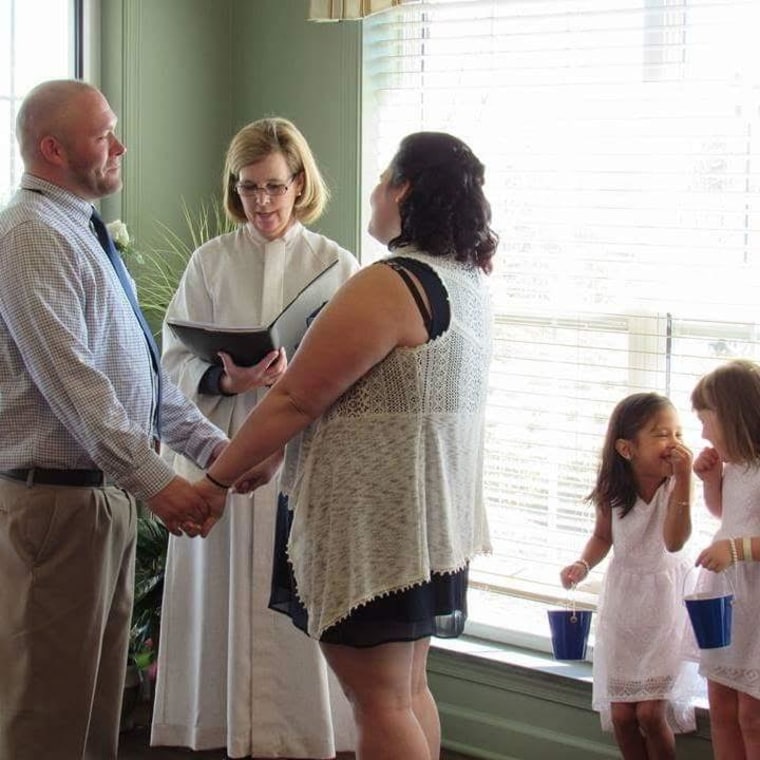 Conner, who was born on Feb. 2, was diagnosed with Trisomy 18 during his mother's pregnancy. The disorder occurs in 1 in every 2500 pregnancies in the US and produces an extra 18th chromosome, which causes birth defects, including holes in the heart. Most babies with the disorder do not survive a pregnancy, and rarely make it past one year of age.
"He was diagnosed at 20 weeks along," mom Patricia told TODAY Parents. "We were in disbelief the whole time, even after he was born, we were almost in denial. When he failed to thrive is when it started to sink in. I was heartbroken to know there was nothing the doctors could do to help my baby."
After Conner's health started to decline, doctors at the hospital advised moving the baby to hospice. The staff there suggested that the couple have their wedding right there.
"When the doctors said he didn't have much time left, we made a decision to get married some way, somehow, around that time," explained Patricia. "A priest that worked with hospice agreed to marry us."
Never miss a parenting story with TODAY's newsletters! Sign up here
The March 11 wedding touched the family and the entire hospice staff, who all lent a helping hand. Daughters Graci, 6, and Aubree, 5, were at their parents' sides.
"It was small, but I couldn't ask for a better wedding," Patricia said. "I was beyond grateful that I was able to have the opportunity to include our son and two daughters in our wedding.
"The staff actually helped a lot with setting everything up," she said. "They got me a wedding cake and had everything set up for us to get married...Our son was the first baby to ever be at that hospice location (and) they seemed excited to be a part of anything to do with our son."
Baby Conner passed away on March 14, just three days after the wedding. The family is still having a hard time coping with the loss.
"It's tough, really tough," said Patricia. "The girls are having a hard time as well but we are taking things one day at a time."
The family has set up a GoFundMe page to help cover funeral costs.