/ Source: TODAY contributor
After giving birth to quintuplets three months early, Bridgett Maskell and husband John Mistalski know their babies face a tough road. But also knowing the odds of having spontaneous quints in the first place is 1 in 60 million, they keep faith and hope alive.
Maskell, who took a fertility drug to conceive but did not undergo in vitro fertilization, welcomed five new babies into the world at Buffalo's Women's & Children's Hospital on Thursday. The infants, delivered at only 25 weeks, called for quick action by 40 doctors, nurses and staff in the hospital's intensive care unit, who handled five deliveries that occurred in just 6 minutes' time.
'Holding their own'Maskell heads home from the hospital today, but it could be months before her children follow her. The couple's doctor, Stephanie Mann, puts the chances of all five babies surviving at 30 percent.
Still, their mother sees a fighting spirit in her newborn three girls and two boys. "It was a tough road," Maskell, accompanied by her husband and Dr. Mann, told Meredith Vieira via satellite on TODAY Tuesday. "I was very nervous about them being born so early. I know the chances of survival were lower.
"But I went down this morning already and saw them, and they're all holding their own. There's no major change from last night, so they're doing very well as far as I'm concerned."
Maskell brought twins from a previous marriage — Brandon and Aimee, now 9 — into her marriage to Mistalski. The couple tried on their own to have children for two years before deciding to use medicine to give them a push toward a successful conception.
It worked — and then some. Maskell received an injection of Ovidrel, which helps ensure that when a woman's eggs are released, they're mature enough to be fertilized. Doctors told the couple there was a slight chance that triplets could result, but when Maskell's first sonogram was taken, doctor and parents alike were shocked to see five fetuses in the womb.
The couple were offered the option of reducing the number of embryos to give the others a better shot at survival. Maskell and Mistalski wouldn't hear of it.
"I didn't feel it was our decision to decide which ones would have the opportunity to live in this world and which ones didn't," Maskell, 34, told Vieira. "That's something that someone else needs to decide."
Sudden changeMaskell said her pregnancy had been going along without any medical drama, although she left her job at Wal-Mart 20 weeks into her pregnancy. But on Sept. 28, she woke up bleeding and called her sister to rush her to the hospital.
"I was doing fine," Maskell told NBC. "I wasn't having any contractions at all, and then all of a sudden, I couldn't breathe; then contraction after contraction, so I knew [Dr. Mann] was going to deliver them."
Of the babies, the girls named Kayla, Ramona and Anna Belle seem to be faring best. Boys Justin and Tyler are suffering from bleeding on their brains and are scheduled to undergo tests today to determine how severe the bleeding is.
Dad John, 36, says the family is coping with their worries over the babies' survival as best they can, and taking the joys of being new parents one day at a time.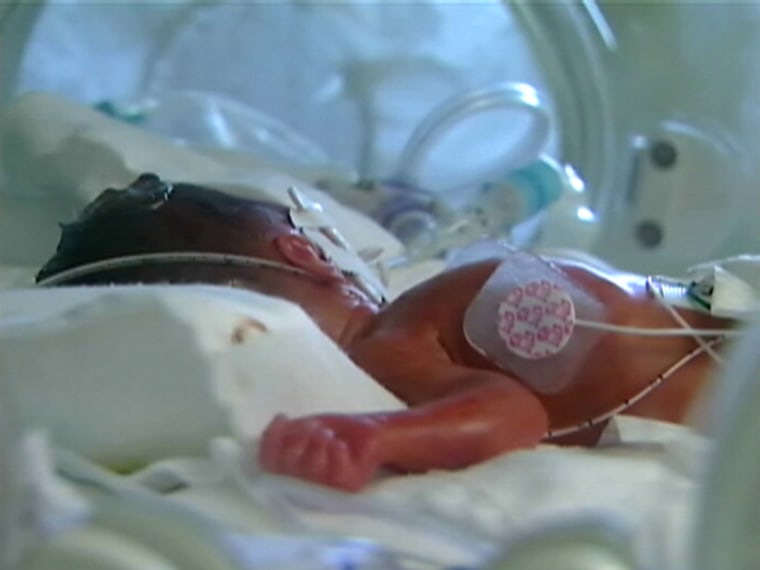 "I'm just being strong for them," he told Vieira. "I have the support of their mother and the twins. Every day, it's just a blessing to see them."
Dr. Mann said the birth of spontaneous quintuplets is "hardly heard of," noting that most high-multiple births, such as the famous case of octuplet mom Nadya Suleman, occur via in vitro fertilization. The average estimate for spontaneous conception of quintuplets is 1 in about 60 million births.
An Arizona couple, Bryan and Jenny Masche, gave birth to sextuplets in June 2007 after employing both artificial insemination and medication to stimulate ovulation. Delivered via Caesarean over a 6-minute span, the Masches' three boys and three girls are now 2 years old. Spontaneous sextuplets are even rarer than quintuplets; the chances are about 1 in 4.7 billion without fertilization treatment.
As the Masches did, Maskell and Mistalski now face enormous costs: Each day the quints are ringing up a hospital bill as high as $100,000.
In addition, the quints are likely to have special needs that could last years. Dr. Mann told Vieira: "They definitely have a long road ahead of them, just getting through the intensive care nursery for the next couple of months, and then several years down the line in terms of the developmental outcome and all the challenges they're going to face."
Still, Mann says the babies are doing "not bad for 25 weeks," and the new parents look forward to the day they bring their babies home.