Is America suffering a major "baby bust?" In a recent Wall Street Journal story, writer Jonathan V. Last notes the nation's falling fertility rate, calling it the root cause of many of our economic problems and warning that it's only going to get worse from here.
Last cites the fact that middle-class women in the U.S. have a fertility rate of 1.6, not so far off from the 1.54 fertility rate of Chinese women, who live under the country's one-child policy. When fertility rates drop, Last says, a country's age profile begins to shift, population contracts, and nations struggle.
But while Last discusses the falling fertility rate in terms of finances and population dynamics, for most families, the decision of how many children to have is primarily an emotional one. Their choice of family size can't be simply explained by demographic trends like divorce rates, later marriages and the rising cost of education.
Many parents say their ultimate decision comes from the gut.
Devon Corneal, a lawyer and blogger in Montclair, N.J., who has a 5-year-old son and a teenage stepson from her husband's previous marriage, says she's known since she was very young that she wanted to be a parent— but also that she wanted one child.
"When I actually had my baby," she says, "it only reinforced how I always felt, and I knew a bigger family just wasn't what I wanted for me personally."
Some women go into motherhood without a preconceived number in mind, and discover that one is right for their family after they have their first baby.
Jeanne Sager mom to 7-year-old old Jillian and staff writer for The Stir, who lives in upstate New York, says she and her husband "just knew they wanted to be parents," but weren't thinking about how many kids they would or wouldn't have when they decided to start their family. In fact, Jeanne was 23 when she got pregnant, giving her plenty of time if they decided on a larger family. But after having their daughter, they both realized that "one really works perfectly for us."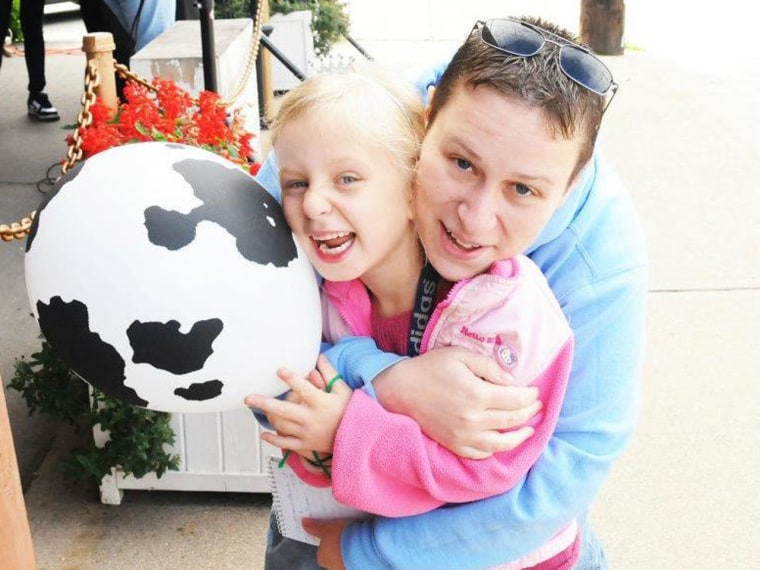 "Of course, there's no 'right' number of children," says psychiatrist and TODAY contributor Dr. Gail Saltz. "Choosing to have a child is a very personal choice between you and your partner. There's no equation that will make you happy or unhappy."
As Saltz explains, there are just so many psychological factors, both conscious and unconscious, that go into how many children you want to have. Things like whether you have a sibling yourself, your current relationship with him or her, and the family experiences you had growing up all play into your decision about the number of children that will make you happiest as a parent.
Francine Jay, a mother in Pennsylvania and author of "The Joy of Less, A Minimalist Guide," blogged about the pressure she felt to have another child before her daughter was out of diapers.
But today, with her daughter a year old, Jay says she and her husband have come to the decision together that one is the perfect number for their family.
At first glance, Jay may look a lot like a model for America's declining fertility. She and her husband were together for over a decade before they decided to start a family, and they lived what she describes as a "pretty carefree, nomadic life with few responsibilities." They traveled extensively and now both have careers, which they'd rather not put on hold for more kids.
For them, the choice to have one child felt instinctive. "We knew we didn't want to be childless, but we still had a hard time picturing ourselves with children," says Jay. "For us one child turned out to be the sweet spot in between."
Susan Newman, a social psychologist and author of "The Case For the Only Child," advises all parents to go with their gut — and not to bend to social pressures to have more kids if that's not what will make you happiest.
"You have to go with what works for you," says Newman. "It's not like the 1950's anymore, with the white picket fence and the boy and the girl and the dad who goes off to work every day. That's just not reality."
When Wendy Widom, a Chicago mom and president of Families in the Loop, was asked by her 6-year-old daughter why she's an only child, Widom told her: "You know how you feel so happy and full after a yummy, hot-fudge sundae with rainbow and chocolate sprinkles on top, like there's nothing else in the world you could possibly ever need or want?"
Well that, Widom says, "is exactly how it's been for your dad and me since we had you."