A Florida high school is receiving national attention this week after flyers announcing that an assault rifle would be raffled off as a fundraiser went viral.
Astronaut High School, located in Titusville, Florida, says the fundraiser is not affiliated with the school. Instead, volunteers within the Project Graduation program — a parent-run organization that works to raise money to provide an adult-supervised, drug- and alcohol-free activity as part of students' post-graduation activities — created the flyers advertising the raffle as part of their fundraising efforts.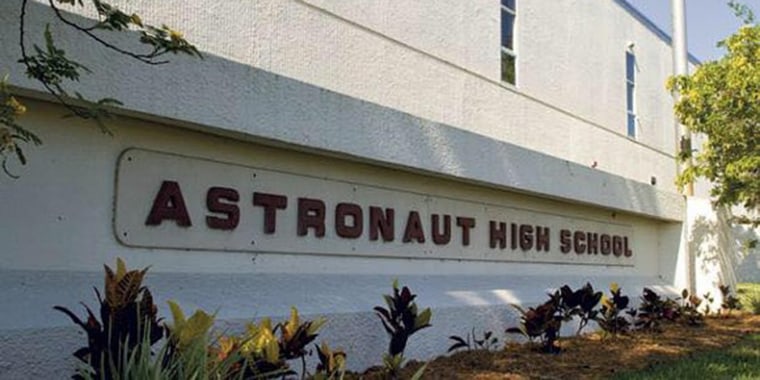 "Project Graduation is not a school-based organization and Astronaut High School nor Brevard Public Schools receive any funds or benefits from the program," Russell Bruhn, chief strategic communications officer for Brevard Public Schools, told TODAY Parents. "The school district has no affiliation with Project Graduation."
As such, school officials have told Project Graduation representatives they must remove "Astronaut High School" from all flyers promoting the raffle.
"We were made aware that Project Graduation has a raffle where the prize is a gun," Bruhn confirmed. "We understand that this is a sensitive subject and we want to remind our community that this raffle is not being run through Astronaut High or Brevard Public Schools."
A Project Graduation representative did not respond to TODAY's request for an interview.
A photo shared on Facebook showing the flyer indicates that a Diamondback 15CCMLB — a military-style semi-automatic firearm — will be raffled off for the fundraising effort.
Depending on the number of tickets purchased, the fee for entering the raffle, which will take place on May 24, ranges between $10 and $70. According to the Diamondback website, the rifle retails for more than $600.
On Orlando-based CBS affiliate WKMG's Facebook page, followers expressed both outrage and support for the raffle, which, according to Florida Today, comes just a few years after Astronaut High School averted what was described as a "Parkland-style shooting."
"Responsible gun owners would also find this troubling," said one follower. "It's in very bad taste considering the amount of mass school shootings that occur. I don't care that 'back in your day' you brought guns to school. Read the room."
"If the rifle has been used in an assault," wrote another, "it should be in an evidence room. If no assault occurred using the rifle, it's just a rifle and good luck to whomever tries to win."
According to the Bureau of Alcohol, Tobacco, Firearms and Explosives' website, it's legal to raffle off a firearm, provided the normal legal processes for transferring ownership of or selling the gun are followed and the winner completes a background check and completes appropriate paperwork after winning.
The National Rifle Association's Institute for Legislative Action reports that the state of Florida does not require permits, registrations or licenses to possess or purchase a rifle, shotgun or handgun. Only handguns require a permit to carry. Brevard County adheres to similar gun laws.
Related: