Last year, Lindsey Berger's son Jordan had a Halloween costume idea that caused her to panic: He wanted to be a pillow. She worried how to pull it off.
"You can't buy a pillow costume. I am the most uncreative, not handy, not crafty person on the planet. I cannot even sew," Berger, an attorney in Plainview, New York, told TODAY.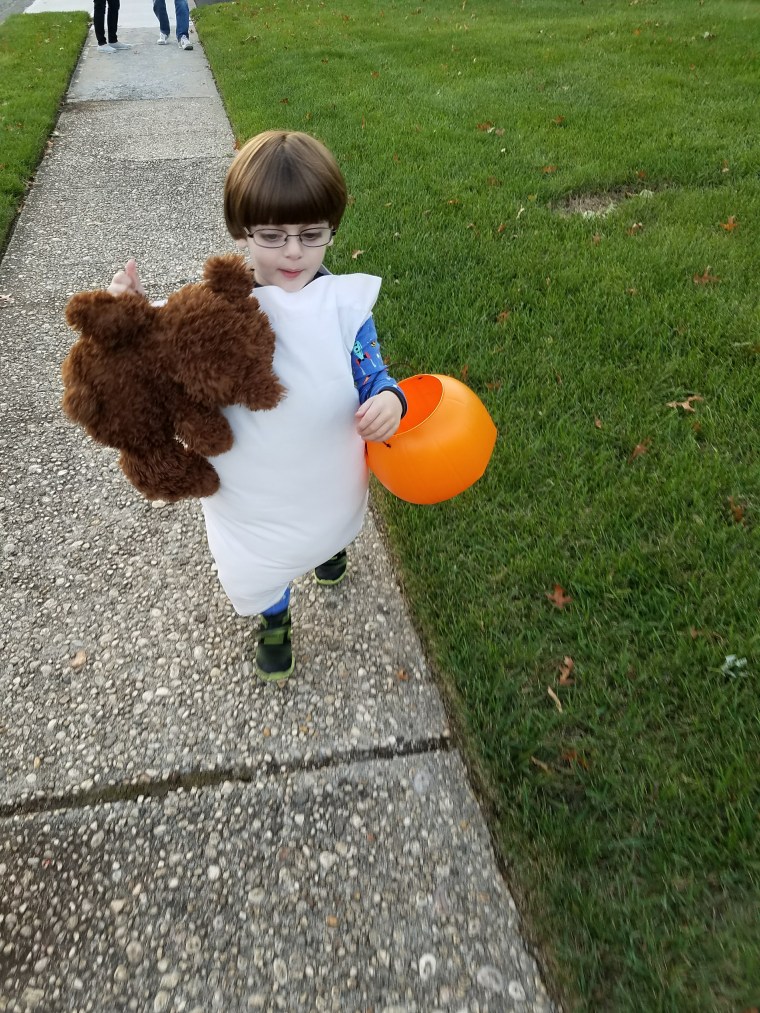 So, Berger bought several extra-large pillow cases, some Velcro strips and stuffing to try to create a pillow costume. First, she cut the arm and leg holes in the wrong place. The second attempt was better, but she struggled to keep the pillow closed and went through tons of Velcro strips. And, it was a one-wear costume because Jordan was literally stuffed in it.
"Once he took it off, I had to un-stuff it," she explained. "I couldn't put it back on."
Challenging requests from children seem like a normal part of parenting. But Halloween costume demands can almost break a parent. Yet, so many try.
TODAY Parents contributor Terri Peters remembers making an impossible costume for her son Bennet. The then 2-year-old loved a giant pig sign at their local diner (which he mispronounced as "ninner"). When he asked to be the "ninner pig" she started a frenzy of crafting.
"I made it. In my basement. On a sewing machine," she said. "Bennet was obsessed with this pig."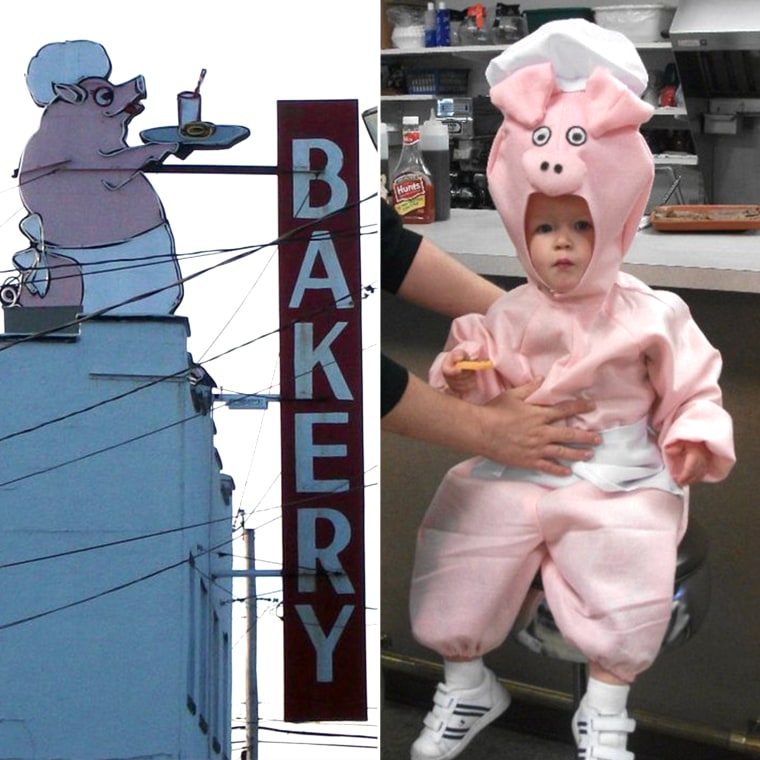 Emily Christensen-Flowers is currently trying to make her son, Joseph, 4, a J-train costume. He's obsessed with the New York City subway. With a little help with online tutorials and $6 worth of cardboard boxes and duct tape, she has a pretty solid subway car. Though, Joseph did ask if the doors would open (they will not, but there are working lights). What's important to Christensen-Flowers is that Joseph is helping by drawing on it.
"You can be a super mom and make this whole thing for him but I thought 'How do I include him?'" the director for digital video for news gathering at NBC told TODAY. "I want him to do the rest of it. Then it is his costume."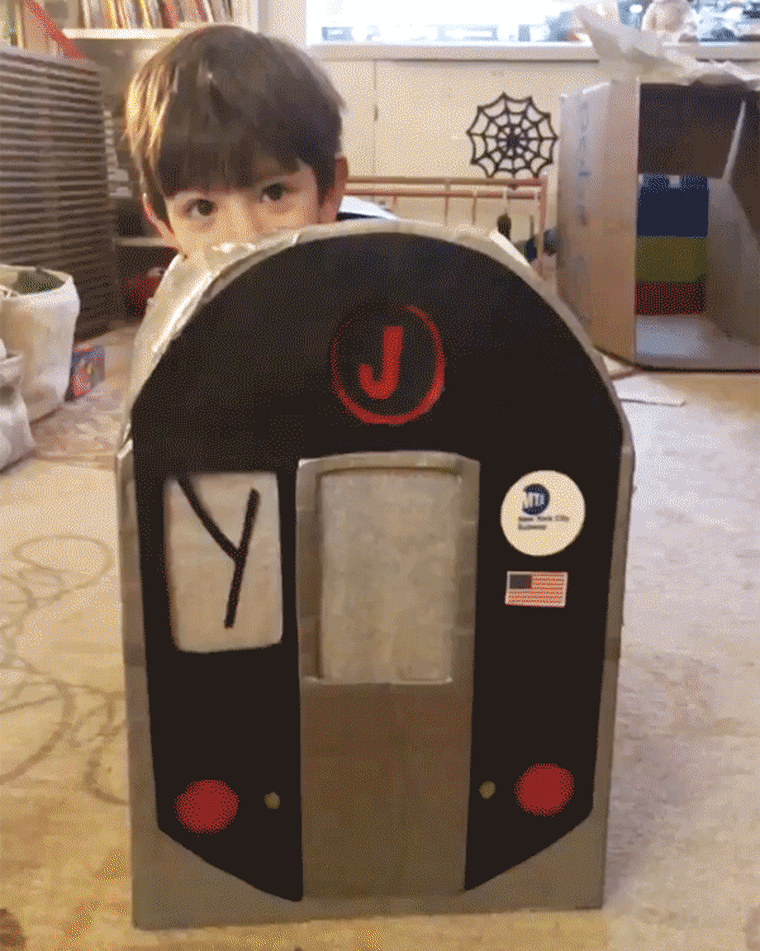 Liz McQuiston has become adept at creating impossible costumes. Last year her daughter, Willa, who is 3, wanted to be a princess dinosaur with a tutu. This year, she wants to be an apple tree queen princess.
"I am not a stranger to delivering on weird requests from a determined toddler," the Seattle owner of a women's business incubator told TODAY via email. "I taught myself how to sew in high school and I am pretty crafty, so when either of my kids dream something we head to the fabric store and see what we can come up with!"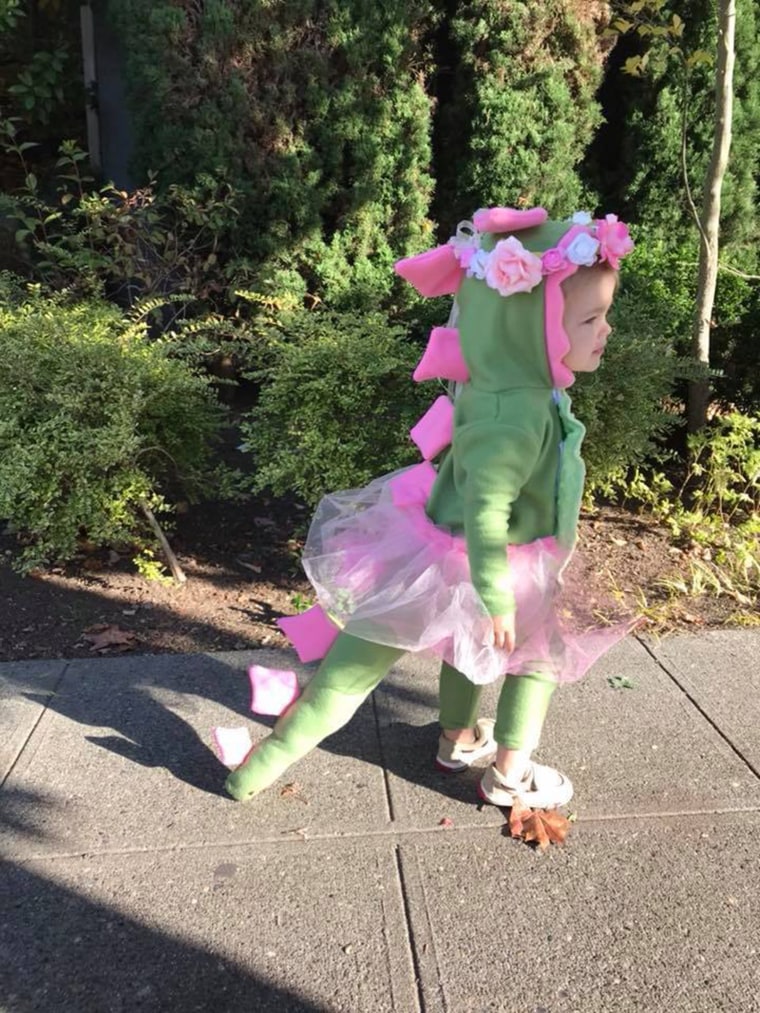 While McQuiston can fulfill the demands, it's still a ton of work.
"Ninety-five percent of the time I am staying up until like 2 a.m. the week before Halloween sweating over my sewing machine," she said.
Jennifer Gates gets labor-intensive costumes. When her stepson, Ryan, then in kindergarten, wanted to be a character from his favorite book, "The Missing Piece Meets the Big O" she thought she could find a rock costume online. She was wrong.
Making a rock wasn't that difficult: Her husband crafted a chicken-wire frame. But she spent hours and hours covering it with papier mache and spray painting it.
"Ryan did help a little with the papier mache but quite frankly, he got bored. He helped me for about 20 minutes out of four hours," Gates, a defense contractor employee in San Antonio, told TODAY.
But, Ryan loved it.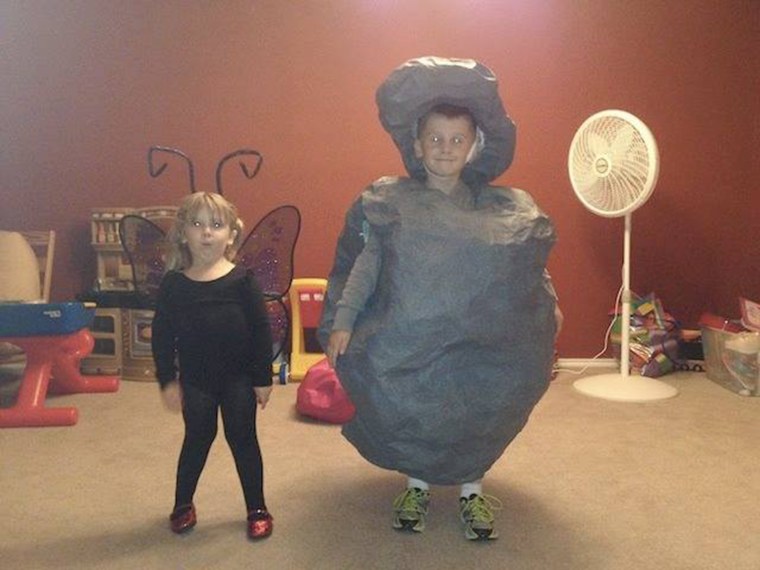 "He got so much attention that day. All the kids thought he had the best costume," Gates said.
A few years ago, Chuck Staresinic's daughter Amelia, then 10, approached him with an idea: She wanted to be a zombie. But she wanted to stand out.
"She said, 'What if my head stuck out of the costume?' I replied, 'You'd have to carry your head around,'" Staresinic, a communications director in Pittsburgh, told TODAY via email.
While they loved the idea, execution required meticulous planning. At first, they thought they'd use a metal frame from a hiking backpack, but then they cut up an old suitcase strapped to Amelia's back.
"We raised the telescoping handle up high, so it was above her head, and we put the neck and shoulders on that. We studied anatomy books to see what an exposed vertebra and severed spinal cord might look like," he said.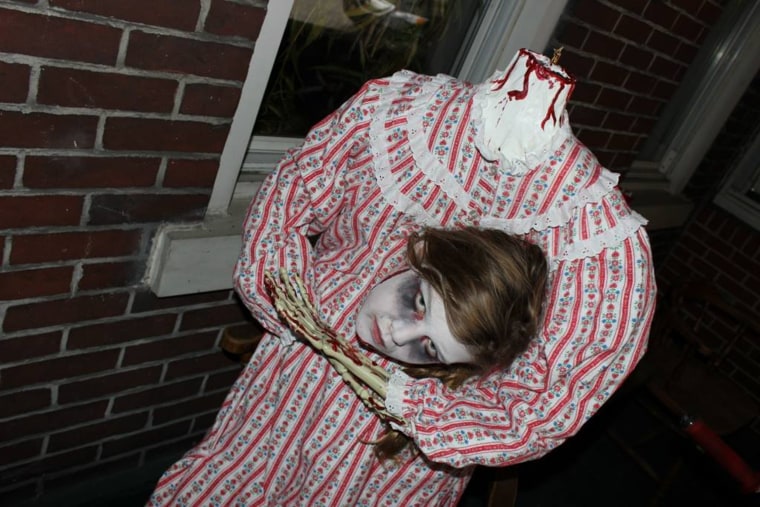 The costume gave the two an opportunity to spend time together. But the ultimate payoff was the reaction.
"Amelia loved getting into character, practicing her glassy, dead-eyed zombie stare. People gasped and did a double-take when they saw her," he said. "She told me, 'When they saw my costume, they'd give me full-size candy bars!'"