The sleep-deprived first months of parenthood are challenging for anyone, but as a busy classical cellist, Anna Steinhoff often found herself struggling to stay awake while performing, having "some very successful performances" and "some downright embarrassing" ones due to her fatigue.
Steinhoff and her husband, Justin Roberts, a Grammy-nominated rock musician who creates music for kids and families, tried sleep training their now 16-month-old son, Eli, but it wasn't helping him sleep through the night. So the duo put their heads together and developed what they say is a never-fail playlist of songs that help Eli calm down in the evenings and sleep soundly.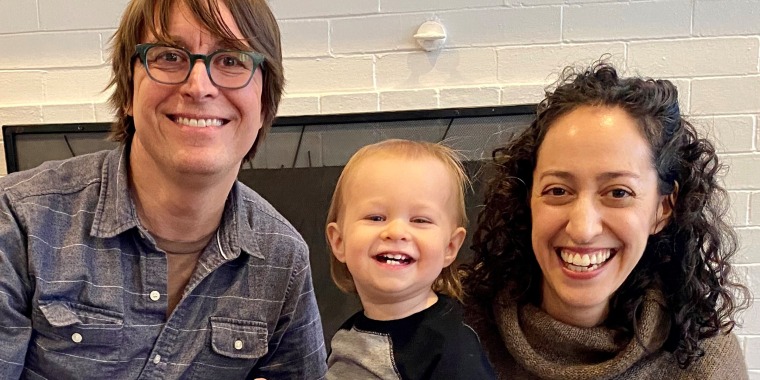 "I was wholly unprepared for how challenging sleep would be," said Steinhoff. "Then, there was a song we discovered by accident — Kacey Musgraves' song called 'Rainbow.' Justin had been tying to soothe Eli, and when it started playing, Eli immediately stopped crying and looked right into Justin's eyes. Calmly. It was incredible.
"This really was a magic song for him," Steinhoff continued. "There were many times we tried everything to get him to go to sleep and nothing would work until we put this song on."
So Steinhoff and Roberts began looking for songs with common threads, choosing other songs with similar tempo that also feature rhythmic instruments like guitars and piano along with sustained instruments like voices or strings.
"The guitar or piano create a rocking feeling while the voice creates something continuous to hold onto," Steinhoff explained.
Luckily for baby Eli, his own dad had recorded several songs that fit the bill. On the family's playlist are three songs by Roberts, whose upcoming album, "Wild Life," was inspired by his first year of parenthood and features Steinhoff playing cello.
"It's very surreal to hear songs from early in my career coming from Eli's room," Roberts said. "It makes me think of all the kids who listened to these songs when they were Eli's age and now are in their early 20s."
Rounding out the playlist are songs from other artists that contain similar sounds.
While not every sleep method works for every baby, Steinhoff encourages parents to find music that calms their own little ones.
"I think a lot of new parents want to play music for their kids but don't know where to start," said Steinhoff. "For me, it was nice to create one list that our baby could become familiar with. It's kind of like reading the same books to them night after night — the repetition is comforting for them."