/ Source: TODAY Contributor
Parents are outraged over a "disturbing" scene in the new "Peter Rabbit" film after learning it depicts the bullying of a person with a food allergy.
After the Sony Pictures film's Feb. 9 release, parents of kids with food allergies took to social media to express their anger about the scene, in which Peter Rabbit and his friends, knowing Mr. McGregor is allergic to blackberries, throw the fruit into his mouth, causing him to have an anaphylactic reaction that requires use of an EpiPen.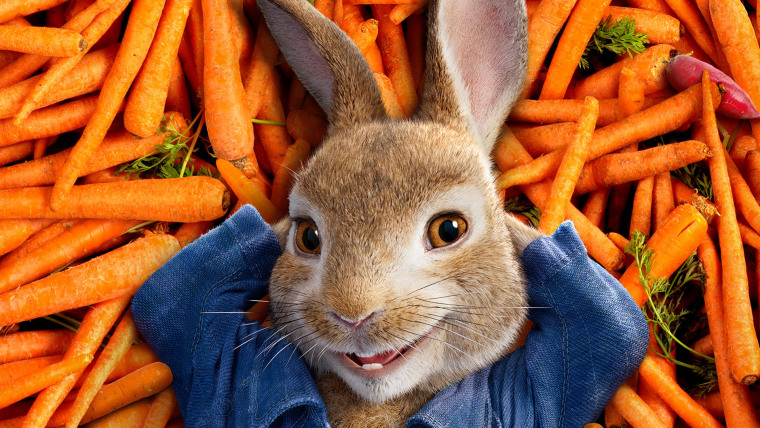 Peter also implies that food allergies are made up for attention.
Twitter user Cheri Kirsch admonished Sony Pictures for the scene, writing, "Family planned to see the Peter Rabbit movie, but will have to pass. Peter throws a blackberry at Tom knowing he's allergic? Tom has to use his EpiPen. Food allergies are no joke. Very disappointing & disturbing choice."
Alicia Batista tweeted, "Food allergies are not a joke. No one should support a movie that would encourage others to bully my child by purposely trying to cause anaphylaxis."
Kenneth Mendez, president and CEO of the Asthma and Allergy Association of America, wrote an open letter to the makers of the film, encouraging them to "refrain from the type of programming that mocks food allergies in the future," and pointing out that other children's films by the company have included similar scenes misrepresenting those with food allergies.
"Living with food allergy can have negative effects on the quality of life of patients and their families because they need to remain vigilant about accidental exposures," Mendez wrote in the letter, which was shared on the Kids With Food Allergies Foundation blog and Facebook page. "The very real fear and anxiety that people experience during an allergic reaction — often referred to as an impending sense of doom — is a serious matter. Making light of this condition...encourages the public not to take the risk of allergic reactions seriously, and this cavalier attitude may make them act in ways that could put an allergic person in danger."
A joint statement from Sony Pictures and the filmmakers provided to TODAY Parents via email reads, "Food allergies are a serious issue. Our film should not have made light of Peter Rabbit's archnemesis, Mr. McGregor, being allergic to blackberries, even in a cartoonish, slapstick way. We sincerely regret not being more aware and sensitive to this issue, and we truly apologize."
Follow TODAY Parents on Facebook.
But for moms like TODAY Parenting Team contributor Kristin Shaw, whose 8-year-old son is severely allergic to eggs, Sony's apology is nothing more than a nice gesture.
"I'd like to see them put their money where their mouth is and donate some of the film's proceeds to food allergy awareness or research," said Shaw. "It's really hard for kids who have food allergies to not feel like they have to ask for special treatment all the time. My son doesn't like for people to go out of their way for him."
"Food allergies — or any allergy, really — aren't funny," said Shaw. "Purposely creating an allergic reaction for laughs in a movie for kids is inappropriate. We live in fear that we'll have to use our EpiPens every day."