Want the inside scoop when it comes to smart, practical parenting survival tips? Ask moms and dads who have lots of kids.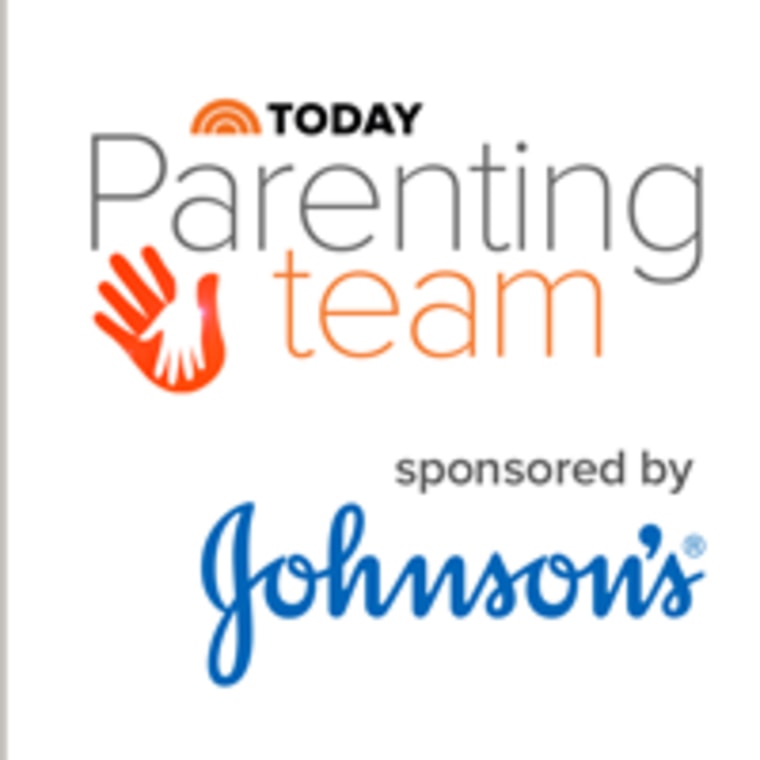 Most parents with large families develop strategies for staying organized and staying sane — strategies that parents with one or two kids can borrow. As part of the TODAY Parenting Team's "Get Happy!" challenge, a number of parents with large broods shared their secrets of happiness in parenting. We've compiled some of their suggestions here.
Please feel free to join in this ongoing conversation by becoming a member of our TODAY Parenting Team, and stay connected to TODAY Parents updates on our Facebook page. If you have your own parenting insights to share, we'd love to hear them!
1. 'Organization is key.' (Jennifer Swartvagher, mom of eight)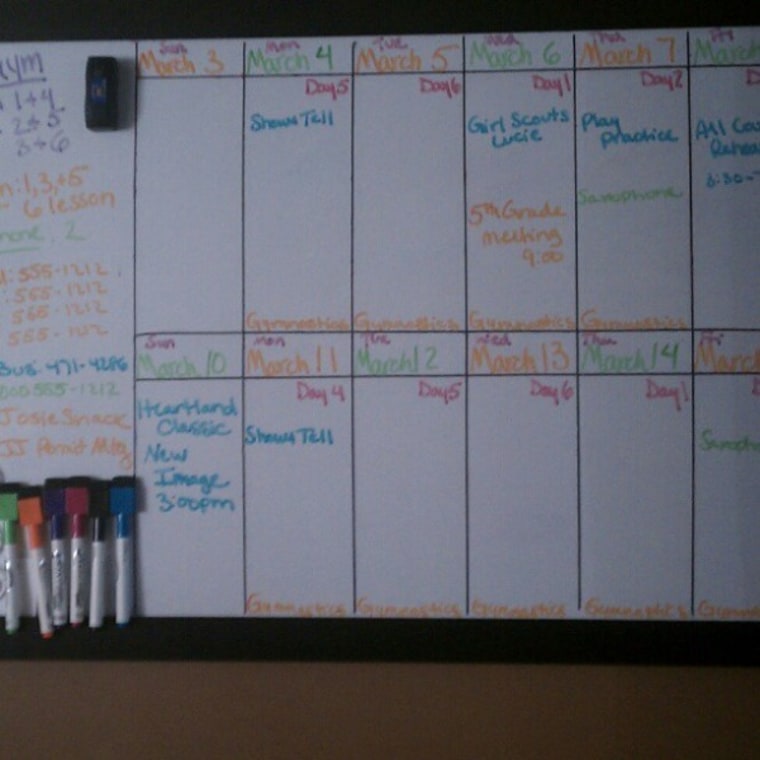 "In an attempt to bring some order to our crazy lives, I created a large family calendar on a magnetic dry erase board to keep track of everyone's schedules. Everything is posted on the calendar from when the kids need to wear sneakers for gym to which child needs to bring which instrument to school. Also, thanks to Google calendar, everything is on my smartphone which is also synced to my husband's calendar and vice versa. The frantic phone calls from school asking for sneakers and saxophones have greatly lessened since the institution of our calendar. Above the calendar is a bulletin board where we tack up important information we need to keep close at hand, such as class phone numbers, school lunch schedules and birthday party invitations."
2. 'Create a routine.' (LyonsDenMom, mom of five)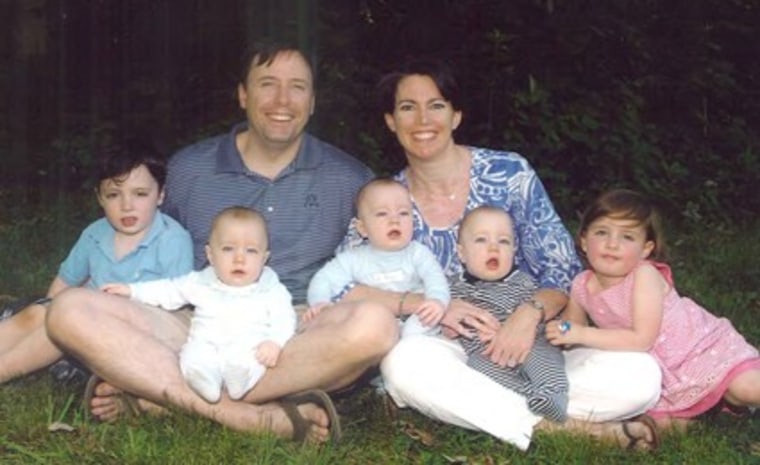 "Say what you will but when it comes to kids, routine is good. For everyone involved. You need your coffee; your baby needs a bottle. You both get grumpy if you don't get what you want when you want it. Fair enough, right? Babies — and kids of all ages — thrive on routine. They are simple souls who respond well to knowing when to expect a bottle, a bath, a meal, a walk, a snack or a story. Routine has been the key to survival for our family, especially during those first few crazy months with the triplets; we had three babies who ate eight times a day, two toddlers who required a fair amount of care and feeding themselves, a dog who needed a walk, and a massive mountain of laundry. The only way to tackle it all was with a routine … although, I have to say, that mountain of laundry continues to grow!"
3. 'Menu planning and bulk shopping helps to save time.' (Jennifer Swartvagher, mom of eight)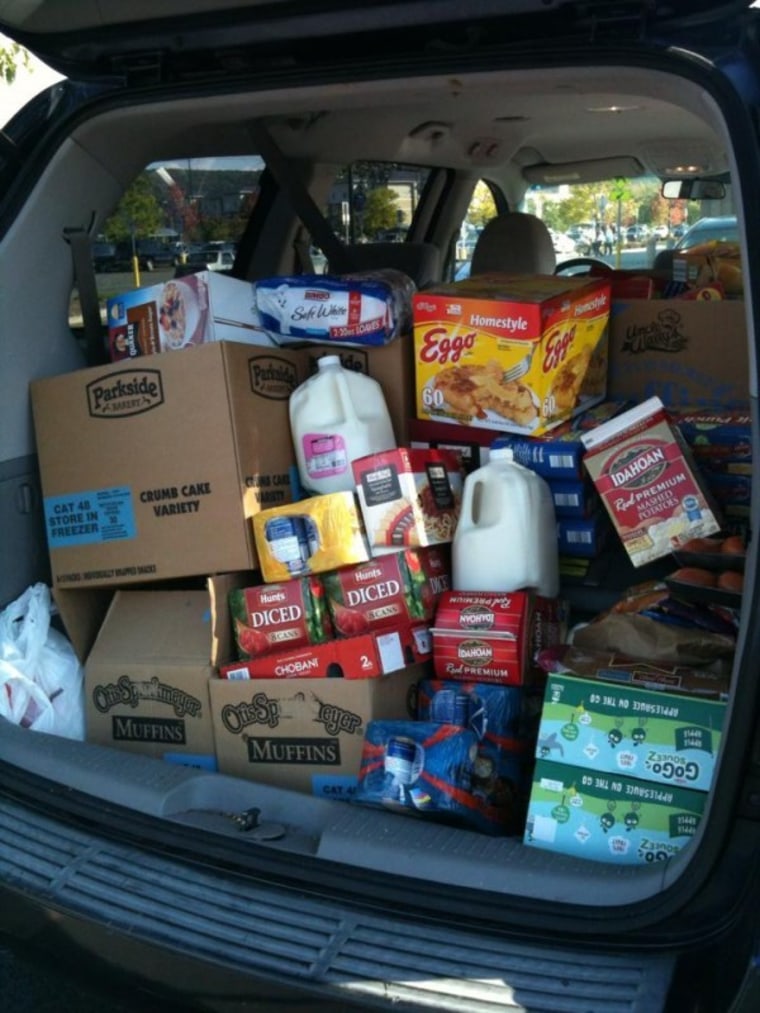 "Planning meals ahead of time allows for less trips to the grocery store. Our busy schedule demands that we shop once a week, instead of making multiple trips. If you have the space, consider getting a membership to a warehouse store so that you can buy larger quantities, saving both time and money. I try to hit a few stores on my shopping day. Through trial and error, I know which stores offer the best deals in each department. This month started off with a visit to the butcher: 25 pounds chicken breast; 25 pounds ground beef; 40 pounds drumsticks. When I get home everything gets portioned and packaged in storage bags. Breasts are fileted into cutlets and tenderloins. Ground beef will become tacos, hamburgers and pasta sauce later in the month. Drumsticks are easy to throw on the BBQ or in the oven, and make great cold leftovers for lunch the next day. Thank goodness for my chest freezer. Best purchase ever!"
4. 'Out and about beats in and insane.' (LyonsDenMom, mom of five)
"All of our children were born in the Northeast in the fall — the time of year when the leaves fall, the wind blows and the temperature plummets. I asked our pediatrician on one such blustery day if it was OK to take our firstborn out for a walk. Her response: 'Do you think people in Alaska never leave the house?! Of course you can take him out! Just bundle him up and you'll both be fine.' And we were. The fresh air did us good and to this day, it still does. Our toughest moments (screaming/yelling/fighting/etc.!) tend to be when we're all cooped up in the house for too long. So, as the saying goes, 'When the going gets tough, the tough get going.' My advice: get going! Every day. Rain or shine, steaming hot or freezing cold — get up and go and take the kids with you; you'll all be glad you did."
5. 'Everyone needs to pitch in around the house.' (Jennifer Swartvagher, mom of eight)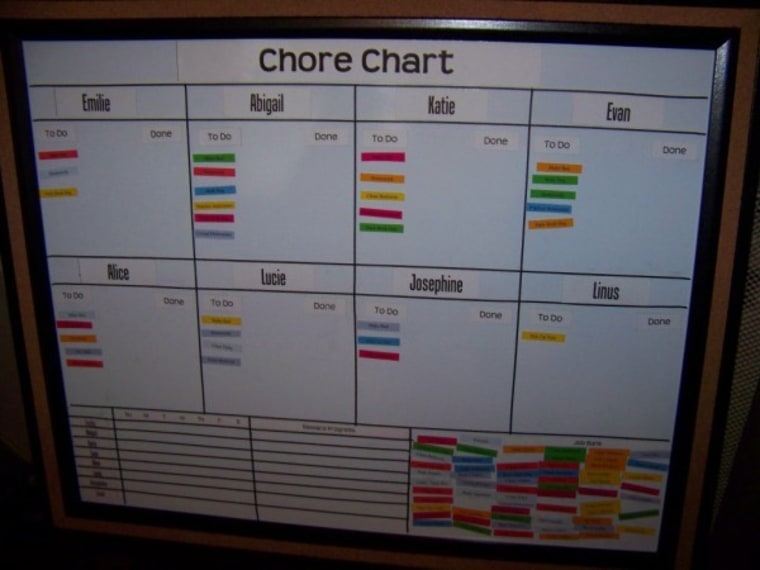 "Keeping the large family household running smoothly is everyone's responsibility. A chore chart is a great tool to utilize to teach basic household responsibilities. Chore charts teach responsibility and help encourage kids to set goals. By linking responsibilities to privileges, we can reward responsible behavior and provide consequences when our children do not follow through. Untasked children are like ninjas. Mine were experts at sensing the moment I was about to ask them to do something. By the time I turned around they had stealthily exited the room and were nowhere to be found. By holding each and every one of them to task, it made my life much more simple. Do it now, or do it later, just get it done."
6. 'Find like-minded mommy friends.' (Molly Jones / The Enlightened Mama, mom of four)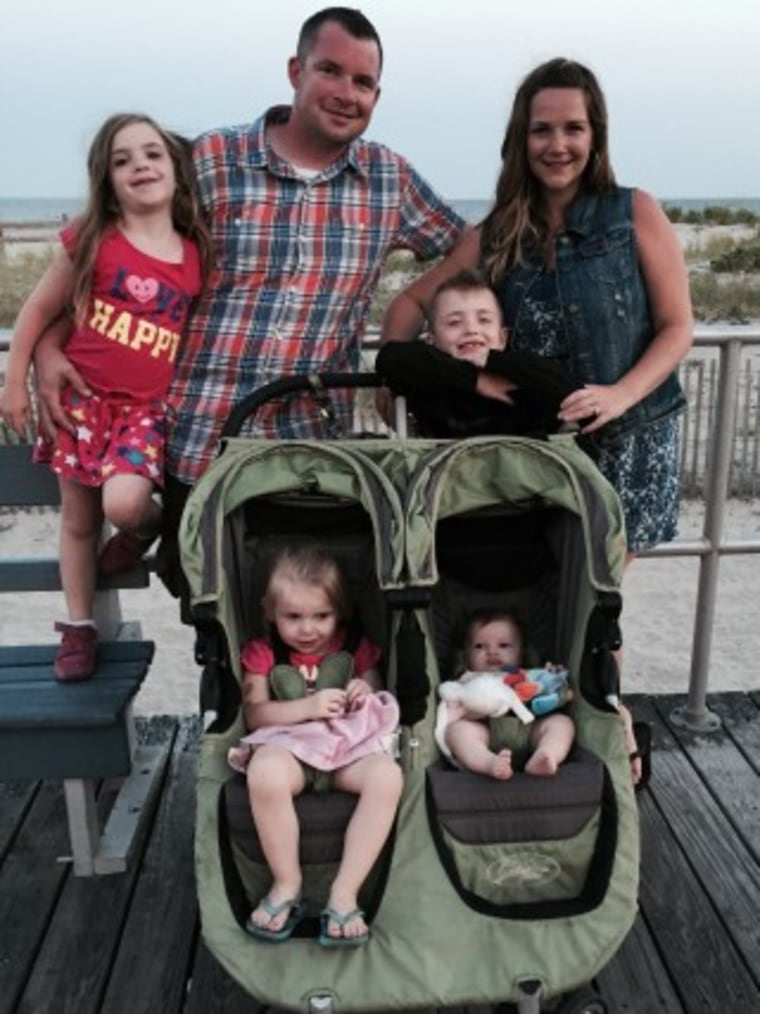 "We have all kinds of friends that we meet along the way, but there is a special group of women you need to surround yourself with to ensure a happy parenting journey. These are the women that lift you up and promote you. These are not the women who compare whose baby crawled first or turn their nose up to the mention of your weekly fast food habit. These are the women who encourage and support. They share the good times and the bad and want to see others happy. If you walk away from a play date or a mom's night out and feel bad about yourself or how you are raising your family, that is your signal to find a new group of friends."
7. 'Just say yes.' (LyonsDenMom, mom of five)
"Being of rather proud and stoic Irish descent, I'm not one to ask for help and my husband wouldn't dream of it. When we first came home from the hospital with the triplets, there were many offers of help. 'Just tell us what we can do,' said countless family and friends. 'Oh no, we're FINE,' I'd reply as I wiped the sleep from my eyes and staggered by them in a daze. Fine? Really? No way! We were so NOT fine. We were exhausted and overwhelmed and it took me getting a nasty case of bronchitis when the babies were six weeks old for me to finally 'cave in' and accept the assistance that had been offered. I only wish it hadn't taken me so long. It turns out that when people offer to help, they mean it. So do yourself a favor and just say yes."
8. 'Just say no.' (LyonsDenMom, mom of five)
"This is as important as learning to just say yes. The sooner you can apply this two-letter word freely and guiltlessly to requests like 'Can you bake four dozen cupcakes for the school fundraiser?' the better! You don't need to do it all — and the odds are good that you'll be happier if you don't. Please don't misunderstand — it's great to volunteer for the bake sale as long as it gives you satisfaction and won't drive you crazy. But, do not under any circumstances say yes when something deep down inside is urging you to take a pass."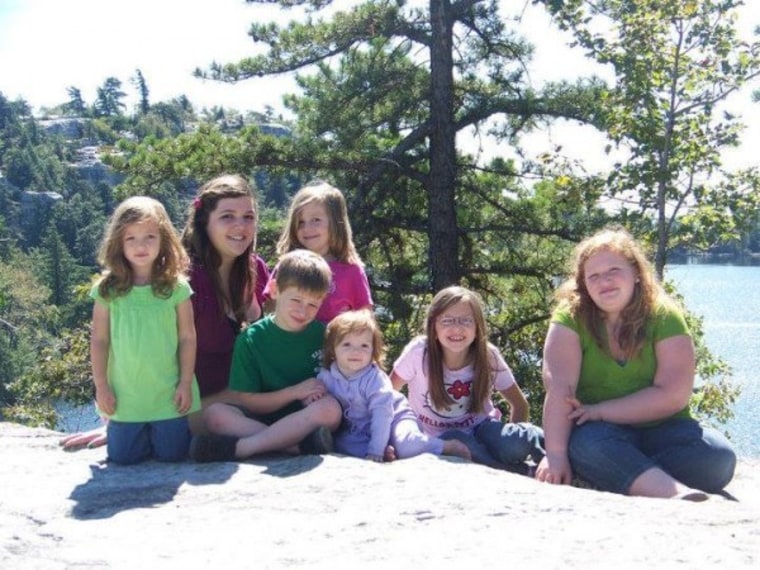 9. 'Fill yourself up.' (Molly Jones / The Enlightened Mama, mom of four)
"If you don't have it, you can't share it. That's right, not just material objects, but energies and emotions too. How can I give joy away to the people in my household if I don't hold joy within? Do whatever you need to do to get the inside right and a happy home life will be yours for the keeping. Exercise, time with friends, time with your spouse, a good book, a reality TV indulgence — whatever fills you up, do that. Then, give that abundance of good feels away and happiness will be all around you."
10. 'Laugh.' (LyonsDenMom, mom of five)
"There is such tenderness and humor — and a fair amount of chaos too — in this crazy journey called parenthood. Allow yourself the opportunity to pause and appreciate it as much as you possibly can. Laugh loud and laugh often and your children will too. That belly laugh of baby days will be one of your fondest memories. If you could bottle it, you would. There is no better feeling. And God knows, after what you've endured to bring a baby into this world, you deserve a good laugh!"
Follow TODAY.com writer Laura T. Coffey on Twitter @ltcoff and Google+ and learn about her new book at MyOldDogBook.com.