/ Source: TODAY Contributor
Arriving home after a date night this past March, Alicia Quinney and Joshua Marbury were still on the sidewalk outside their home in the Portland area of Oregon when they heard their 12-month-old son, Jacob, crying from inside the house.
Quinney and Marbury had left their children, 3-year-old Jaylynn and Jacob, with Marbury's long-time best friend, who had been living with them. [Because he has not been arrested, TODAY Parents is not identifying the man's name.] "He was like family to us," Quinney said, adding his friend had watched the kids several times before without incident. "We never expected this."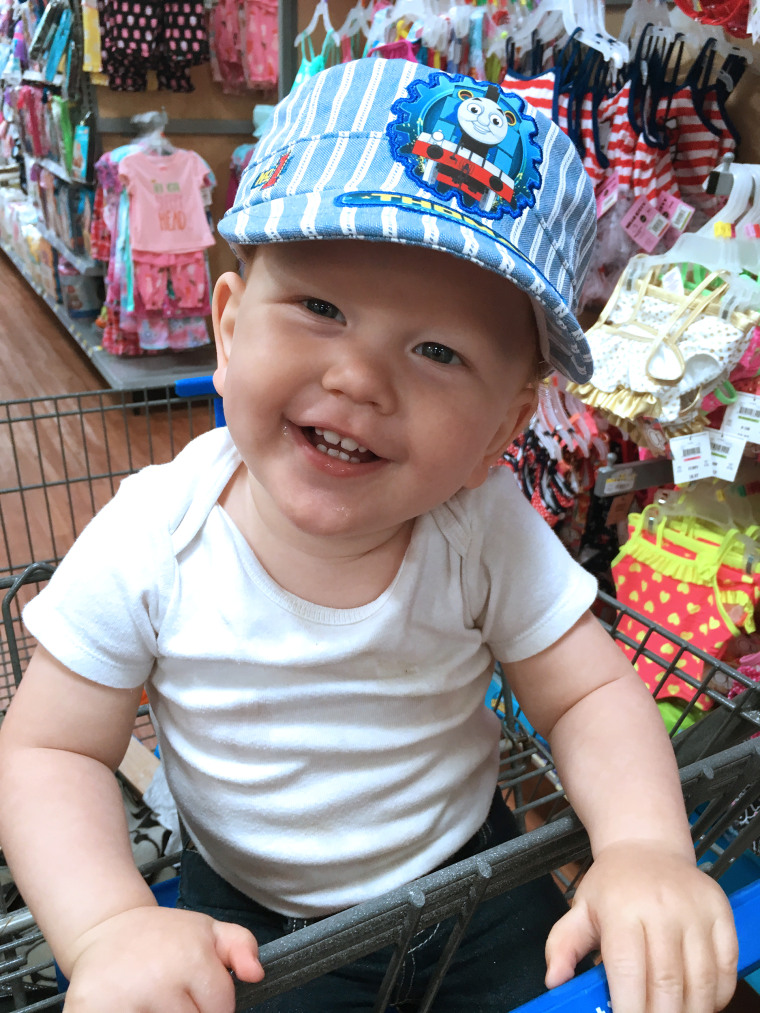 According to Quinney and Marbury, when they entered their home, they found their friend asleep on their couch, with their daughter awake on the other side of the couch playing with the friend's dog. Jacob, however, was "screaming, crying, on all fours on my bed," said Quinney.
Marbury says his friend claimed to have put the children to bed earlier and not to have heard Jacob's cries.
The next morning, Jacob had a black eye when he woke up, and new bruises kept swelling up all over his body throughout the day: a hand-shaped, black and blue bruise on the side of his face as well as marks inside his ears and on his arms, back, collarbone, and underneath his eyes.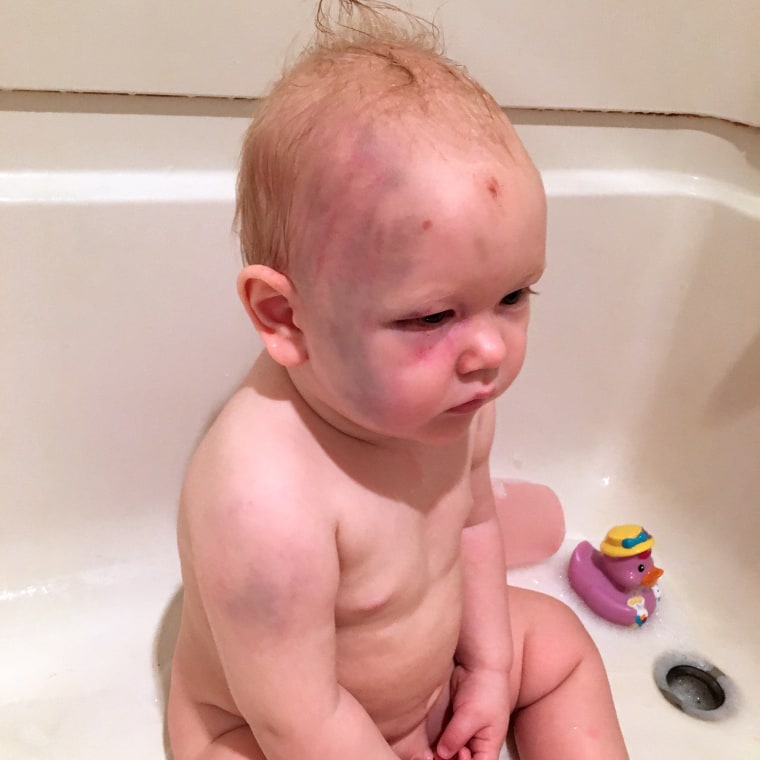 Quinney says she confronted their friend, and says she "knew he was lying" when he claimed to have fed Jacob a bottle and rocked him to sleep the night before. "I asked him that on purpose because I had seen there was a full bottle, not even touched, on the counter the night before," she said.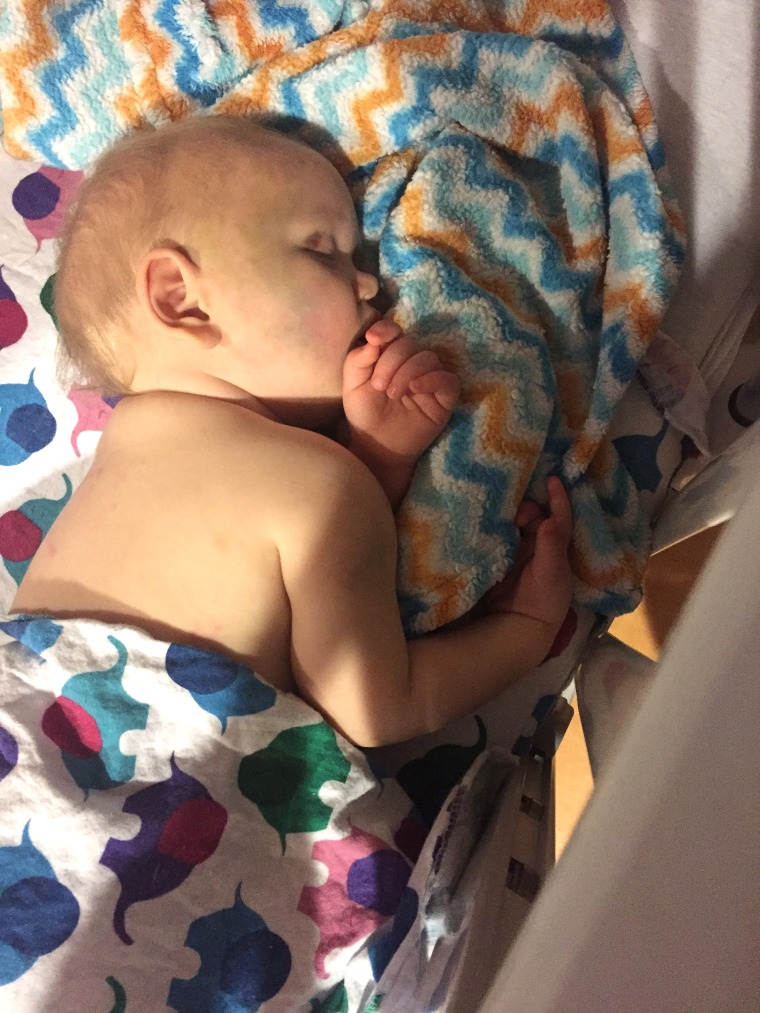 Quinney says when she told the friend she was taking Jacob to the hospital and filing a police report, he told her he had dropped Jacob on cement while trying to run after Jaylynn and his dog. "I told him he needed to get his things and get out of my house," said Quinney.
Police detectives met Quinney at the hospital, where Jacob was fully examined. After X-rays of his arm and neck came back clear, the police followed the family home, where they took pictures of the home and interviewed Marbury. Quinney says the police were unable to talk to the friend for over a week, because he had left the state. TODAY contacted Sherwood Police Department about the case but did not get a reply.
The family took Jacob to a local children's hospital the following day for more exams and tests, including a CT scan, a full-body X-ray, and even blood tests to determine if Jacob bruises especially easily. All came out clear or negative.
Last week, nearly three months since the incident happened, Quinney and Marbury were notified that the state will not be pursuing charges against Jacob's alleged abuser. Frustrated, Marbury posted a description of the incident to his Facebook page, asking friends to share the post so it would go viral and help them find justice for their little boy.
Marbury's post has since been shared over 354K times on Facebook, but that justice might not come easily. In 2012, the Oregon Court of Appeals overturned State v. Wright, the conviction of a babysitter who spanked a 16-month-old in her care and left a bruise on the child's buttock. The Oregon court ruled that, in that case, the prosecution failed to prove beyond a reasonable doubt that the babysitter had caused the child the legal definition of "physical injury."
In order to prove physical injury under Oregon law, the victim had to suffer "impairment of physical condition" — that is, the abuse in question must cause "harm to the body that results in a reduction in one's ability to use the body or a bodily organ for less than a protracted period of time" — or "substantial pain," which is proven either by the victim's statement (impossible in the case of a toddler or baby) or by offering circumstantial evidence, such as a behavioral observation by an onlooker such as a parent or doctor, that the child is in substantial pain.
A study of the case law shows Jacob's case could fall through the same crack in Oregon law as State v. Wright: because all of Jacob's X-rays and tests came out clear and negative, he was not disabled by the abuse, and he is too young to make a statement about his pain and who caused it. The state could have a hard time proving beyond a reasonable doubt the legal definition of physical injury had occurred at the hands of Jacob's family friend under the established interpretation of Oregon law.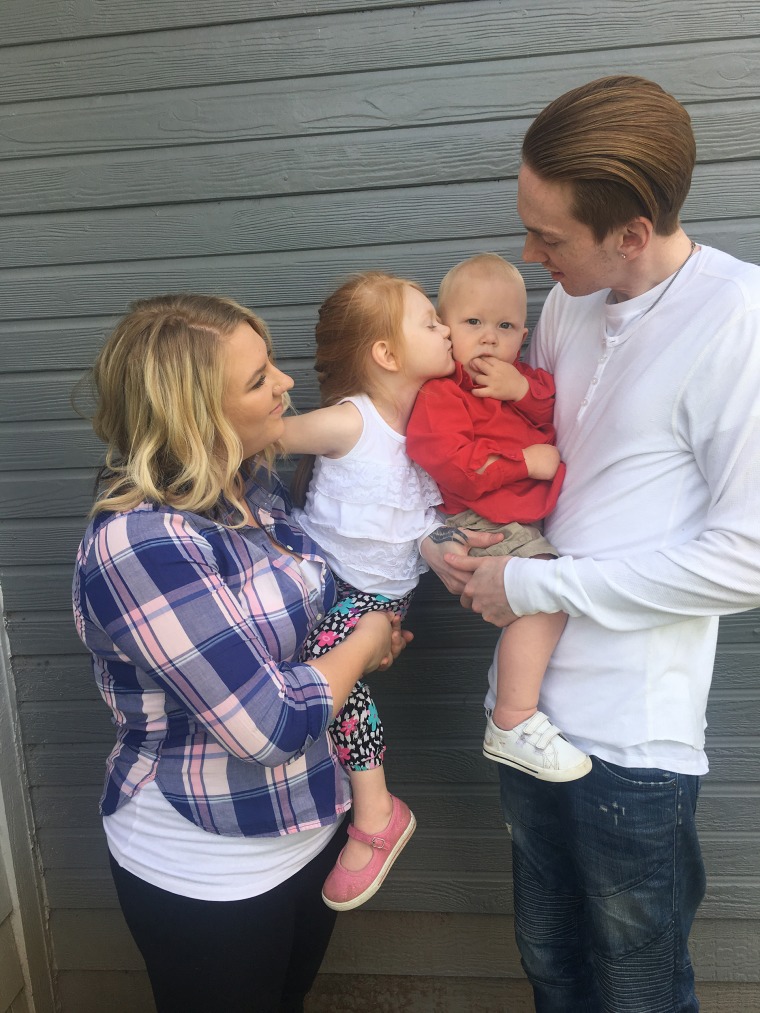 "I feel for this family like anybody else would, but this is the current state of the law," said Oregon criminal defense attorney Edie Rogoway, who has no ties to this case but is familiar with the law in question. "It's up to the legislature to change the law."
A Go Fund Me account has been set up for the family to help the family pay for expenses in the wake of the incident, specifically, counseling for Jaylynn, who is showing signs of trauma like potty training regression since the night of Jacob's injuries. Supporters have also started a Change.org petition asking the Oregon State Supreme Court to overturn the 2012 ruling in State v. Wright that makes it so hard for prosecutors to prove "physical injury" for victims too young to speak for themselves.
Marbury and Quinney say that the Washington County D.A. told them they are reviewing Jacob's medical records again after the public outcry on social media that resulted from Marbury's Facebook post. The parents have hope that they will still find justice for Jacob, but if they do not, they hope to help change that law. "We're still hoping we can change this for Jacob, but if we can't, at least we can help others," said Quinney.
TODAY Parents reached out to the Washington County D.A.'s office for comment on this case but did not receive a reply.