How far would you go to keep your kids safe on Halloween? How about scanning their candy with an x-ray?
Across the country, some parents will be doing just that. Dozens of medical centers and sheriff's departments offer free candy screenings so parents can be sure that nothing dangerous is lurking in all those Milky Ways and Snickers.
Paranoid, or justifiably cautious?
While reports of poisoned Halloween candy have inevitably turned out to be hoaxes (or murder plots by parents, yikes), Halloween candy studded with pins, needles, razors or glass is actually a real thing. It doesn't happen often, and there have been no reports of deaths or serious injuries. But, it happens -- and that's enough for some parents to haul their kids' loot to the nearest x-ray machine.
But if we're getting paranoid, it's worth noting that kids are way more likely to be hurt by cars than by spiked candy. Halloween is the deadliest night of the year for pedestrians, and kids are four times more likely to be hit and killed by a car while out walking on Halloween night than on any other night of the year.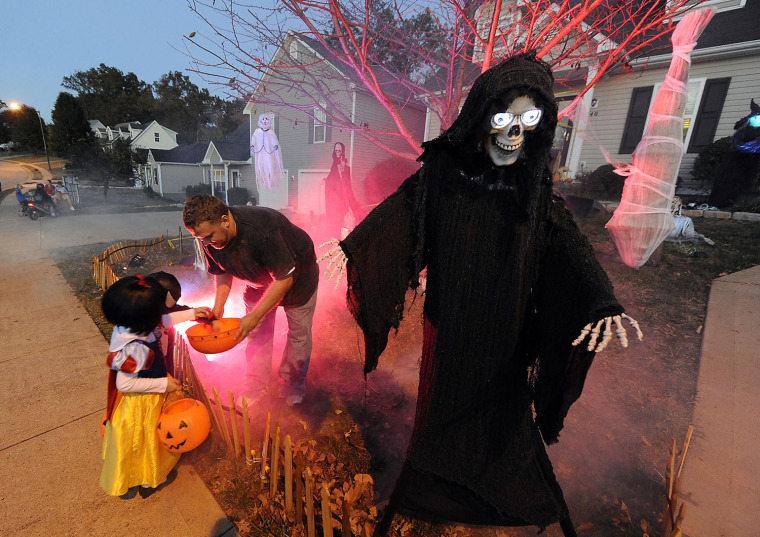 What do you think -- are candy x-rays a good idea, or should parents quit worrying about that and pay more attention to the real dangers of Halloween on the roads? Click here for safety tips for drivers and kids.
More Halloweeny goodness from TODAY Moms:
What kids think Halloween is really about
Confessions of a Halloween hater
Got costume guilt? You're in good company
Who ate all my chocolate? Candy confessions from the TODAY Moms-iVillage poll.