The arduous trek through the Grand Canyon can challenge even the fittest of athletes. Bob Headings learned that firsthand when he and a friend hiked to the bottom and back a year before he took a fall that left him paralyzed.
A decade after that accident, the Columbus, Ohio, man retraced the steps of his journey, this time with family wanting to honor his constant optimism and vigor.
"Dad was always the type — when someone told him he couldn't do something, by golly, he was going to do it," said son Rick Headings.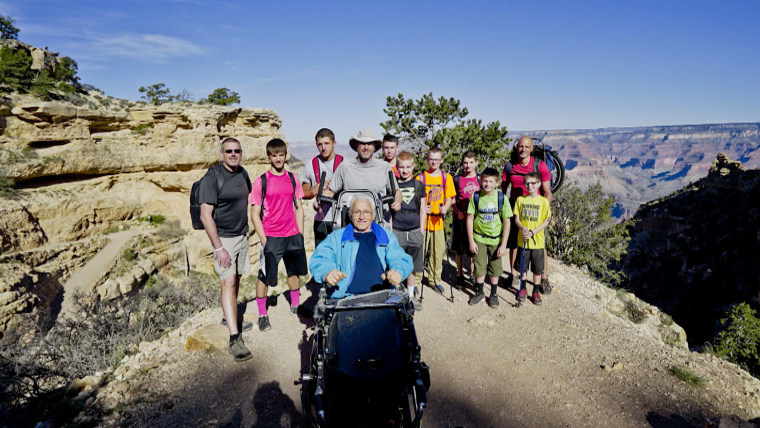 Earlier this year, that meant taking another trip to the bottom of the Grand Canyon.
"I didn't hesitate. I mean, I said, 'I'm ready to go," Bob Headings recalled when hearing about the idea.
Headings lost use of his legs following a life-changing accident in 2005.
"That ladder shifted, I lost my balance and I knew right then I was paralyzed," he said. "I couldn't feel my legs."
Headings faced his new reality with a signature grace and determination, the same traits he would rely on for his second hike through the Grand Canyon. This time, he would make the journey with his three sons and eight grandsons.
"It just seemed like a way for us as a family to give back to Dad," said son Randy Headings.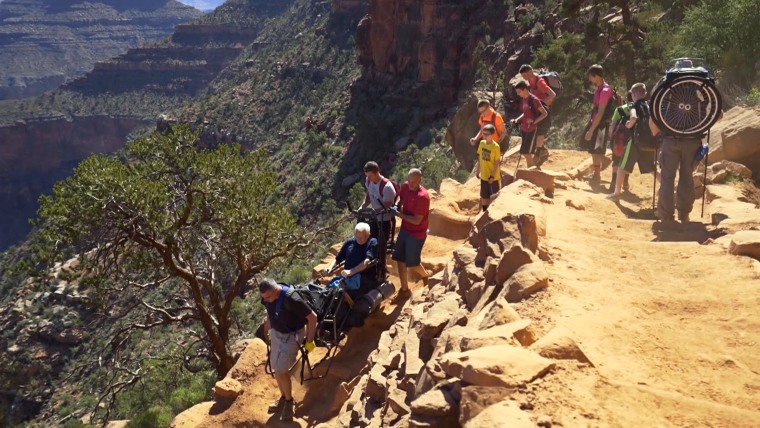 The family trained for four months, practicing with harnesses that guided their father's TrailRider, a one-wheeled chair with front and back handles used to pull and push the individual sitting in it.
In March, the group set off, starting with the seven-and-a-half-mile South Kaibab trail. The group took six hours to reach the bottom and when they did, "almost everybody collapsed," video journalist John Honaker, who captured the entire journey, noted on in his blog post about the trip.
The group rested for a day before making the trek back to the top. The 10-mile Bright Angel climb up took nearly twice as long.
"Everybody was pitching in. More grandkids were hooked up to a harness," Honaker said in his blog.
Every person made a big difference, Rick Headings said.
"When a 10-year-old hooked on and pulled, you could tell," he said. "It made it easier for the other two guys pulling at the time."
The trip back was eased by strangers the group passed along the way. Inspired by what they witnessed, they urged the family to keep going.
"So much determination and care and love. It's just fantastic," said one passerby.
"Hats off to you three guys and your grandkids. I still have tears in my eyes," another told the group.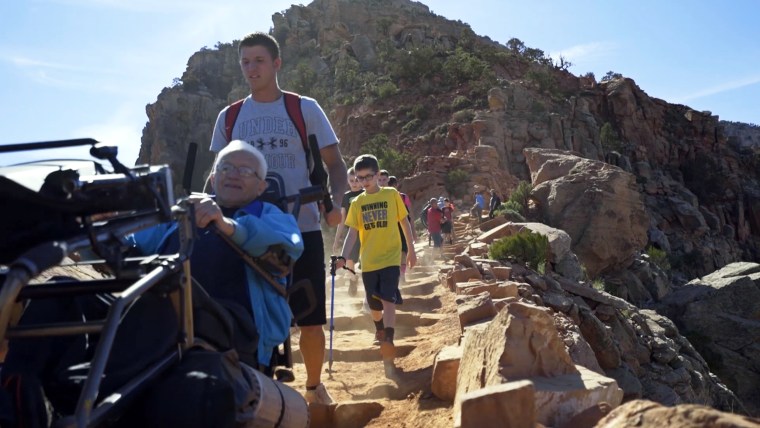 The cheers only grew louder as the family approached the rim. Randy Headings said that's when the significance of the entire journey hit him.
"These kinds of things just don't happen often enough where a family comes together. We just pulled together for a greater cause," he said. "Just a time to be proud of your family."
Follow TODAY.com writer Eun Kyung Kim on Twitter or on Google+.