Finally. The government steps in to do what I clearly can't. Here in California, moms like me are cheering the news of a new law banning the use of tanning beds by anyone under age 18. (Until the law takes effect in January, children ages 14 to 17 still can use tanning beds with parental permission.)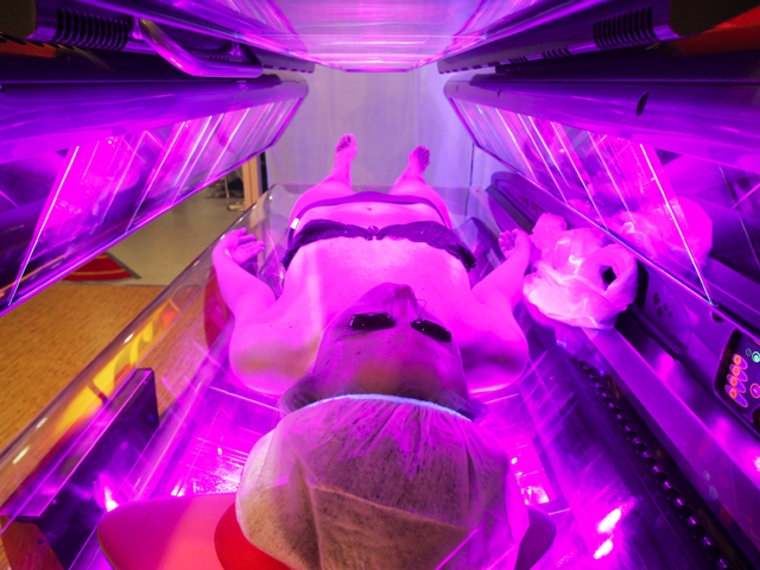 Reading the news, I rocketed back to many an argument with my youngest daughter, Lauren. She is a California girl. The kind Katy Perry sings about:
… Sun-kissed skin
 So hot 
We'll melt your Popsicle.
Oooooh oh oooooh 
When Lauren moved to Missouri for college, she discovered something called winter. And fall and spring. Days and days when real weather kept her from getting brown in the sun.
So, she started going to tanning salons. I didn't know this, of course. Until she came home for a visit. I thought she had dropped out of school and was working somewhere in the Caribbean.
As usual, she wasn't amused by my witty remark. "You have to stop doing this," I screeched. "You'll get skin cancer."
I printed out more evidence for her and her response was the same, "Mom, I have to look good for the (dance/party/picture)."
Sadly, she's not alone.The Nemours Center for Children's Health Media, on its TeensHealth website, notes that "Most Americans, including up to 80 percent of people under age 25, think they look better with a tan."
The result? "Skin cancer is a rising epidemic and the leading cause of cancer death for women between 25 and 29," said California state Sen. Ted Lieu, citing one of many reasons he sponsored the teen tanning-bed ban.
The truth is, young women are ignoring the message.When the American Academy of Dermatology conducted a nationwide survey last year, the group heard from more than 3,800 women and girls ages 14 to 22. The results:
Three in 10 reported they had used a tanning bed in the past year. Of those respondents, one in four used a tanning bed at least weekly.
An overwhelming majority (81 percent) reported that they had tanned outdoors in the past year.
And guess what: They're learning these habits from us. The AAD survey found:
Indoor tanners were four times as likely to report that their moms use tanning beds than those respondents who were not indoor tanners.
Lauren and I never bonded over a tanning bed, but I have to confess I've been a sunbather. When I was a teenager growing up in Florida, the preferred balm was … baby oil mixed with iodine. Yep, zero protection. And I'm paying for it now – not only on the potions I tell myself will have some effect on those baked-in wrinkles, but also in the increased concern whenever I see something unusual on my arm or leg or back.
Lauren thinks that's just old age, but I remind her the damage was done when I was her age.
She has since switched to airbrushing – a spray tan you can get at a tanning salon that is considered safe -- or over-the-counter self-tanners, when she feels the need. But I still worry. Has she damaged her skin? Could I have been a better role model?
Time will tell. For both of us.
Jane Clifford is a San Diego-based writer and mother of four (grown?) children. She fervently believes her payback will be sitting back and watching as they all become parents.