Padma Lakshmi has gotten used to fluctuations in her weight as part of her job as the host of Bravo's Emmy-nominated "Top Chef," but she has recently discovered that it's not just her who is impacted by her body image.
In an essay for The Hollywood Reporter, Lakshmi, 46, wrote about the weight gain from her job and the effects her constant focus on her dress size for red carpet events has had on her young daughter, Krishna.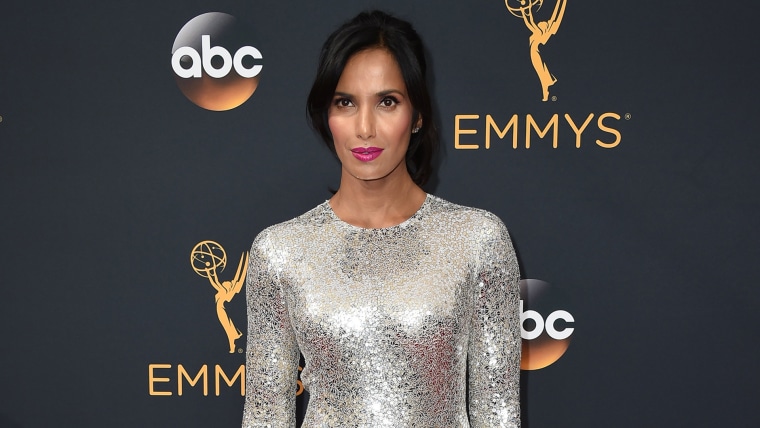 "Recently, I realized my daughter, who is 7, has been listening to me talk about my weight,'' she wrote. "She's noticed, and suddenly she's told me and others in our circle, 'I don't want to eat because I'm watching my figure,' or, 'I weigh too much.' I wasn't thinking anything of the sort when I was 7 or 10 or even 13."
Lakshmi noted how she will only have a taco salad without tortillas or sour cream on family taco night or leftovers of brown rice when they order pizza. Her daughter began to notice and started remarking about her own figure.
"Her comments stopped me dead in my tracks,'' Lakshmi wrote. "Her words scared me. Language matters. We send signals to our daughters every day. And I am her first touchstone of femininity."
Lakshmi's job of tasting food from 15 to 18 contestants every day for "Top Chef" guarantees that her weight will fluctuate between when the show is filming and her time off.
"When filming "Top Chef," I consume about 5,000 to 8,000 calories a day,'' she wrote. "I typically gain anywhere from 10 to 17 pounds every season. Once I get home, what's taken me six weeks to gain takes me 12 weeks to take off."
Part of the show's success involves walking the red carpet at events, where Lakshmi admittedly can get stressed over body image issues.
"It's always a nail-biting extravaganza at fittings, praying that a few pretty dresses that came down the runway on a teenage model who is a size 0 will miraculously fit my 40-something body,'' she wrote. "Getting ready for the Emmys is always fun, and it's truly an honor to be nominated. But at the same time, in spite of my high metabolism, I worry each year that I'm not going to fit into anything nice."
Lakshmi's recent experience with her daughter has changed her thinking going forward.
"So, this year, I've decided my weight will not be my focus,'' she wrote. "If I need a bigger dress, so be it. That one day — or any day — on the red carpet isn't nearly as important as making sure my daughter doesn't measure her worth by her dress size."
Follow TODAY.com writer Scott Stump on Twitter.