/ Source: TODAY Contributor
In her short time on Earth, Leah Carroll has faced more challenges than some do in a lifetime. According to a Go Fund Me page set up by her mother, Lindsay Chapman-Carroll, Leah was diagnosed with a rare blood disease, severe congenital neutropenia, when she was just an infant.
Neutropenia is a disorder in which the body lacks the crucial number of white blood cells, or neutrophils, necessary to fight off infections. By the time she was 13 months old, Leah had survived both septic shock and her first bone marrow transplant to try to cure her disease.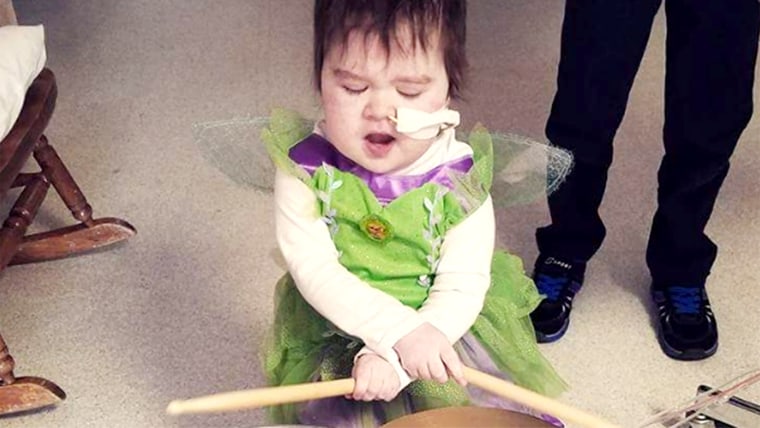 Now 4 years old, Leah has already had a second bone marrow transplant and spent over 325 days away from her home in Tracy, California — and her family, including big brother Elijah, 8, and sister Natasha, 6 — at the hospital, fighting complications from the transplant.
Never miss a parenting story from TODAY.com! Sign up for our newsletter here.
But Leah's spirit is too strong and spunky to be held down by her medical challenges, as is more than apparent in a recent video her mother posted to her Facebook page, Prayers and Love for Leah. Watch Leah perform contemporary Christian singer Mandisa's 2013 song "Overcomer" from her hospital bed in Oakland, California, and she will win your heart too.
The video has been viewed more than 7.6 million times since it was posted on her page on February 5, with over 158,000 shares from her page alone. Mandisa herself showed the video during her concert in Cedar Park, Texas, this week.
According to her mom, little Leah has had a tough week due to complications from her transplant, and her family is hoping she can go home from the hospital in April. But she has the whole word rooting for her now, and we are all pretty convinced she is indeed an overcomer. Feel better soon, Leah!
To contribute to a fund for Leah's family's expenses, visit her Go Fund Me page, Support for Leah's Family.