What is it about baby's first birthday that makes some parents lose their marbles?

Yes, it's a big milestone for the entire family, and worth celebrating.

But gone are the days of a simple cake and party balloons.  According to Baby Center, first time moms will spend at least $300 on a birthday party, yet it seems many are willing to shell out more for everything from bounce houses to food trucks to fully-catered affairs.
Event planner Erin Calvimontes of Pittsburgh has certainly experienced her share of first birthday madness. She recalls an especially extravagant Halloween themed party her company, Divine Celebrations, planned for a client — for about $25,000.
Calvimontes and her staff created a full-scale graveyard in front of the barn, where the party took place, with life-sized skeletons and a Frankenstein. A balloon artist made a giant spider, which lurked in the corner of the barn, and the artist remained to give the guests balloons. A DJ and face painters entertained the 150 guests who noshed on appetizers and a buffet, along with a dessert table and a candy bar, while adults enjoyed an open bar. 
"Each individual family celebrates differently," she says. "It's a 1-year old's birthday; they don't even care and the parents get so over-the-top crazy."
Related video: A year in the life of Prince George
Marla Mase, owner of Party Poopers, a New York City company that specializes in kids' birthdays, says many of her clients spend about $15,000 to $20,000 for an event. One child's birthday cost as much as $200,000. At a recent first birthday party, a gourmet ice cream truck, a pizza truck, a taco truck and a BBQ truck provided the food. Food trucks at children's parties are becoming more popular, and Mase says she sees a lot of traditional themes, such as Mother Goose, farm life, Elmo, "Frozen," or princesses, for first birthdays. 
"A lot of people who hire me are busy and don't have the time do all the details," says Mase. "It is easier for them."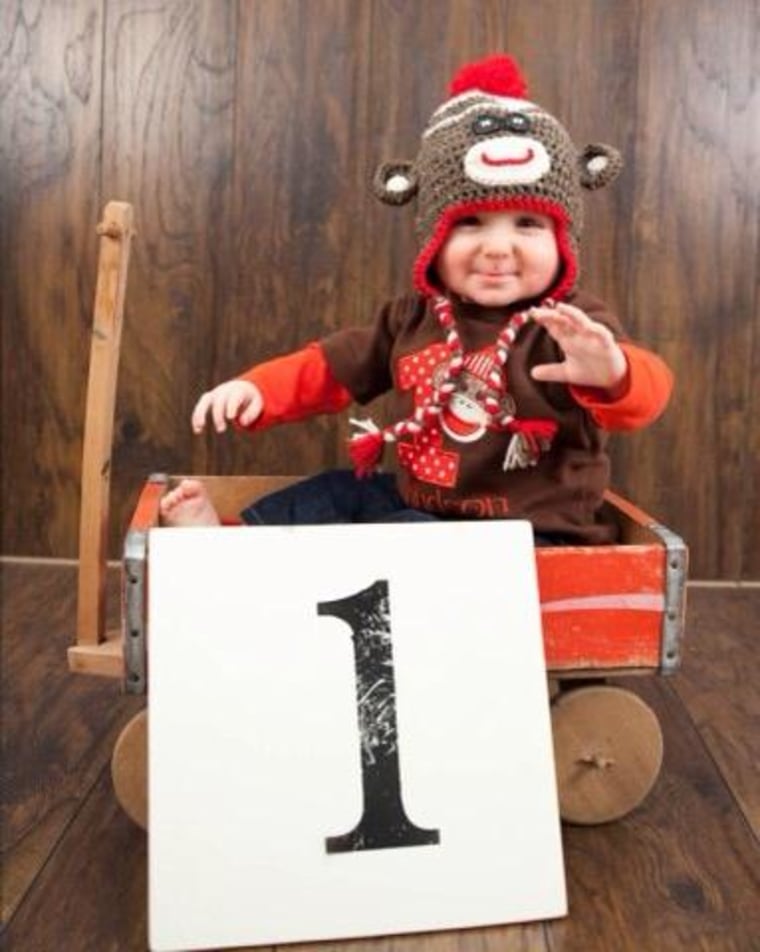 Parenting experts worry about first birthday parties setting such a pricey precedent.
"You really have to ask yourself why," says Michele Borba, a parenting expert and TODAY contributor. "A 12-month-old is not going to remember this."
Another problem — so much activity can really overwhelm a 1-year-old, who is likely more interested in playing with the paper gift wrap than crawling around a bouncy house.
Experts agree that first birthdays are a milestone — a chance for mom and dad to celebrate the first year with their little one and to toast surviving the ups and downs.
"I think first birthday parties have always been a big thing," says Amy McCready, founder of Positive Parenting Solutions. "[It] is totally OK having a celebration. If you want to throw a big party and have it be an over the top thing, it really is a celebration for the adults."

Plenty of parents make a big deal out of the first birthday, without the crazy price tag. Francine Buda Hogan's son Hudson turned 1 in March and she hosted a party with a sock monkey theme. For about five months, she researched the ideas on Pinterest, Etsy, and mom blogs, finding the best sock monkey outfit for the big day, locating directions for a sock monkey wreath for the door, and identifying a sock monkey puppet craft.
"I just want them to look back when they are older and say 'Look, I had really great birthdays," says the third grade teacher, who lives near Pittsburgh.
Amy Stafford admits that when she planned her son's first birthday — an elaborate "Hungry Caterpillar theme — it was as much for her as it was for her son. "He didn't know what the theme was," says Stafford, a psychologist in Buffalo, New York. "I like planning parties."
Some moms do experience stress when they think about making coordinated crafts or hiring a pony or scheduling a bouncy house. While Pinterest, Twitter, and Facebook can make it easier for moms to see what other first birthdays look like, it can have a reverse effect of setting the bar too high.

The super-lavish first birthday of North West was recently seen all over social media. Parents Kim Kardashian and Kanye West threw a "Kidchella" themed bash, inspired by the Coachella music festival, which featured a ferris wheel, a bounce house and food stands.
"If you are really doing a party for your baby, you don't need to have all the frills," says McCready. "If you are a crafty person and that is what you enjoy doing wonderful, do all those beautiful decorations ." If that's not your thing, she said, that's fine too.

Liz Richey and her husband, Dan, decided to throw a small party for their daughter Sarah's first birthday. They served pizza and beer to the adults, who gathered around the kitchen table, and gave Sarah a homemade smash cake to crush.

"I've never been someone who goes all out in planning things," Richey says. "We're, of course, aware of the phenomena of having massive first birthday parties and our biggest motivation [to not] was that it is really exhausting to have a 1-year-old."