/ Source: TODAY Parenting Team
When Georgia couple Shane and Noel Pauley posted on social media about their "Goodwill Date Night" — in which each wore thrift store outfits chosen by the other — they never imaged the images of their outrageous getups would go viral.
The date night, which took place on July 14, began with the Pauleys shopping for clothes at Goodwill while sticking to a strict budget of $10 each.
"Shane heard about the date night from another couple and knew we had to try it," Noel, a 29 year-old social worker who lives with her husband and baby daughter outside Atlanta, told TODAY Parents.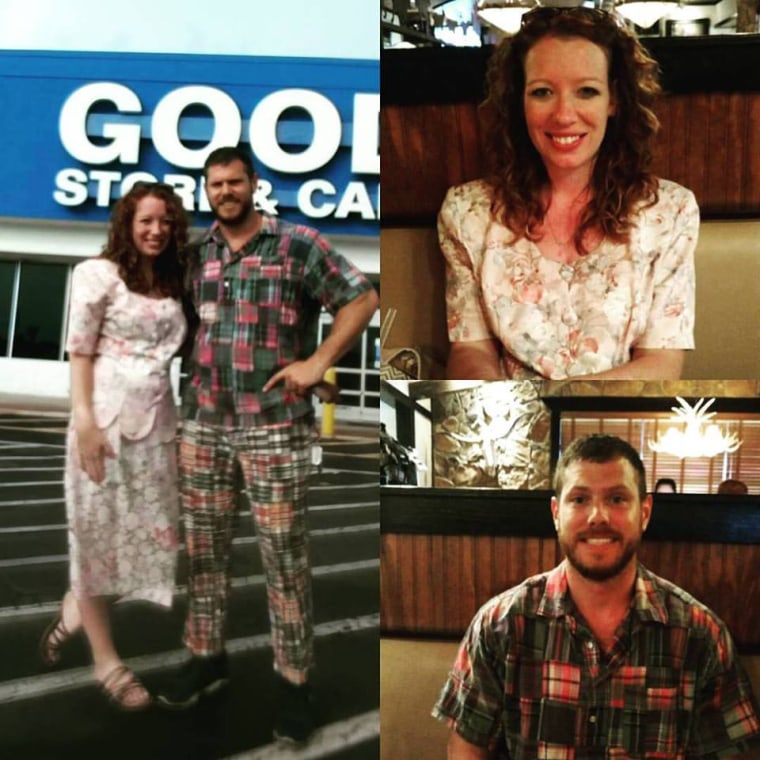 "We go on date night one night a week. We work really hard to keep it a priority in our lives. We love the normal dinner and a movie, but we also love out-of-the-ordinary dates."
Noel said she and her husband were both laughing hysterically during the shopping trip, and that they enlisted the help of store clerks to choose the best-worst outfits.
Noel ended up wearing a 1980's-style floral dress while Shane, 31, had to don a clashing plaid ensemble.
They then headed to Longhorn Steakhouse for dinner — agreeing beforehand that neither could explain their ugly threads.
"No one commented anything to us when we were dressed up, they just laughed as we walked by," said Noel.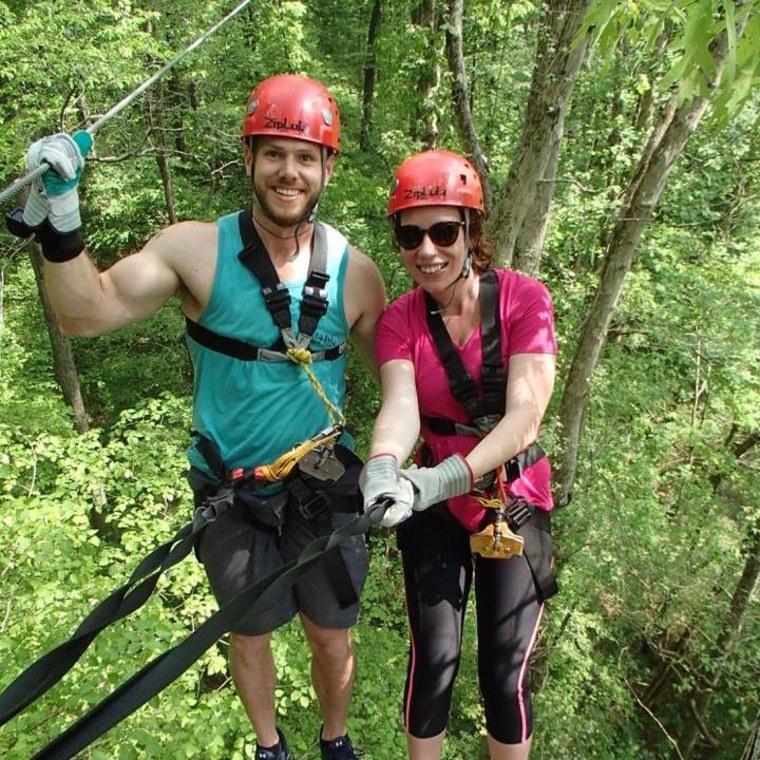 The fun-loving couple even went by fake names during their dinner, calling each other Ethel and Roger.
"My outfit was definitely worse!" Noel told TODAY. "When Shane was sitting down you couldn't see that his plaid pants completely clashed with his shirt, but you could see my shoulder pads a mile away! I don't know what our next date night will hold, it's going to be hard to top this one."
The couple, who have a 5-month-old baby girl, saw the #GoodwillDateNight as a way to stay connected in the midst of parenthood.
"We keep the laughter and spice in our marriage by being intentional about spending time together," Noel said. "We have a rule of no phones on date night, other than for the camera, so that we aren't sitting at the table playing on our phones."
The Pauleys suggest that new parents who are in a rut try to rediscover what made them fall in love.
"Whatever it is you love to do together, whether it's be goofy or go somewhere sophisticated, do it together!" Noel said.
The fun-loving couple has tried out-of-the-ordinary dates in the past, including visiting arcades (and "acting like big kids") and going zip lining.
And since their Facebook post has been shared over 400,000 times and gained national media attention, the #GoodwillDateNight is surely one they'll never forget.