By Jennifer Miner
Christmas has passed, New Year's Eve celebrations are done, and all that's left of the holiday season are some forgotten ribbons in the corner. The Chanukah and Christmas scenes were repeated in homes across the country, but not mine. This year, my husband and I decided to forgo buying our children any gifts -- no Kinect, no art supplies, nothing -- and instead, we took them on a volunteer vacation in Costa Rica.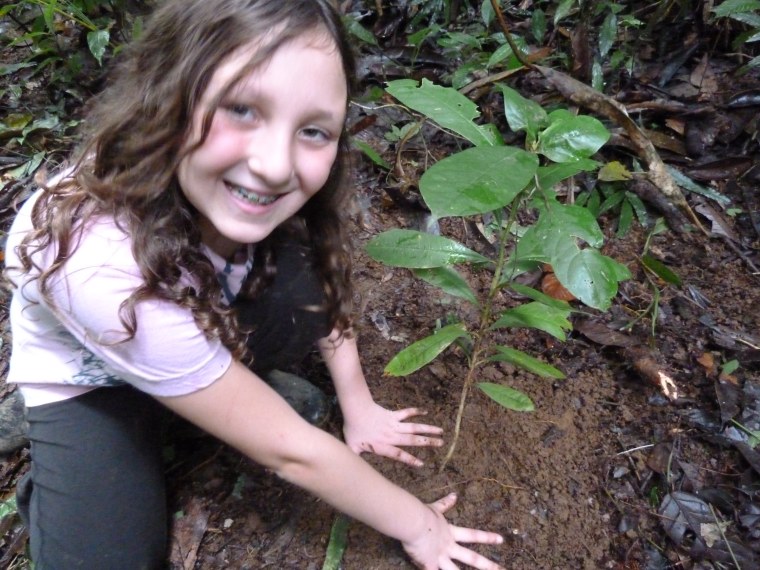 When we first broached the "no gifts this year" idea to our children, we expected more resistance than we got.  Later, we figured out that our kids simply didn't believe us!
"Sure, Mom," tuned out to mean 'Yeah, right." It was only after we showed them Costa Rica on a map, and started to pack (lightly), that the realization finally hit home: That's right, kids, you're not going to be accumulating more piles of "stuff" and things that end up stored in the backs of your closets. By then, though, the excitement about seeing white-faced monkeys, tree frogs, sloths and other rain forest critters had gotten a hold of our kids, and we figured we'd deal with the fallout of No Holiday Gifts once we returned home. After all, once school started again and all the other kids showed off their new stuff, wouldn't my children feel jealous? That's what I expected, anyway.
Our children live in what's euphemistically called "the bubble." Chances are, since you're reading this online, yours do too. This bubble keeps them safe, in an educationally rich environment, and warm, but it can also skew their perspective of what life is like for many children in the world.  It's important for us to raise our children with a true understanding of tolerance and acceptance, and to think that they can be positive influences in the world. This is how we found ourselves spending the Christmas holiday reforesting part of the Costa Rica rainforest, volunteering to paint a small village church, and participating in a sea turtle protection and hatchery project.
We spent Christmas Eve with other volunteers at the Sea Turtle Project. Sea turtle eggs are carefully relocated here, away from the grasp of poachers and from hungry sea birds. The turtles usually hatch at night, when the temperatures drop, so volunteers sit outside with them after dark. We checked on the sea turtle eggs every 15 minutes with a red light (a bright light would confuse the babies). At 8:30 p.m., my older daughter found a baby turtle, just hatched, and tired from the struggle. Another volunteer gave her a glove, so she could hold the hatchling.
We watched it flap its front flippers in her hand, and then we followed my daughter -- suddenly looking so big! -- to the shoreline. She gently placed it down, and it slowly crawled to the water. She stood up and looked to the ocean, quietly wishing the baby turtle a safe journey. Another volunteer whispered, "Feliz Navidad, tortuga pequena." Merry Christmas, indeed. Helping that baby turtle to the sea may have been the most poignant moment in my daughter's life so far. I know it was one of mine. For the rest of our trip, I'd catch her smiling with a far-off look in her eyes. I knew she was thinking about that sea turtle.
A month later, my children are home. They talk about the trip every day: to us, to each other, to their friends. Earlier, I wrote that we didn't give our children any holiday gifts this year. Now I know that's not entirely true. Our volunteer vacation in Costa Rica may have, instead, been the best Christmas gift I could have given them.
Jennifer Miner writes about luxury travel and family travel -- and sometimes combines the two. She's a co-creator of The Vacation Gals, a family-friendly travel blog.