/ Source: TODAY Contributor
Moldy sippy cups happen. You might find one filled with curdled milk under your child's car seat. Or how about the moldy goodness on a cup that's been long forgotten under the couch pillows?
Lately, parents are taking to social media to express their concern about a different kind of sippy cup mold — an icky growth found inside the valves of sippy cups manufactured by Tommee Tippee.
Reports of mold growing in sippy cups have circulated for several years, from a woman who claimed one brand of cups was harboring mold that made her granddaughter sick, to a potential lawsuit surrounding the link between bacteria in sippy cups and autism.
The recent claims regarding Tommee Tippee cups began late last year in France, but have made their way to the United States as well — with parents posting photos of cup valves teeming with mold.
Britney Quinones, a mom from Margate, Florida, posted photos of her moldy sippy cup valve to Facebook in 2015.
Quinones says after noticing a bit of black mold on her son's sippy cup, she tried soaking it in vinegar and boiling it to remove the substance. After being unable to get it off, she began picking at the mold with a toothpick; she then decided to pry the valve apart to get a better look.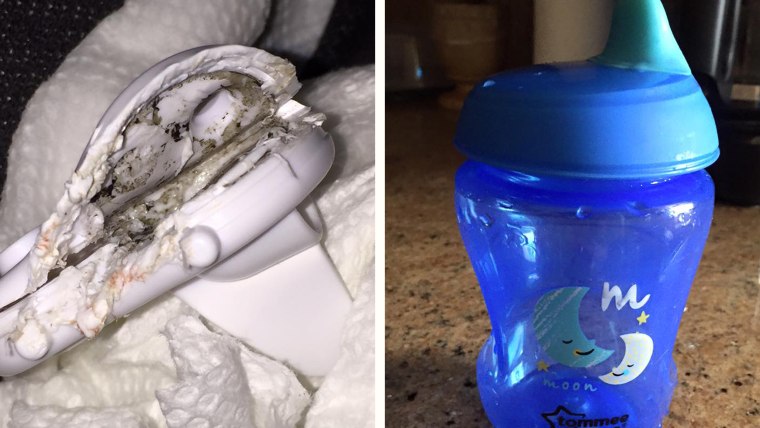 "I couldn't believe it," Quinones told TODAY Parents. "I took a knife and for an hour, I sat there trying to pry the thing open. Once I opened it, I was mortified! I couldn't believe that my son was ingesting this stuff on a regular basis."
"As a mom — and I'm sure other moms agree — sippy cups get lost, sippy cups don't always get washed every single day. Sometimes there's just no time for that," Quinones continued. "So, if (Tommee Tippee's) main concern was to make sure their product was being washed every day 'a certain way' then they're selling to the wrong crowd of moms. I'm pretty sure 95 percent of moms don't have time to make sure a sippy cup is washed thoroughly every single day."
Londa Nwadike, state extension food safety specialist at Kansas State University and the University of Missouri, explains that sippy cups with fewer parts are easier to clean properly.
"It is best to take (the cup) apart completely — including opening the anti-spill guard top — and wash it in the dishwasher," Nwadike told TODAY Parents. "Be sure to check it when it comes out of the dishwasher to be sure that all parts are clean, and if not, you may need to wash and scrub it by hand."
Nwadike adds that sippy cup parts can also be washed in warm, soapy water with a small brush, then immersed in a clean container filled with either hot water, or a chemical sanitizing solution of one teaspoon of bleach per gallon of water, for 30 seconds.
In a statement posted to its Facebook page, Tommee Tippee stated that the company is in the process of creating a new style of sippy cup that will feature a two-piece valve that is easier for parents to clean. In the meantime, the manufacturer is creating see-through valves for their existing cups, and referring consumers to the videos on their website that address proper cup-cleaning procedures.
Regardless of the style of sippy cups parents choose to use, Nwadike cautions against keeping one specific cup for too long, both because of bacteria build-up and because of the risk to small children's development.
"As with any plastic product, you want to be sure that you throw it away if it gets heavily scratched or damaged as deep scratches are hard to clean properly. Also, any plastic container does not last indefinitely, so sippy cups also would not last indefinitely," said Nwadike. "Further, sippy cups can be detrimental to a child's speech development and can contribute to tooth decay … so sippy cups should really only be used for a short period of a child's life."
"I have a 2 year old and a 4 year old, so I know how easy it is for sippy cups to disappear around the house or in the car," Nwadike continued. "If you haven't seen the sippy cup for a few days or weeks and then find it again with liquid still in it, just throw it away, as it may be hard to clean after that. Be sure to clean them often while they are in use … but really, not using sippy cups is really a better option."