Soccer legends Mia Hamm and Abby Wambach are coming to the defense of a Nebraska girl who was kicked out of a tournament over the weekend after officials suspected she was a boy.
"Be you!" Hamm told Mili Hernandez. "Hey Mili, we would love to host you at one of our camps @TeamFirstSA," the two-time Olympic gold medalist added.
And Wambach posted a video to the girl on Instagram. "You're inspiring. You're a natural born leader honey, and I'm proud of you," said Wabach.
She added, "You don't look like a boy. You look like a girl with short hair — and that's OK … You can do anything you want to do and you can be anything you want to be. And guess what? You can look like whatever you want to look like to do it."
Meanwhile, Mili, 8, of Omaha, told TODAY she didn't understand all the fuss about her hair.
"I just want to play soccer," she said. "I've just always liked short hair."
The episode started on Saturday at the Ray Himes Springfield Invitational soccer tournament in Springfield, outside Omaha.
Due to a clerical error, Hernandez was listed as a boy on the roster of her team, the Azzuri Cachorros.
But the girl's father, Gerardo Hernandez, and her coach, Mario Fuentes, told TODAY that organizers were focusing on what Hernandez looked like because she has short hair.
"We've never had a problem before. Everyone is angry," said Fuentes, who said his team plans to file a complaint with the Nebraska State Soccer Association.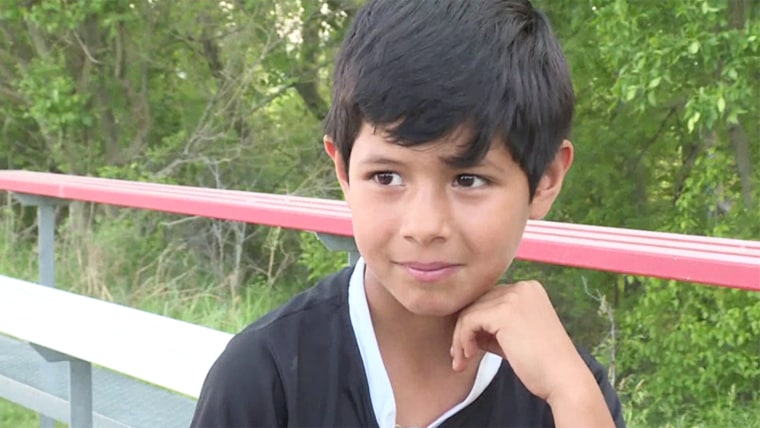 Fuentes said he received a phone call over the weekend from a tournament organizer who said the whole team was disqualified after someone complained Hernandez was a boy.
Hernandez said he tried to show organizers an insurance card that listed his daughter's name and gender before the game, but that they refused to listen.
"They said there was a boy on the team and that's it. We don't have to tell you anything," Hernandez recounted.
Mike Dappen, the president of the soccer association, declined to comment, saying only the association's lawyer would come out with a statement. He would not provide the lawyer's name.
Meanwhile, Casey Mann, executive director of the Nebraska State Soccer Association, issued a statement on Monday.
"Nebraska State Soccer would never disqualify a player from participating on a girl's teams based on appearance," Mann said. "However, it is important to note that the roster submitted to the state by the club identified this player as male, and the competition rules for US Youth Soccer do not allow boys to play on a girls' team."
"While we are disappointed that a player was denied the opportunity to play, that decision was made by entities other than the Nebraska State Soccer Association," Mann added.
Hernandez said his daughter, who plays on a team with 11-year-old girls, was upset and crying after hearing she would not be able to play because some people thought she was a boy.
"I told her people make mistakes and don't handle things the right way," he recounted.
Besides the Instagram post, Wambach also said on Twitter that she planned on calling the soccer club's president to complain.
"Unreal," she wrote. "Mili, don't EVER let anyone tell you that you aren't perfect just as you are.i won championships with short hair," Wambach wrote in another tweet.