Alysia Montano had fans on their feet by the time she completed her 800-meter race at the U.S. Championships. The very pregnant Olympian crossed the finish line dead last, but was a winner in the eyes of the group — and the nation — for running the event just six weeks away from her due date.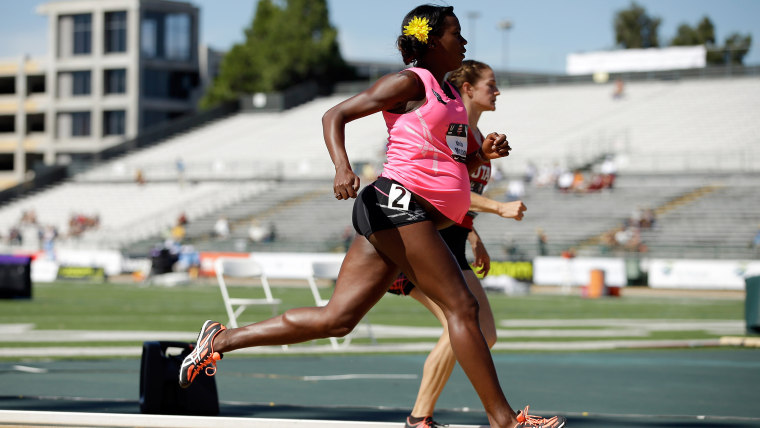 TODAY's Jenna Wolfe, a certified personal trainer, said she exercised throughout her pregnancy with her daughter.
"I exercised the day that Harper was born. I'm not even sure I can imagine myself doing this," she said Friday.
Savannah Guthrie, who is also eight months pregnant, was honest about her own level of physical activity these days. 
"The only sprinting I'm doing at 1 a.m. is for the bathroom and that is it," she said. 
Social media has lit up over how the five-time track-and-field champ clocked 2 minutes, 32.13 seconds during a qualifying heat Thursday in Sacramento, California.
Twitter users called her an "inspiration" and "superwoman."  

First-time mom Montano told reporters Thursday that she got the green light, and encouragement, to run from her doctor and midwife.

"I've been running throughout my entire pregnancy and I've felt really, really good during the whole process," she said.
That was enough for fans who responded to a survey on TODAY's Facebook page, where Montano received overwhelming support. Most said that as long as the runner has clearance from her doctor, she should be free to pursue her passion.
"Why not? She's pregnant, not dying," said Sandy Cutcher-Walowich.

"As long as she is healthy go for it. So I say well done," said Deanna Head McFadyen.

Watch video: Was it OK for Alysia Montano to run while pregnant?
Though some question whether a woman in her eighth month should be exercising so intensely, Dr. Nancy Snyderman, NBC's chief medical editor, said there's no reason for Montano to stop running, especially if she's cleared by her medical team.
"The amniotic fluid provides cushion for the fetus and blood will not be shunted away to other parts of the body enough to harm mom or fetus," she said. "Even the issue of stamina is a moot point. Balance may be affected a little from a shifting weight load but only minimally."
Follow TODAY.com writer Eun Kyung Kim on Google+ or on Twitter.