Olivia Wilde paid a visit to "The Ellen DeGeneres Show" on her birthday Thursday. But despite it being her big day, the 32-year-old had someone else's celebration in mind.
Wilde's son Otis will turn 2 next month, and she vowed, "That is going to be the party to be at!"
That's because Otis may be small, but he's a huge Beyoncé fan.
MORE: Olivia Wilde's Instagram just got a big dose of cuteness
"It's going to be a Beyoncé listening party/appreciation/dance-off," Wilde said of the upcoming birthday bash.
Otis' obsession with the singer started innocently enough.
"You know how a lot of moms have on their iPads a kids' show — an appropriate-for-kids program, like an Elmo and such? I didn't, and we were on an airplane and I needed ... a distraction tool immediately," she explained. "All I had was all of Beyoncé's videos from her last album, and so I just put those on for him."
He was hooked as soon as he saw the video Wilde described as "arguably the most sexually explicit video ever made" — otherwise known as the "Yoncé" video.
MORE: Bra-vo! See the fun way Olivia Wilde and Jason Sudeikis' son, Otis, accessorized
Ever since then, Otis hasn't been able to get enough of the woman he now calls "Beyoncé Boobies."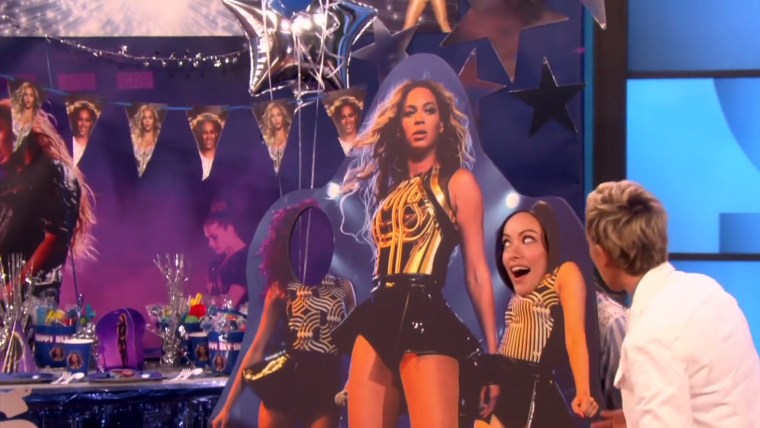 So his "Aunty Ellen" decided to put together a surprise in the form of all the party supplies a birth-Bey boy could possibly want.
Follow Ree Hines on Twitter.