/ Source: TODAY Contributor
Ever since Jay and Kateri Schwandt announced that they are expecting their 14th child late this spring, their phone has been ringing off the hook. The million-dollar question on everyone's mind: After 13 sons, will they finally have a baby girl? No one can't wait to find out... except the Schwandts themselves.
"For us, it is about the baby, about the miracle of life," Kateri told TODAY Parents. "It's not about having a girl."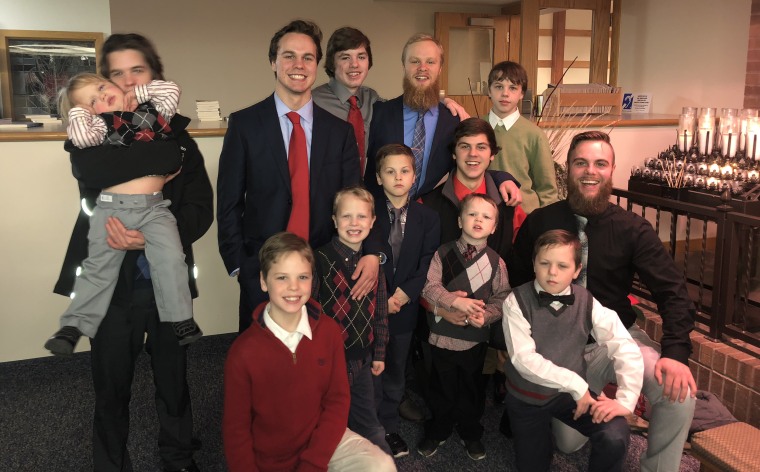 This baby will likely be the couple's last, they said. "We are just as excited about this pregnancy as we have been about all of the others," Jay said. "We miss having a baby around. But in general terms, we are beginning to feel like we might be done after this."
They are not trying to have a girl, he said with a laugh. "We could be trying forever!"
The couple, both 43, married just out of high school and began having children while they were still in college. They continued to grow their family even as Jay attended law school and Kateri earned a Master's degree in psychology. By the time they were beginning their professional lives, the couple already had six children.
"We always knew we wanted to have a big family," said Jay, "but we imagined that would mean 6 or 7 kids."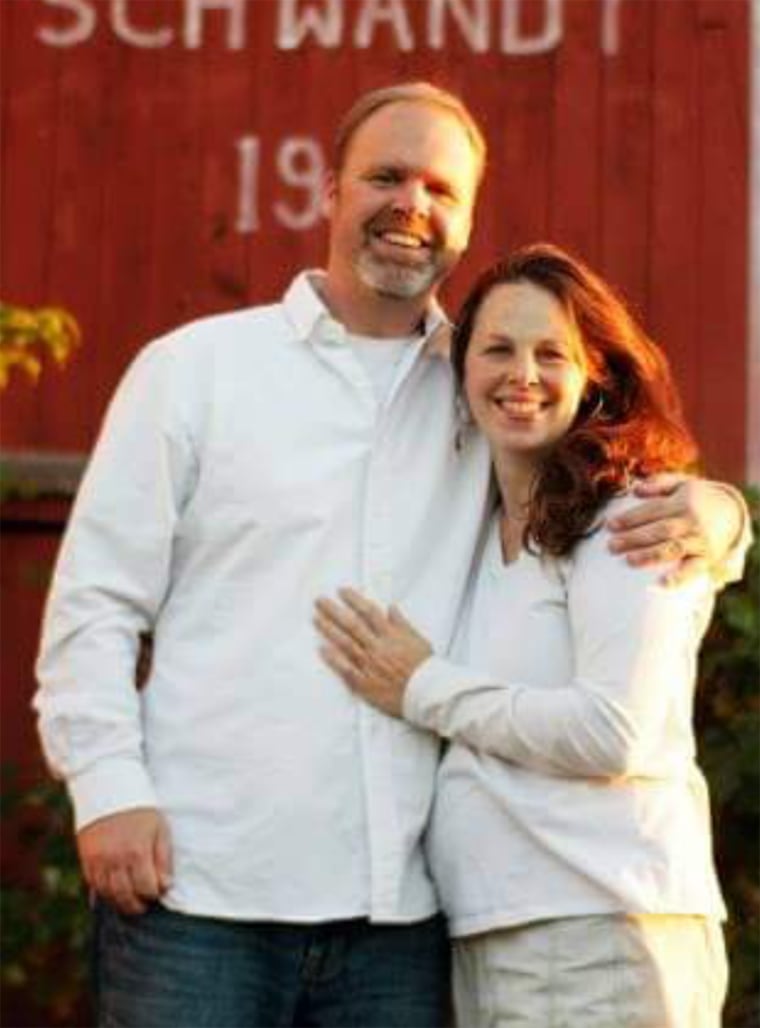 However, as their family grew, he says that having a lot of children "was never a burden."
"Our faith played a big role in how our family took shape," he said. "This is just what we do. We never felt maxed out. If we ever felt like we couldn't give each child all the attention he needs or provide financially for them, we wouldn't have done it."
The Schwandts live just outside Grand Rapids, Michigan, with most of their 13 sons still in the house: Tyler, 25, Zach, 22, Drew, 20, Brandon, 18, Tommy, 16, Vinny, 15, Calvin, 13, Gabe, 11, Wesley, 9, Charlie, 7, Luke, 6, Tucker, 4, and Francisco, 2 — who, until later this spring, is the baby of the family.
Oldest sons Tyler and Zach have finished college, while Drew and Brandon are a junior and freshman, respectively, at Central Michigan University. The family is a member of Our Lady of Consolation Catholic Parish, where the younger boys all go to school through the 8th grade before attending public high school.
Never miss a parenting story with the TODAY Parents newsletter! Sign up here.
Big families and boys are familiar themes for the Schwandts; though Jay comes from a family of just two children, Kateri is the 13th of 14 siblings in her family and has one sister who has 10 boys of her own.
Making a large family work is "all about time management and patience," said Jay. "We have a good routine. Our older ones help with the younger kids, and it really helps that we have several extra drivers around!"
However, Kateri said being pregnant at 43 is harder than it was when she was younger. "Until the third trimester, I used to be able to just go about my business doing everything; I didn't even feel like I was pregnant. That's not happening anymore," she said. "I can't wait for the nesting phase to come. It better come!"
No matter what the gender turns out to be, the entire Schwandt family is excited to meet this new addition.
"We want to enjoy every minute and pay attention to the little things," said Kateri. "It's been almost three years since we had a newborn in the house, and we can't wait to hold another baby. Even the older boys are really excited."