A very famous 1-year-old will celebrate his birthday tomorrow, and while there's no word yet on whether little Prince George will ring in his second year by planting his face in a "smash cake," we can certainly hope.
If Prince William and Duchess Kate did have their son take part in the trend, they would join the legions of parents who have embraced the smash cake, a birthday party feature in which brand-new 1-year-olds are served cakes to destroy— adorably— in front of friends and family.
We asked TODAY fans for their favorite "smash cake" photos— and they did not disappoint!
RELATED: 'Smash' trend taking baby birthday parties by storm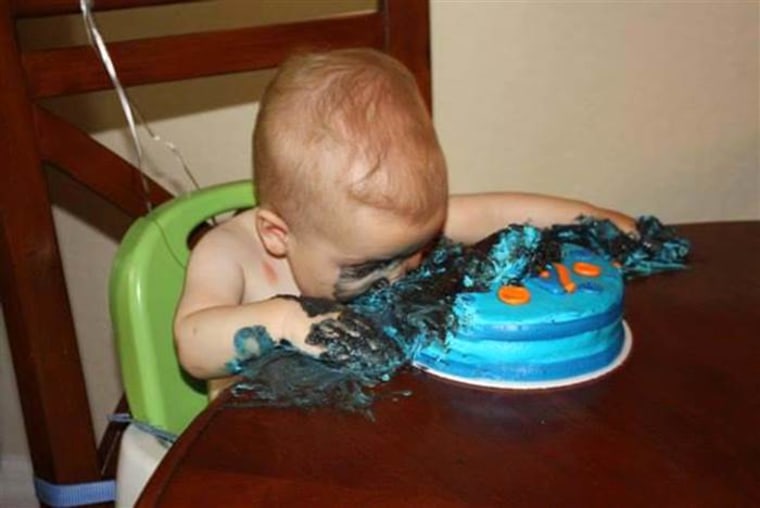 "Typically when you have a smash cake, you have two cakes," Rachel Florio-Urso, a celebrity baby trend expert, told TODAY.com. "You have one for the adults, and they get to eat it with a nice fork and a knife, and then you have one for your little one, and you just get to put them right on their high-chair tray and let them have fun with it."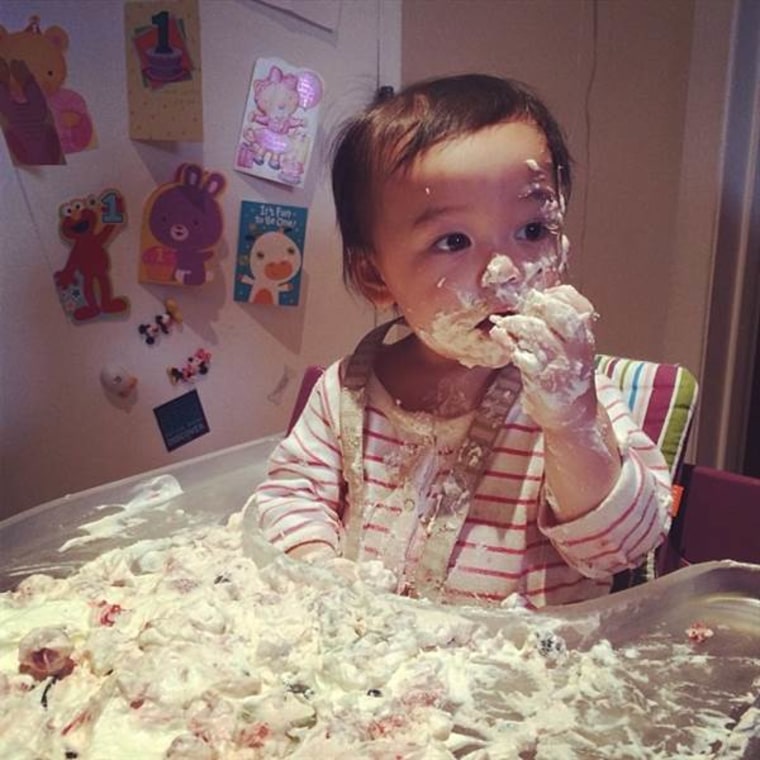 While she might not have invented the trend, Florio-Urso has used it for four of her children. "Actually, for my first-born, I just allowed her to smash right into the big cake [for adults]," she said with a laugh.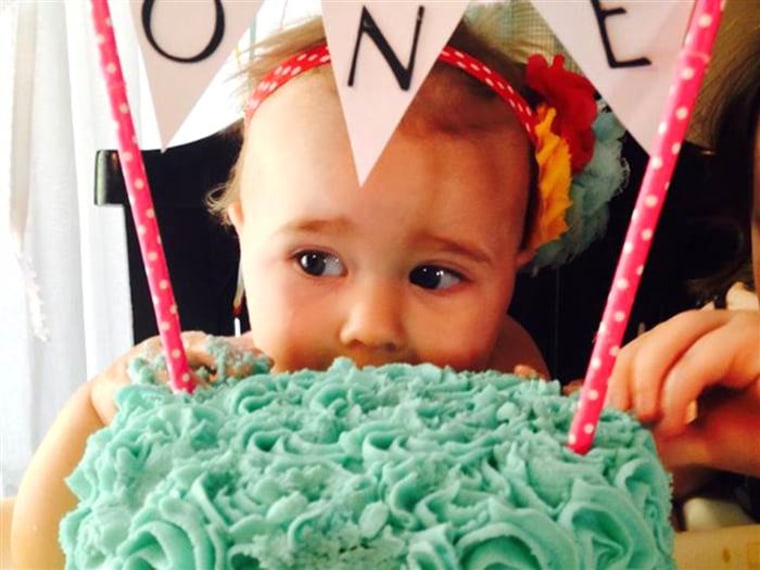 And bakeries have gotten in on the trend as well. Since Queen of Cakes opened in Edina, Minnesota about 10 years ago, Terri Leckas' bakery has been giving away free, smaller "Teeny Cakes" to adults who also buy larger cakes to celebrate babies' first birthdays.
RELATED: 15 funniest places where kids have fallen asleep: That can't be comfortable!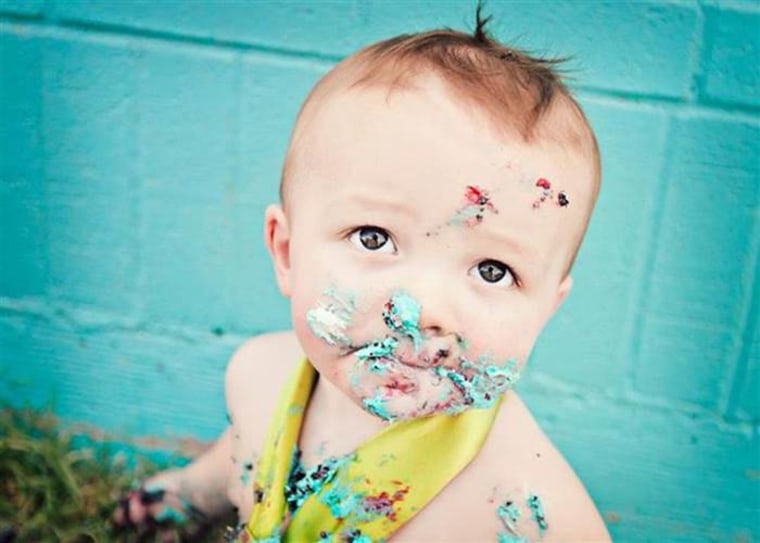 "For a jungle animal theme, we'll make a little Teeny Cake that will match," Leckas told TODAY.com. "Maybe, it's got a little tiger face on it.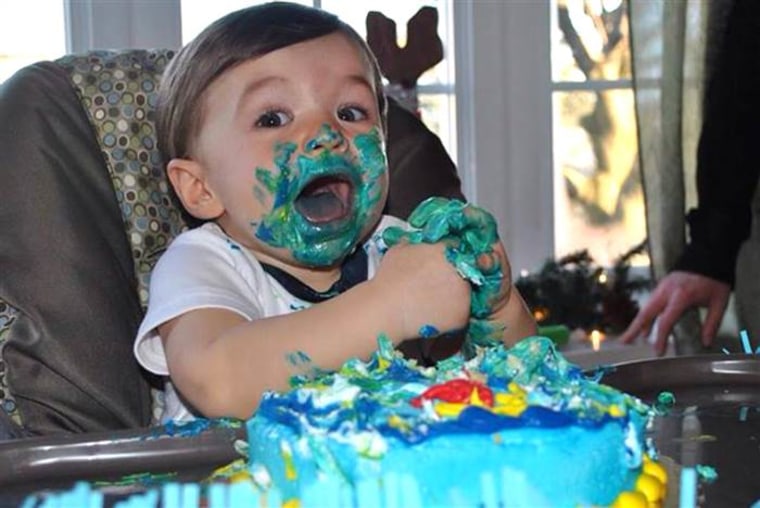 She noted that the trend is more popular than ever, especially since parents are demanding larger smash cakes that work better on camera.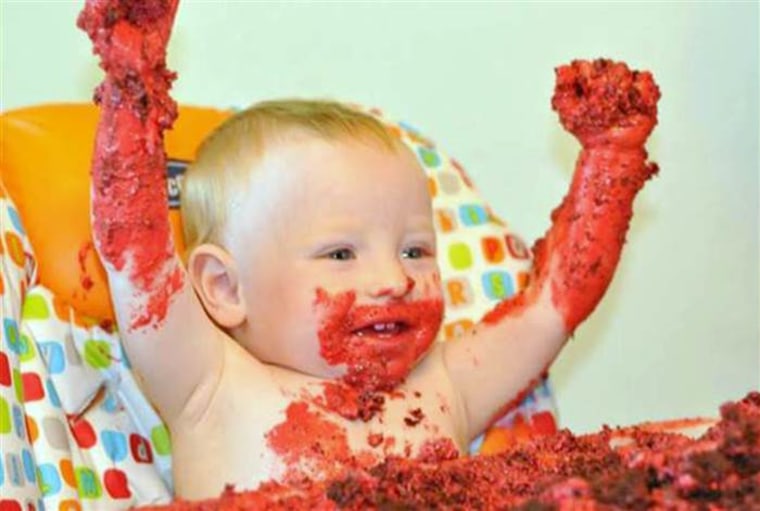 "People are wanting a bigger cake, because they're having special photo shoots taken," she added. "They want more of a mess, and they want the progression of the cake being finished."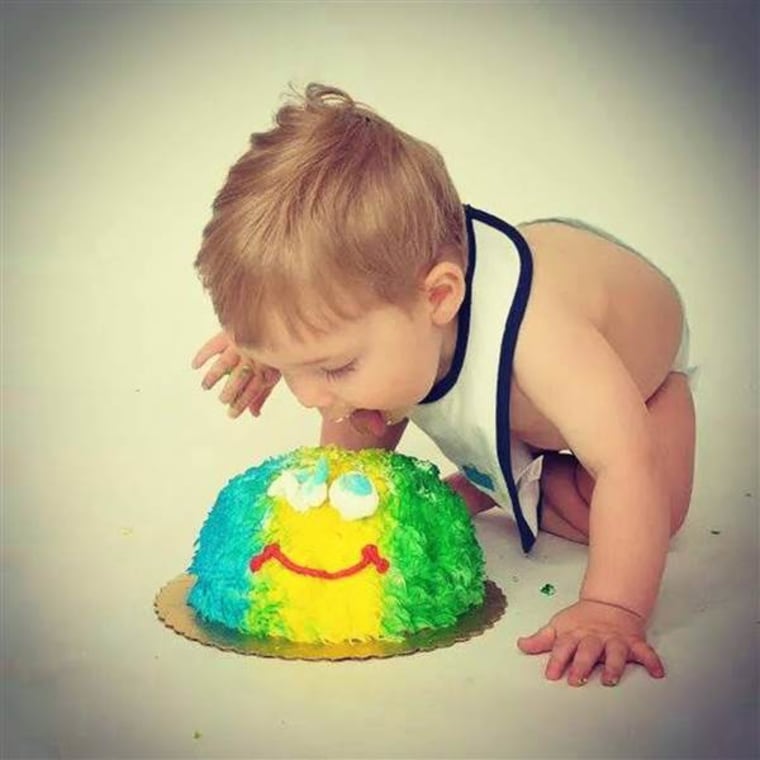 The owner of her own cake-design company in Connecticut, Erica OBrien said she takes smash cakes in stride. "I think that when you go into it knowing that that's going to be the final outcome, it's not as heartbreaking as working on a piece of art that you expect to be admired for all of eternity," she said.
RELATED: Why you should let your kids eat (some) junk food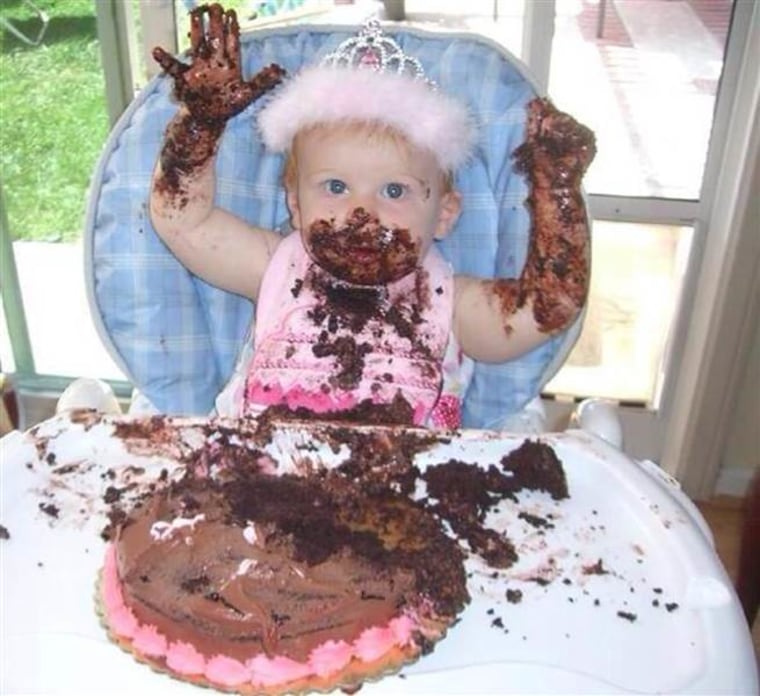 Before moving to California, Eryn Kalavsky, who works for a website called The Chic, teamed up with two of her Brooklyn friends to throw a smash-cake birthday party for their kids, including her daughter, Livy.
"The birthdays were in October, around Halloween, and so we did a Halloween-themed party," Kalavsky told TODAY.com. "[Livy's smash cake] was a jack-o-lantern, and I did a carrot cake."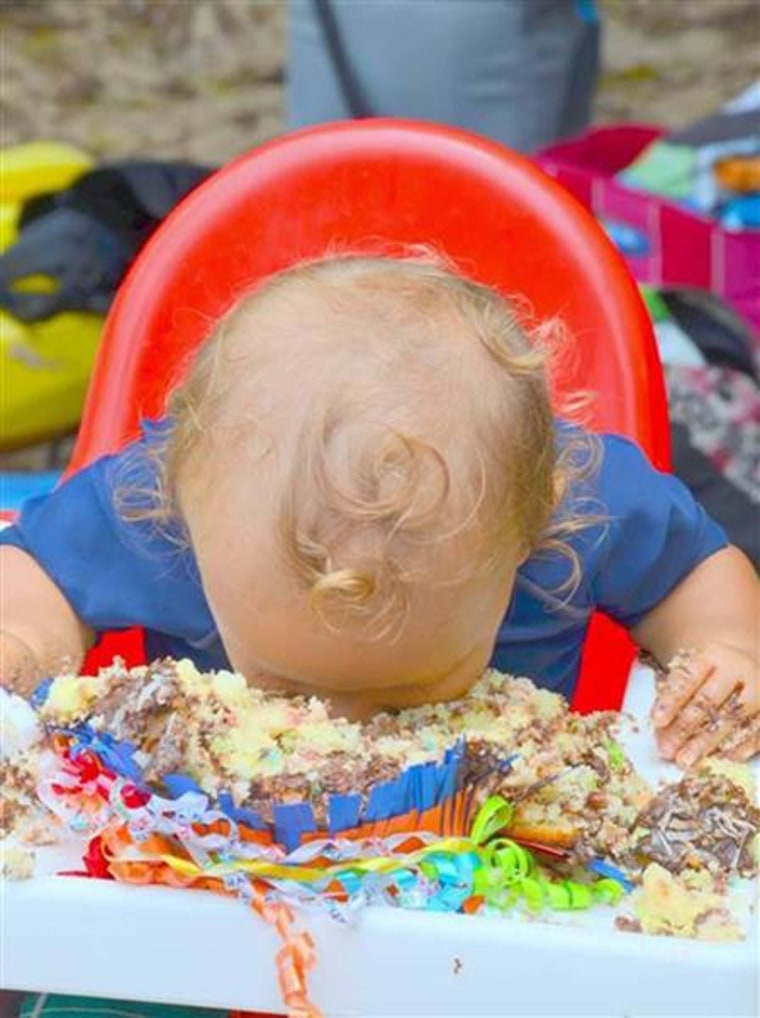 Preparation, she said, was key. The mothers made cupcakes for themselves (wanting to enjoy some baked goods without an accompanying giant mess), as well as cakes for their children to destroy. Before before letting the three baby girls loose with the smash cakes, the parents unrolled a drop cloth and placed the babies on top of it.
"We sang 'Happy Birthday' to all of them, and kind of let each of them explore," Kalavsky added. "One of the girls was a little apprehensive, and her mom kind of helped her get going. The other one just sort of looked at it. And Livy just went to town, without hesitation. Once they got started, there was cake all over the place."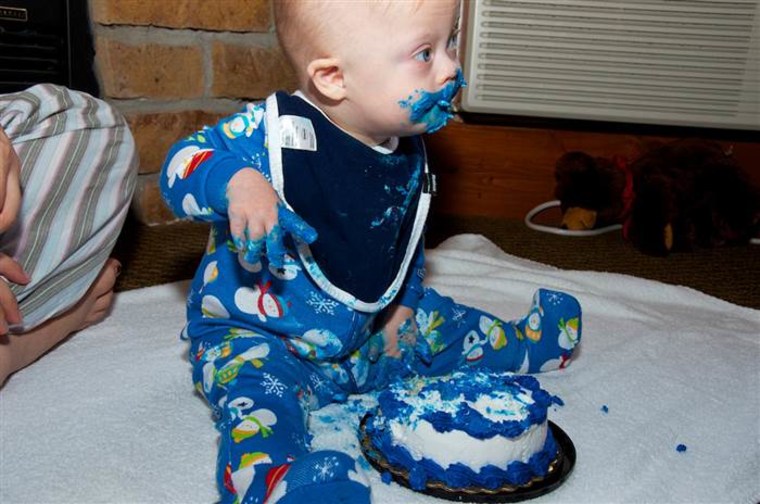 Rick Smith, who runs the popular Noah's Dad website, recalled the time his family threw a smash cake party for his son in 2012. Even though Noah enjoyed the blue frosting — prompting a photo caption of "Our little Smurf!" —Smith recommended other color choices to top a smash cake.
"You may not want to use a blue or black frosting," he wrote. "They are really messy and hard to clean up, [and] may leave a lasting stain on your face letting people know what you have been up to."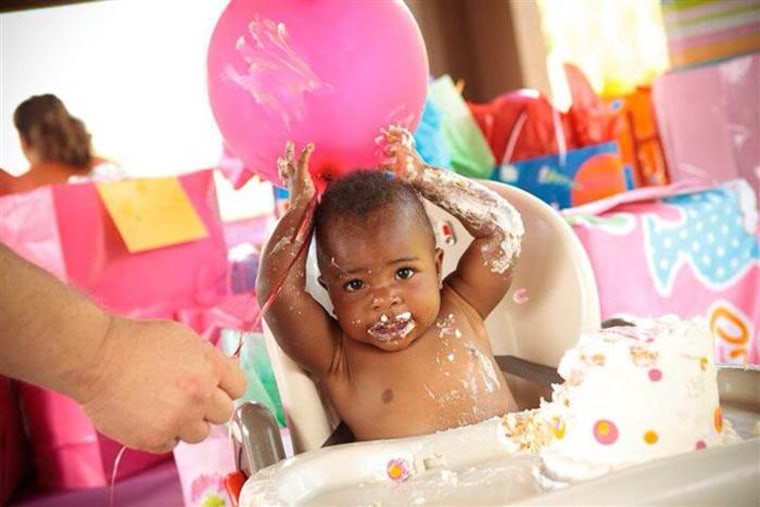 His other tips include being near a bath to allow for a quick cleanup, bringing a second wardrobe (for both baby and parents), and preparing for everything to "not go quite like you envision, but enjoy every moment of it!"
Kalavsky offered another helpful tip: "Have a lot of wipes in your bag."
For a healthier smash cake option, "use anything with less sugar," Florio-Urso said. "You would use a more natural, floury cake [perhaps] vanilla. And you would keep it very simple. You can actually use chocolate pudding as the icing on a vanilla cake, rather than the sugar-frosted icing. And peanut-free, because you don't know if a little one [might be allergic]."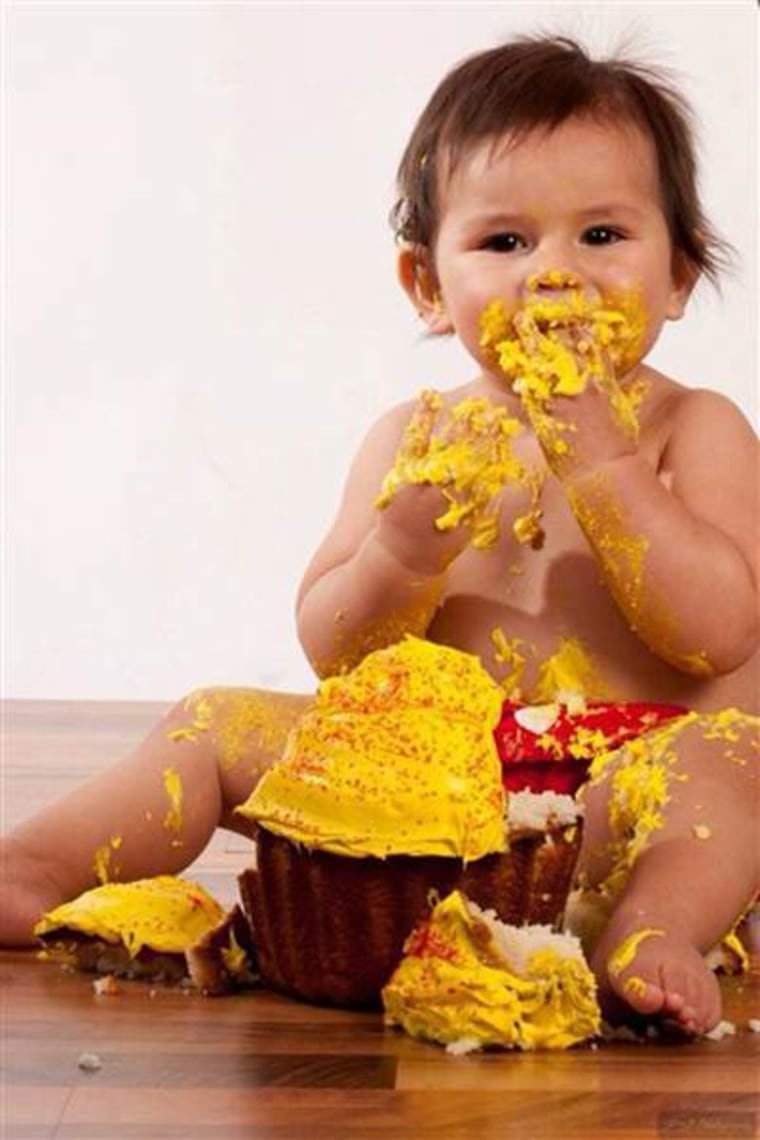 With or without a smash cake, parents should remember that the event should be all about their kids, Florio-Urso advised.
RELATED: #StartTODAY: 9 ways to teach kids about nutrition, fitness, money, organization
"I think too many parents have a first birthday more for themselves, rather than for the child," she said. "Enjoy bonding with your baby during that time. It's not about you and having champagne with your friends. It's about you, enjoying the quality time with your baby."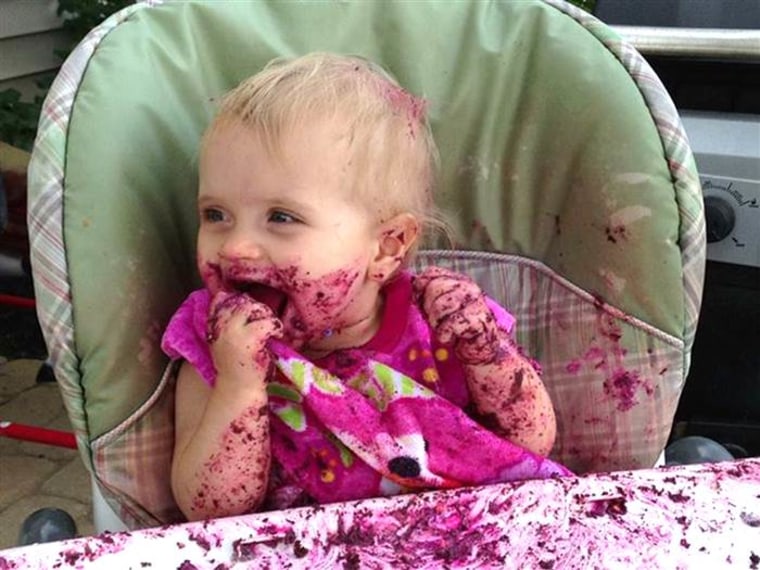 Kalavsky— now a mother to both Livy, 2½, and a 4½-month-old boy Miles— said a smash-cake party can serve as a metaphor for parenting.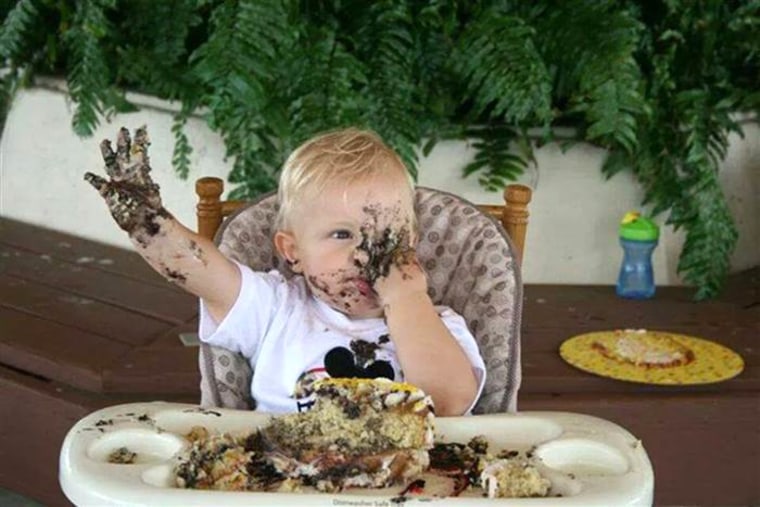 "Babies are supposed to be messy," she said. "I think one of the hardest parts of parenting is embracing that fact...Let them be messy and have fun, but you can do it in a way that appeases your need to have things not completely destroyed."
RELATED: How to trick your kids into eating their veggies
Smith agreed, telling TODAY.com, "The most memorable parenting moments are made when we throw the rules out the window and just sort of let your kids have fun."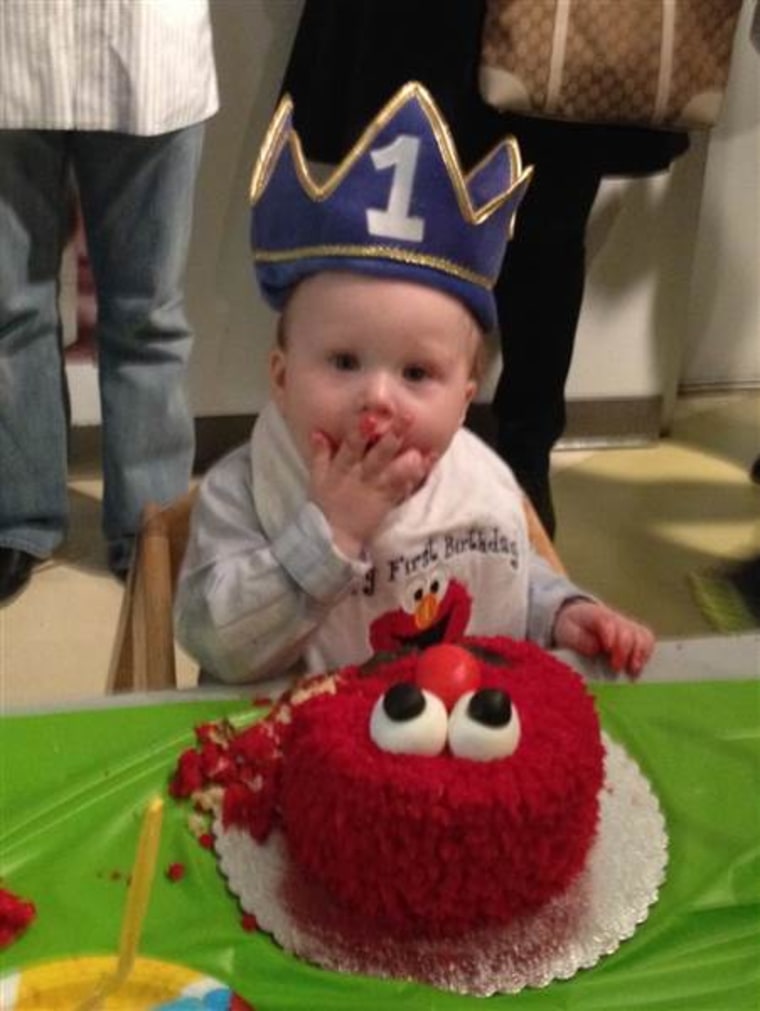 The self-proclaimed Queen of Cakes saw another upside to the trend.
"The younger you feed them cake, the better it is in my book," Leckas said. "Once they taste it, they'll be back."
Share your cute photos of babies making cake messes on our TODAY Parents Facebook page.
Follow TODAY.com writer Chris Serico on Twitter.