A 9-year-old Ohio girl used a lemonade stand this week to help her raise money to buy an electronic tablet to help with schoolwork — and maybe play a few video games. She failed to raise enough money to meet her goal, but she got the device anyway, thanks to a thirsty police officer.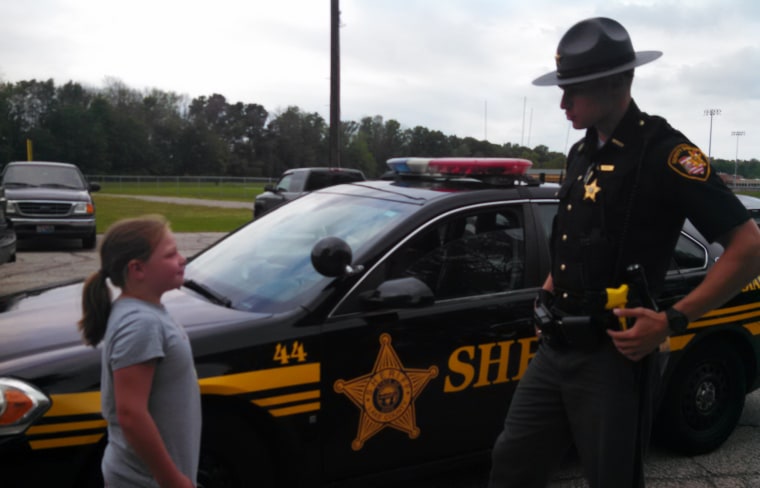 Rising fourth grader Gabrielle Garcar was tending to her lemonade stand Monday at her grandmother's condo building when Zak Ropos stopped by for a cup. When the Lake County sheriff's deputy learned what the girl planned to do with the money she raised, he pulled her mother aside.
"I told her, 'I have an old iPad at home. I'll go home and see what I can do with it,'" he told TODAY.com. But once home, Ropos realized the device no longer worked, so he headed to Best Buy and purchased a brand-new electronic tablet.
"She's 9 years old and she's willing to work for what she wants, and I found that very admirable of her," said Ropos, 22. "I knew her lemonade stand wasn't probably going to bring in enough money for a tablet, but seeing that she was willing to work for what she wanted, I was willing to help her. People have helped me out in my life, so it was kind of like a pay-it-forward type thing."
He delivered the device to her the next day, meeting up with the family at the local high school where they were attending football practice for the girl's brother.
Ropos, 22, has been with the sheriff's department for eight months. He said he's not sure why his act has garnered so much attention — a photo that Gabrielle's mother took of the two of them has received more than 2 million views on the sheriff's department Facebook page. Ropos pointed out that he works among many generous officers: One of his lieutenants recently donated $200 to a needy family, and two fellow deputies just days ago purchased a bike for a boy who needed help getting to soccer practice.
"That's how it is at Lake County. Everyone is caring here," he said. "We all give our shirt off our back for people."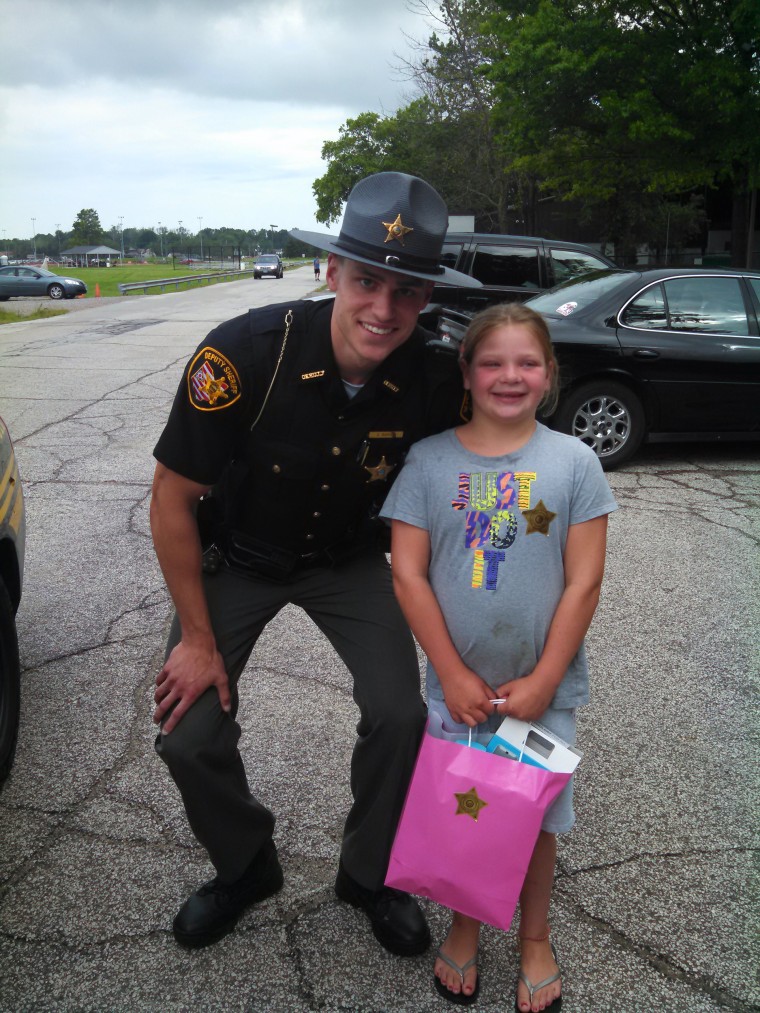 Gabrielle's mother, Melissa Garcar, agreed. She recalled how the first officer who stopped by her daughter's lemonade stand paid $3 for a 50-cent cup of lemonade. He also promised to tell his buddies about the operation. Ropos came by shortly later.
"The kindness of people — it gets me every single time," said Garcar, who described the deputy's gift as "a genuine act of kindness."
"I told him, 'I just need you to know that you've given this gift to a really awesome girl,'" she said. "She's got a huge heart. For instance, we were driving to football practice and my gaslight went on and Gabby asked if I wanted her lemonade money to put gas in the car. She is just an awesome child."
Ropos said hearing the story of how Gabrielle decided to spend her lemonade earnings made him feel even better about his decision.
"When I said, 'How did your lemonade sale go?' She goes, 'Well, I made a few dollars but Mommy's gas tank was empty so I gave the money to her,' and that just that made me melt," he said.
"I really didn't want all the media attention. I just wanted to see the smile on a little girl's face and that was worth a million dollars to me, so that's why I did it."
Follow TODAY.com writer Eun Kyung Kim on Twitter.