/ Source: TODAY contributor
The California mother of 14, including octuplets born two weeks ago, said in an exclusive interview that the intense scrutiny she has been under is "really kind of sick."
The Jan. 26 birth of the eight infants catapulted Nadya Suleman from obscurity into the national spotlight. In a new interview with TODAY's Ann Curry that aired Wednesday, Suleman said she was unprepared for the attention.
"All of a sudden, someone just opens you in half, you know, cuts you and opens you and just wants to dissect you and just wants to put you under a microscope. And it's really kind of sick," Suleman told Curry. "I think people really need to just focus on their own lives and their own growth and their own self-awareness and stop trying to fixate on other people."
'I'm not superhuman'
Suleman sat down with Curry last Thursday for her first interview after leaving Kaiser Permanente's Bellflower Medical Center, where her octuplets remain in neonatal intensive care. She agreed to another interview Tuesday to answer new questions about her finances, her mother and the level of aid she is receiving from government agencies.
Suleman and her six other children, all under the age of 8, live with her mother, Angela Suleman, in a small home. Angela Suleman did not talk with TODAY, but has been quoted in other media saying that her daughter is "incapable" of caring for 14 children.
But Nadya Suleman said she has a good relationship with her mother.
"We talk on the phone, and she adores her grandchildren," Suleman said. "Regardless of the words she chose to use — she said, 'Nadya's not capable of taking care' — what human on this planet is capable to take care of 14 independently without support from family, from friends, from church? No human is. I'm not superhuman. Nor do I claim to be."
'A lot of villages'
She also responded to suggestions that California child welfare officials should intervene to make sure she's taking care of all her children.
"Child Protective Services can come and visit anytime they want," Suleman said. "If they see the interaction I have with my children and the love that's there, because I'm receiving help already. So yes — what is it, it takes a village to raise a child? Well, this will take a lot of villages."
The Los Angeles Times has reported that Suleman, who had told Curry she has no income, receives $490 a month in food stamps in addition to Supplemental Security Income (SSI) payments for her 3-year-old son, Aidan, who is autistic, and for two other children who have milder developmental issues. The payments are $600 monthly for each of the three children.
The 33-year-old single mom repeated her belief that she is not receiving welfare.
"I'm not living off of any taxpayer money. If I am, if it's food stamps, it's a temporary resource, and it's only for food," Suleman said. "It's an excellent resource if used appropriately and not for too long ... We receive no cash. And I've never even applied. I've never applied."
Jolie wannabe?Suleman has maintained that she intends to return to school in the fall to pursue a master's degree in counseling, a process she said would take 18 months. She expects the degree to lead to a job that will support her brood.
The SSI aid is not for her, Suleman said.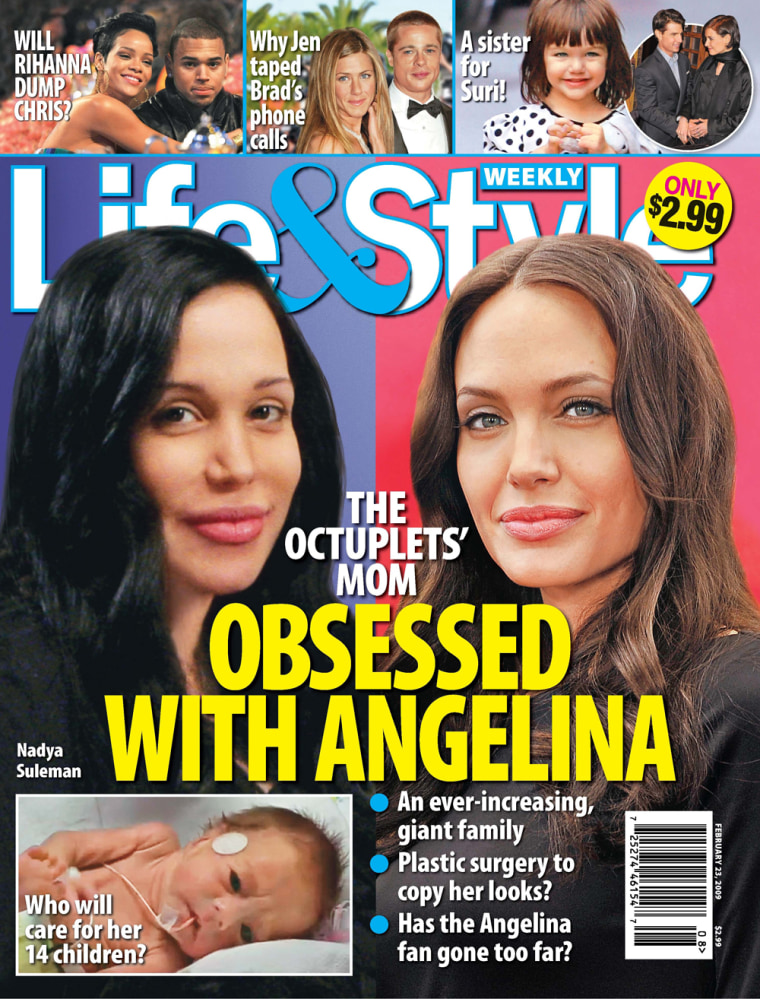 "I was reluctant to begin with to even apply," she told Curry, but added that she was finally convinced by others that she needed help for Aidan's care. "So I did and he was approved, and that money is for him. It is for his care. I do receive help. Of course, when the babies come home, I really need help with him — more help. So the other two children, just for little disabilities, it's a temporary resource. They've received it now for maybe three months. They'll be reevaluated in another couple months."
Suleman also replied to people who have speculated that she has had plastic surgery to augment her lips to make herself look like actress and supermom Angelina Jolie.
"I have never thought of Angelina Jolie except the last time I saw one of her movies," Suleman told Curry. "I think that was years ago. It is so far away from the place I'm in right now to think of any celebrity."
She denied having any cosmetic surgery.