As a mom, Natalia Armoza has many wishes for her 5-year-old daughter Pearl.
One of these wishes is that Pearl, who has cerebral palsy, be afforded the same opportunities as every other child her age. So when Armoza learned that the New York City Ballet held workshops for children to dance in the studio, she wanted Pearl to be able to join in on the experience as well.
"I didn't want her to be singled out with all these other children who were so capable when they were dancing," Armoza told TODAY.com. "I didn't want to put her through that."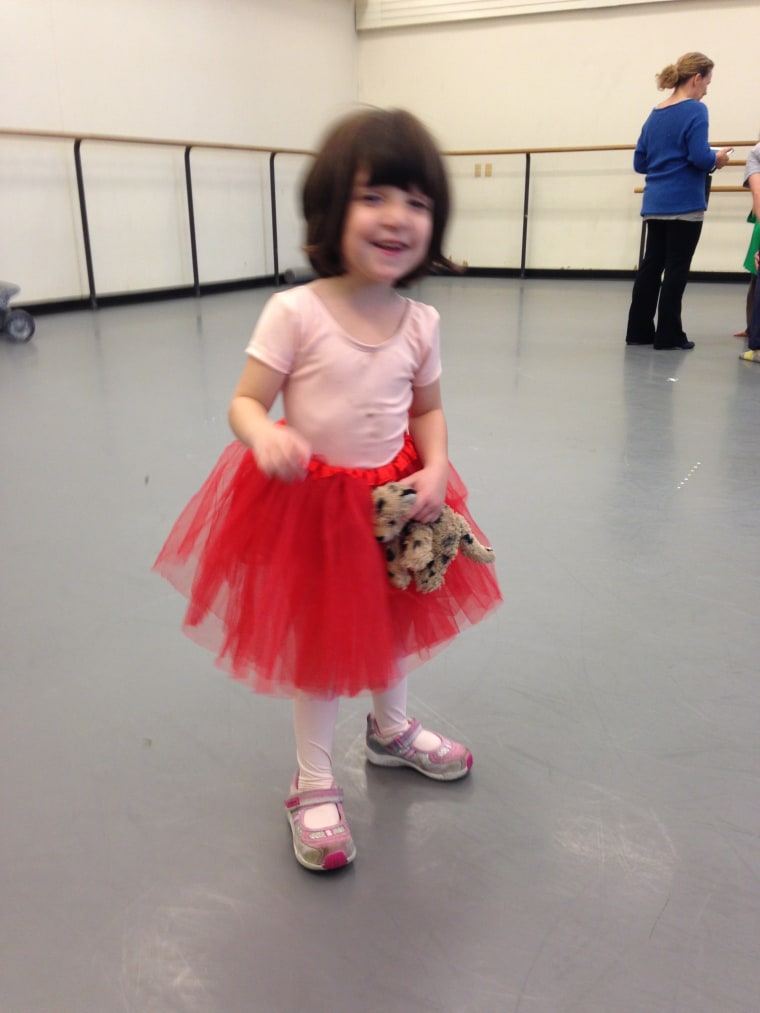 In a letter she wrote to the ballet company on Dec. 23, 2013, Armoza proposed a workshop that could be catered to children with cerebral palsy in New York City.
"It would mean so much to my daughter and children like her to be able to take part in a NYC Ballet workshop, and for one day, feel like they too could become ballerinas," she wrote.
After not hearing from the dance company for over three months, Armoza was surprised to receive a response that they were actually very interested in the idea of a new program.
"I personally am very interested in your idea and I would like to schedule a meeting with you and the Director of the Weinberg Family Cerebral Palsy Center at Columbia University Medical Center in order to learn more and discuss the possibilities," the assistant director of education at the NYC Ballet responded on March 16, 2014, in a letter that was picked up by UpWorthy.
Armoza then reached out to Pearl's surgeon, Dr. David Roye Jr., the executive director at the Weinberg Family Cerebral Palsy Center, who connected her with associate director (and ballet enthusiast) Dr. Joseph Dutkowsky, who offered his expertise and services.
Between Armoza, Dr. Dutkowsky, the education department at NYC Ballet, and a medical fellow in orthopedics, a team was constructed to design the perfect dance program for disabled children. Columbia University Medical School sent a medical assistant for every ballet student, and the NYC Ballet also provided two dancers to volunteer. Dr. Dutkowsky trained each dancer and explained to them what to expect when interacting with children with disabilities.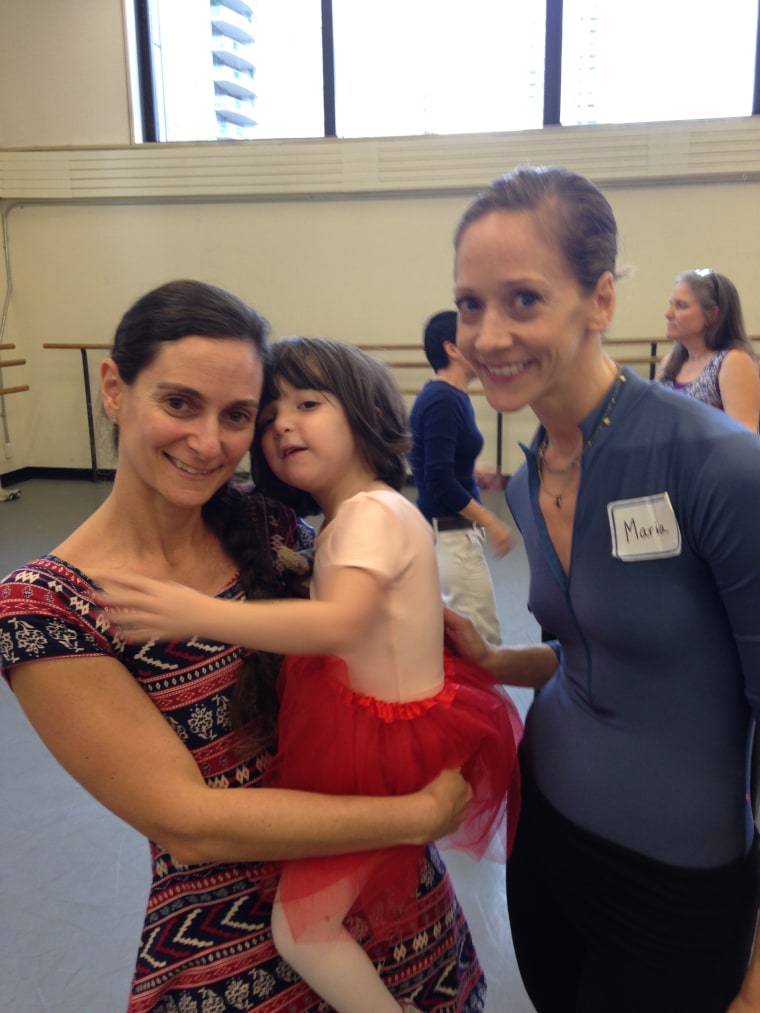 "I had no idea what a beautiful, sophisticated, rewarding program they were going to build for the children," Armoza said.
The first program debuted in the fall of 2014 with 25 children, and the second season was during the spring of 2015 with 19 children.
Armoza emphasized that it was important to her that the program let the children feel self-sufficient. "I didn't want mothers or parents to dance with the children. I wanted the children to be independent," she said.
Independence is a trait Armoza tries to instill in her 5-year-old. Pearl, who spent 10 weeks in a body cast after having surgery to have her hips rebuilt at the age of 3, is a "tough cookie" who loves to sing and listen to music, her mom said, adding that the little girl loves people and high-fiving everyone around her.
"She's 10 pounds of excitement in a five-pound package," Armoza told TODAY.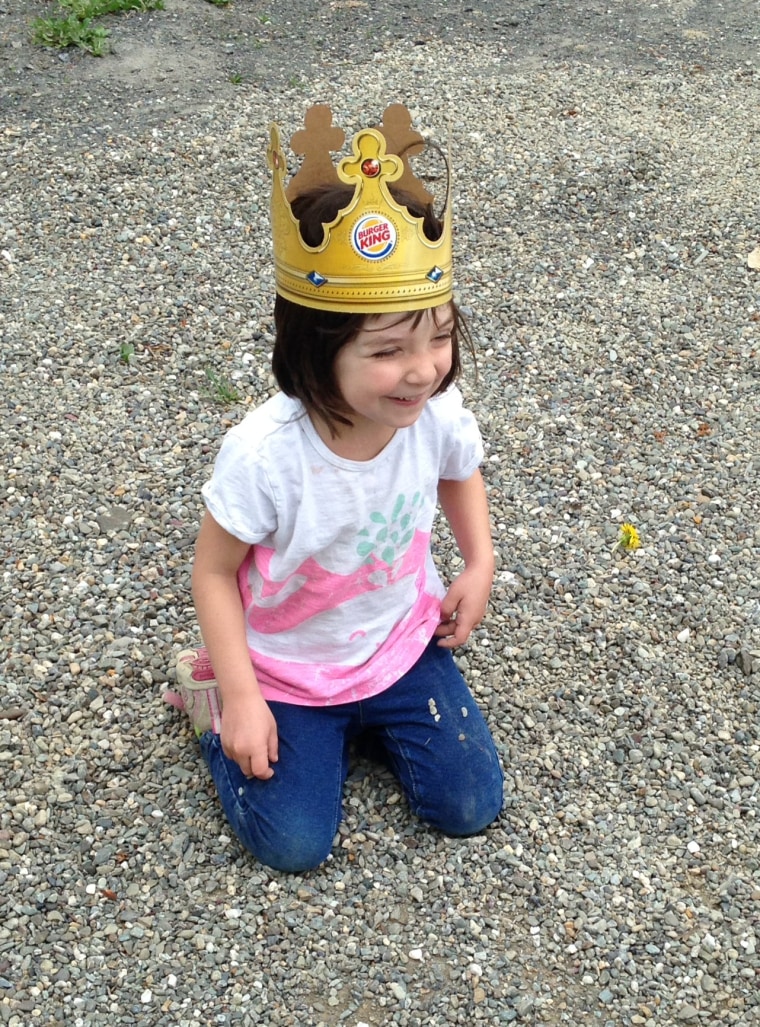 Armoza's love for the arts inspired her to get Pearl involved with dance. Because Pearl has delayed speech, she spends a lot of time expressing herself in different ways. Armoza believes that "ballet is such a medium in which you tell a story with your body," and that this workshop was the first step in introducing Pearl to performance art.
Attending workshops became a routine for Pearl and Armoza. "The whole drive to Lincoln Center she kept saying, 'Who wants to go to dance class? Me!'" Armoza told TODAY.
What was Pearl most thrilled for? The tutus.
"She was really excited when she saw her dance clothes. That was really a big moment for her," Armoza said.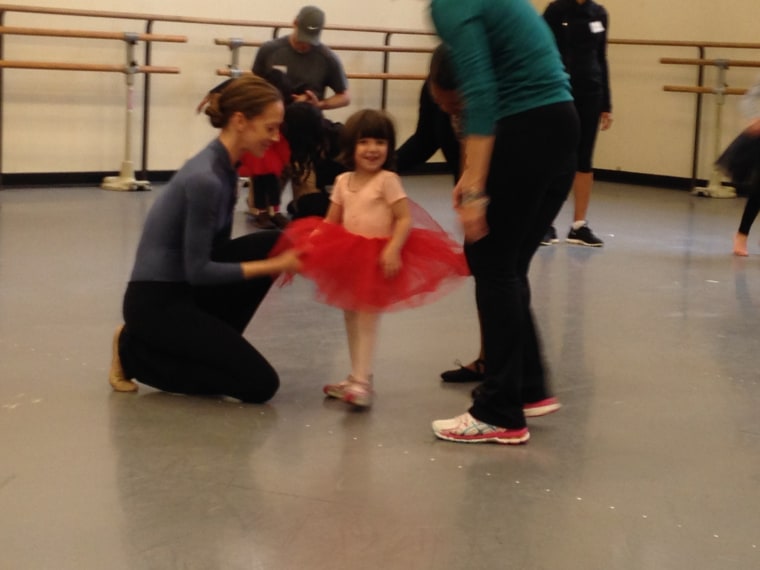 After the NYC Ballet implemented this new program, Dr. Dutkowsky told Armoza that a studio in Brisbane, Australia was looking into the idea as well. And Armoza recently reached out to the Pennsylvania Ballet about adopting a similar dance program for disabled children once the family moved to the area in late June. The NYC Ballet is currently planning dates for workshops to take place in 2016.
"The response...it's been kind of extraordinary," Armoza said. "That, for me, means that I got my slam dunk out of this."