/ Source: TODAY Contributor
Surely you've seen the flood of "sexy" Halloween costumes out there. Someone in costume-design land has decided that Sexy Ghostbuster and even Sexy Ebola are outfits that women may want to wear this October.
When blogger and New York Times bestselling author Suzanne Fleet spotted that trend in 2014, she was shocked — and then had an idea.
"There were sexy bear and zebra costumes, sexy 'Sesame Street' costumes ... it had gotten so ridiculous," Fleet told TODAY Moms. "The idea just popped into my head to do 'sexy' Halloween costumes for moms. The idea was so ripe for satirizing. I put out the call to some other humorous bloggers I knew and they jumped on the idea, so I kind of knew I was on to something."
For three years running, Fleet has posted a Sexy Halloween Costumes for Moms feature on her blog, Toulouse and Tonic. But these moms aren't popping out of skin-baring movie-character costumes. Instead, they're dressing up as humorous takes on the many less-than-sexy roles modern moms play every day.
Never miss a parenting story with TODAY's newsletters! Sign up here
In the 2016 edition of Sexy Halloween Costumes for Moms, Fleet herself plays a Shameless Chauffeur, striking a pose while hauling her birthday-gift-toting kids around town. "Drive them crazy in our schlubby tuxedo print tee inspired by your Uncle Ronny who is 44 and lives in Granny's basement, a pair of gloves to protect you from all the germs you'll encounter at Chuck E. Cheese and a hat to cover up your unwashed hair," Fleet writes.
TODAY contributor Terri Peters, a friend of Fleet's, is pictured trying to make peace between two squabbling kids in a Racy Referee look. "Fierce features include buxom black and white striped referee tee, luscious lavender robe that doubles as a tablecloth, whistle and flag," Fleet notes.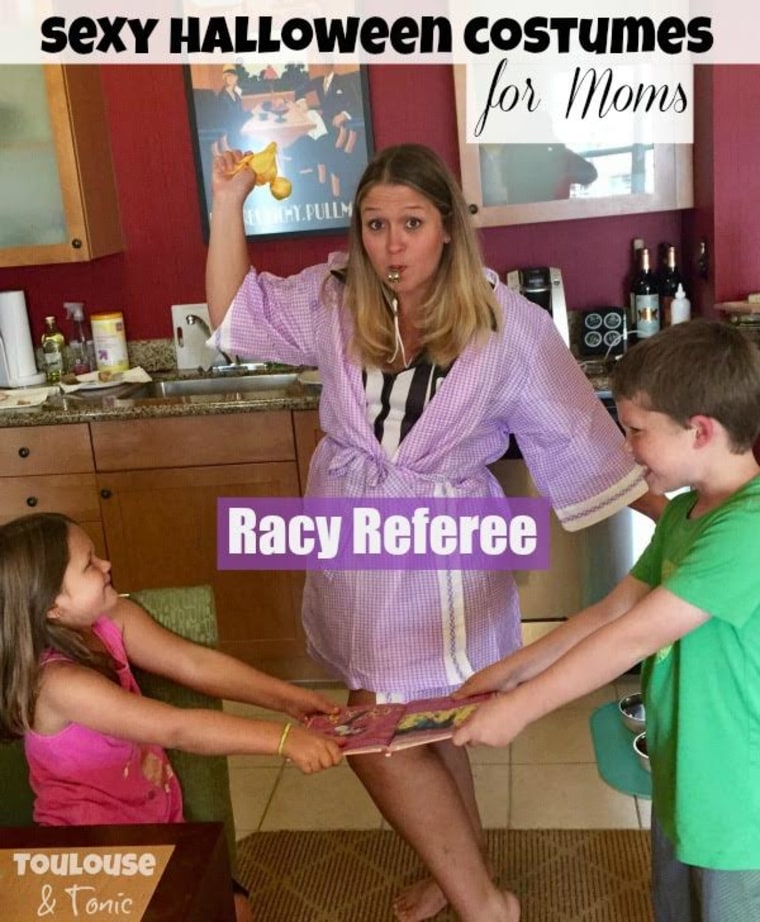 Other costume possibilities include a Bodacious Boxtopper (a mom frazzled by the boxtop collection required by so many school fundraisers), Saucy Secretary, Foxy Fundraiser, and a mom dubbed Hidden Pleasures, indulging in a clandestine closet stash of chocolate.
"All the models seem to love being involved," Fleet says. "And we never run out of ideas. Moms wear so many hats, it's not hard to think up costumes."
Most readers laugh along with Fleet, but there are always a few who aren't clear on the concept.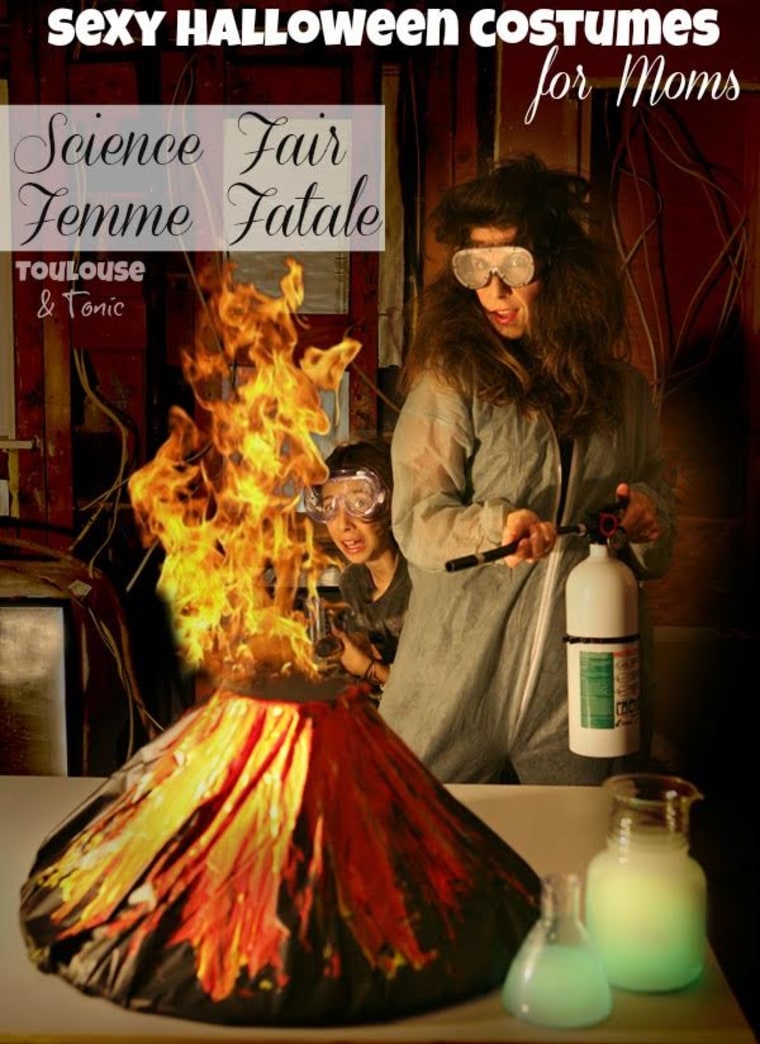 "My husband and I always have a good laugh at the comments from people who click through thinking they're actually going to see SEXY costumes and then wah-wah," she says. But many others are on board with the idea. "One awesome fan actually drew a sketch for her own costume this year and posted it on my Facebook page."
With such a love for Halloween, Fleet says she and her husband and kids always dress up for the holiday, and usually wear humorous costumes.
"Our oldest son won a Halloween contest dressed as Pee-wee Herman one year," Fleet says. "When my youngest was 2, I went as the Princess Bride and he was my Dread Pirate Roberts."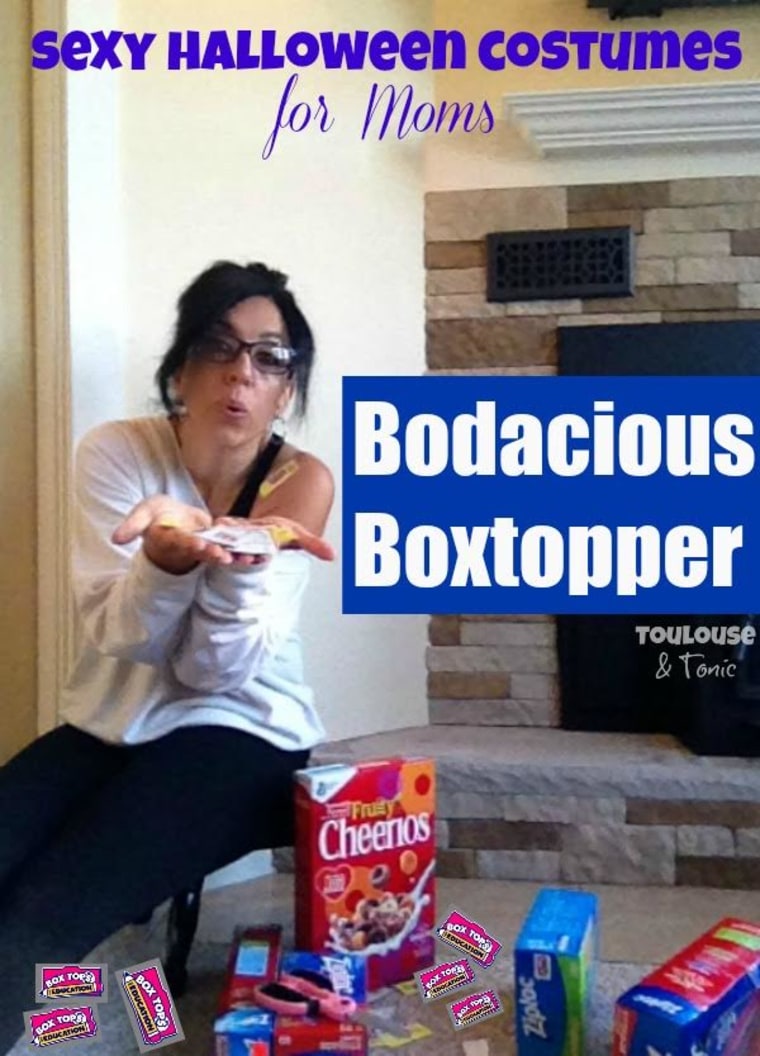 She notes that her children have yet to choose their costumes for 2016, but Fleet and her husband already have something special planned — and it's a secret. All she'll say for now is, "Check out my Facebook page around Halloween to see our awesome '90s-era movie tribute!" No word on whether it'll be sexy, or perhaps "sexy."