When parents are ready to buy the ultimate ride, California businesswoman Tiffany Nelson will help them choose the custom wheels, paint jobs, electronics and cup holders they desire.
But Nelson isn't running a car dealership; she sells deluxe children's wagons.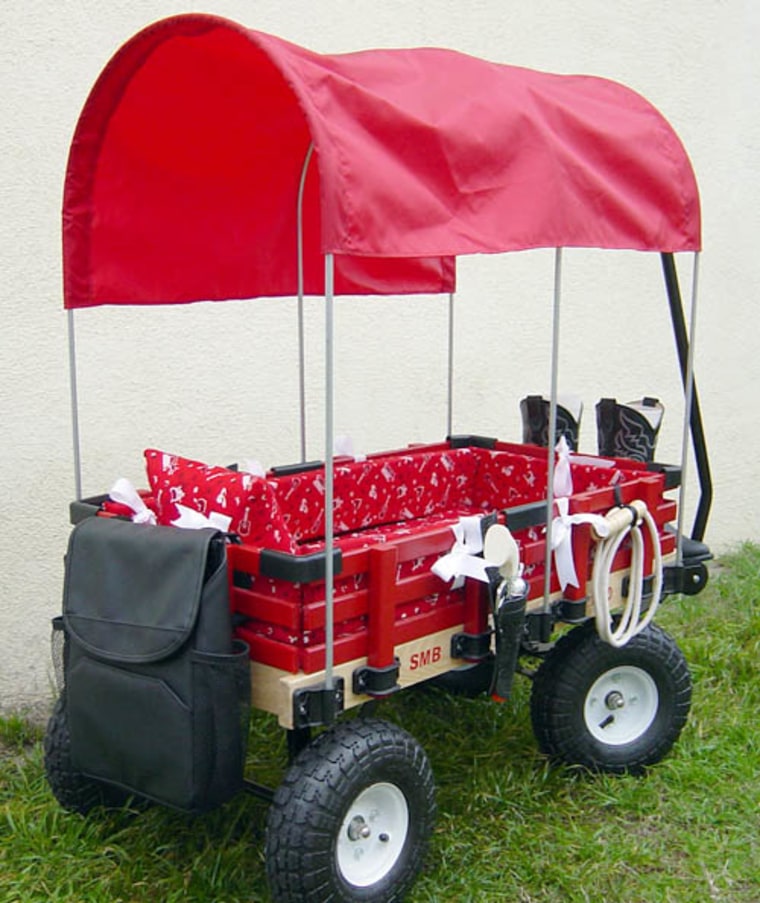 This is definitely not the red Radio Flyer you might remember from childhood. Yes, it's still the kind of basic kid transportation you pull behind you, but these posh chariots come with luxury touches and prices to match.
"The average price is about $495 and then it just goes to the 'Oh my God' range," Nelson, the owner of West Coast Wagons in Burbank, Calif., told TODAY Moms.
"It just depends on what you want to do… accessories is what's going to kill you," she added, noting that the most expensive wagon she's sold went for $1,800.

So, let's talk accessories. You can splurge on a wagon equipped with a DVD player in case your little passengers want to watch a movie during your outing. The battery-operated DVD players affix to the front with Velcro so you can pull them on and off easily, Nelson explained.
Fancy wheels with aluminum rims are available, too, and they're especially big with fathers.
"Dads are the ones who want the cool wheels. Moms usually don't care, but the dads are like, 'Look, if we're going to spend the money, I'm going to put some cool wheels on this thing,'" Nelson said.
"Moms always want a cup holder… and the cargo racks on the back."
Canopies to keep the kids out of the sun are also popular, as are cushions and custom paint jobs. Some families ask for a child's name to be painted on the wagon, with one couple even ordering a portrait of their baby hand-painted on the back of their chariot, Nelson said.
She started the business in 2005 after she and her husband put together a special wagon for their daughter Piper, who was born with cerebral palsy and was uncomfortable in a stroller. The colorful wagon full of creature comforts soon attracted lots of attention.
"Everywhere we went it was, 'Oh my God, where did you get that?' After you hear that about 500 times, you realize maybe there's a market for it," Nelson said.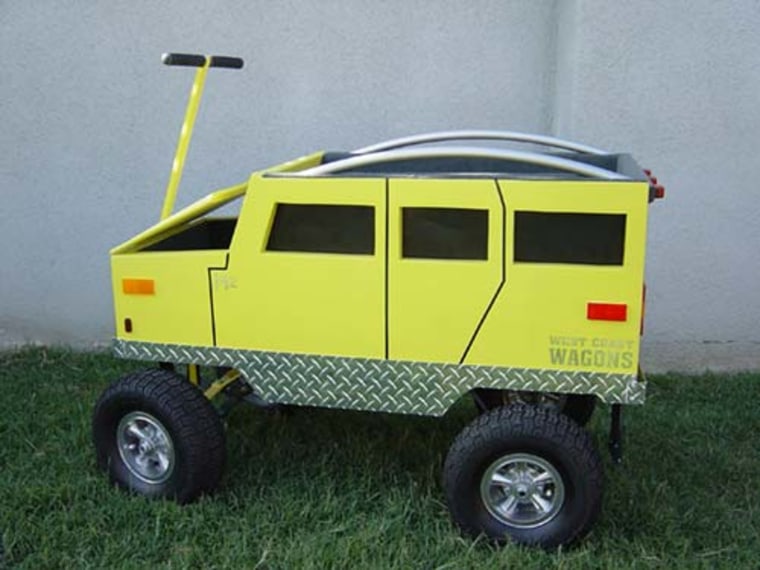 She now sells a couple of hundred of high-end wagons a year, though she says the tough economy has affected business. Celebrity clients include Brad Pitt and Angelina Jolie, Nelson said. Pitt's quote exclaiming, "That wagon kicks ass! It's the coolest thing I've ever seen," prominently featured on her website.
Nelson, a mom of three, is a big fan of wagons in general, touting their advantages, such as the ability for children to either sit upright or lie flat if they want to take a nap; and lots of room for toys, sippy cups and other kid necessities.
Many families agree. And while most families won't pay "oh my god" prices, traditional wagons are becoming a more popular choice for everyday family transportation.  
The wagon is easy to get in and out of quickly, noted John Kinnear of Sandy, Utah, who writes the Ask Your Dad blog. When his kids were infants, he used the stroller, but now that they can walk and hold themselves up, the family likes to use the wagon.
Some parents weighing in on the TODAY Moms Facebook page said they like wagons better than strollers because they can see their kids better, and the kids see more of the world around them.

"I prefer my wagon most of the time because my kids are more 'present' in the action of the day. I notice in the stroller they tend to slouch and zone out," said Allison Smaldone.
"We love using our wagon when going to places like the zoo where the kids are very involved and want to look at everything. The advantage is that they can see everything around them," added Johnna Gieselman-Anesi, a mom from Kansas City, Mo.
Some parents touted the convenience factor. Ketsy Alexander of Palm Bay, Fla., said her husband bought the family's first wagon when their third child was born. All of the children fit inside and it's great for napping, eating and even mall shopping. One downside: pulling a wagon can cause some back discomfort after a while. Still, she's a fan.
"I love my wagon," Alexander said. "I do, however, hope it does not become too trendy. Apart from being the cool mom during outings, I dread the day we can't shop around the mall or visit a small park and find ourselves getting trampled by wagons."