Cupcakes, cookies, and chips — unhealthy snacks like these have been banished from many U.S. schools in recent years.
Now, a school district in Glen Ellyn, Illinois, is going a step further and banning all food from classroom celebrations. That includes birthday parties and three yearly gatherings for Halloween, the winter holidays and Valentine's Day.
The ban went into effect this week as the 2016-2017 school year started. While food is prohibited during school parties, "alternative non-food classroom celebrations" such as games and art projects are allowed.
Paul Gordon, the superintendent of Glen Ellyn District 41, says that eliminating snacks from school celebrations will help kids develop a healthier attitude toward food. He says kids will learn that they can have fun without eating, even on holidays like Halloween and Valentine's Day that typically go hand in hand with edible treats.
"It's about the celebration itself," he told TODAY. "We just don't feel that food has to be the focal point."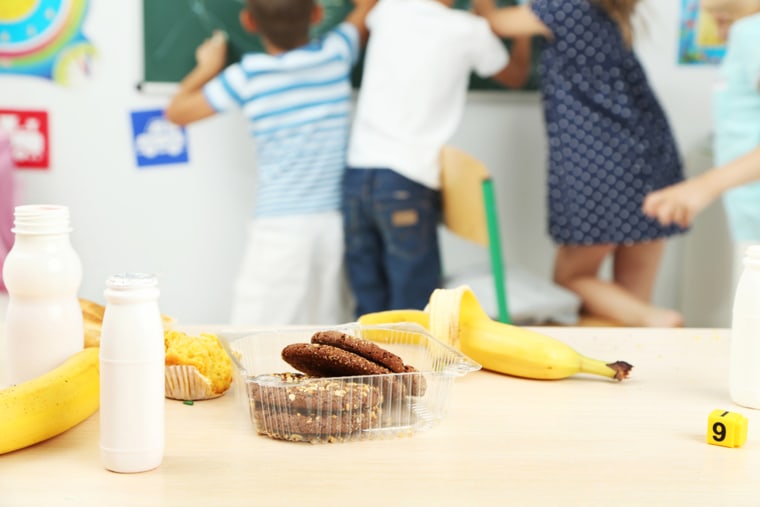 Gordon says he's heard from many parents that students already focus more on the games than the snacks during classroom parties.
"Kids will take a bite of something and set it down, then they're back to doing the activity," he said.
District 41's new rule comes as schools around the U.S. work to ensure that the meals and snacks they serve adhere to tightening federal standards on school nutrition.
In July, the USDA finalized a new set of school food rules. These include stricter guidelines for the snacks served in cafeterias, as well as a rule that prohibits the marketing of junk food on campus.
The new government regulations don't include a ban on food at school parties, but Gordon says that taking this additional step supports his district's overall commitment to student health.
He adds that concerns over food allergies were another factor in the creation of his district's new guidelines. Some students with severe allergies used to miss classroom parties because they couldn't risk coming into contact with certain foods.
Never miss a parenting story with TODAY's newsletters! Sign up here
"Parents have expressed to us that it's hard at those types of events because their student has to be excluded," said Gordon. "Their child either doesn't come on that day, or has to do an alternative activity down in the library. That's not an inclusive practice that we want to embrace."
The new no-food policy has gotten "good feedback" from parents of children with severe allergies, says Erica Nelson, the president of District 41's school board.
"For them, it takes some of the stress out of having a child at school with these kinds of issues," she said. "So, that's a good thing."
While parents in the district support the new food policy, others have reservations.
"I think it goes too far," saod Lisa Sprenkle Jones. Her 13-year-old son attends Hadley Junior High in Glen Ellyn, and her 11-year-old daughter attended school in the district up until last year.
Jones says she understands the concerns surrounding allergies, especially for younger children. However, she thinks that snacks at the occasional holiday party should be allowed.
"It shouldn't be too much of an issue three times a year," she told TODAY. "By fourth or fifth grade, kids know what they can or can't eat."
Other parents weighed in on social media.
"I hope this one protects kids with allergies — but I'm sad nostalgically that the kids can't have treats at celebrations," one Glen Ellyn mom, Colleen Hindman, wrote on District 41's Facebook page.
Gordon acknowledges that the new measures will take some getting used to.
"I recognize that this is a change, this is a cultural shift," he said. "I participated in that as a kid as well. I remember Valentine's Day and going home with a little paper bag full of all kinds of sugary treats."
But today, he says, we know a lot more about health and nutrition than we did a generation ago — and he thinks his district's policies should evolve to reflect that.
"It's really about continuing to focus on the health and wellness of our students," he said. "It's a good step forward."