Nikki Reed and Rumer Willis celebrated their joint pregnancies with a sweet photo on Instagram.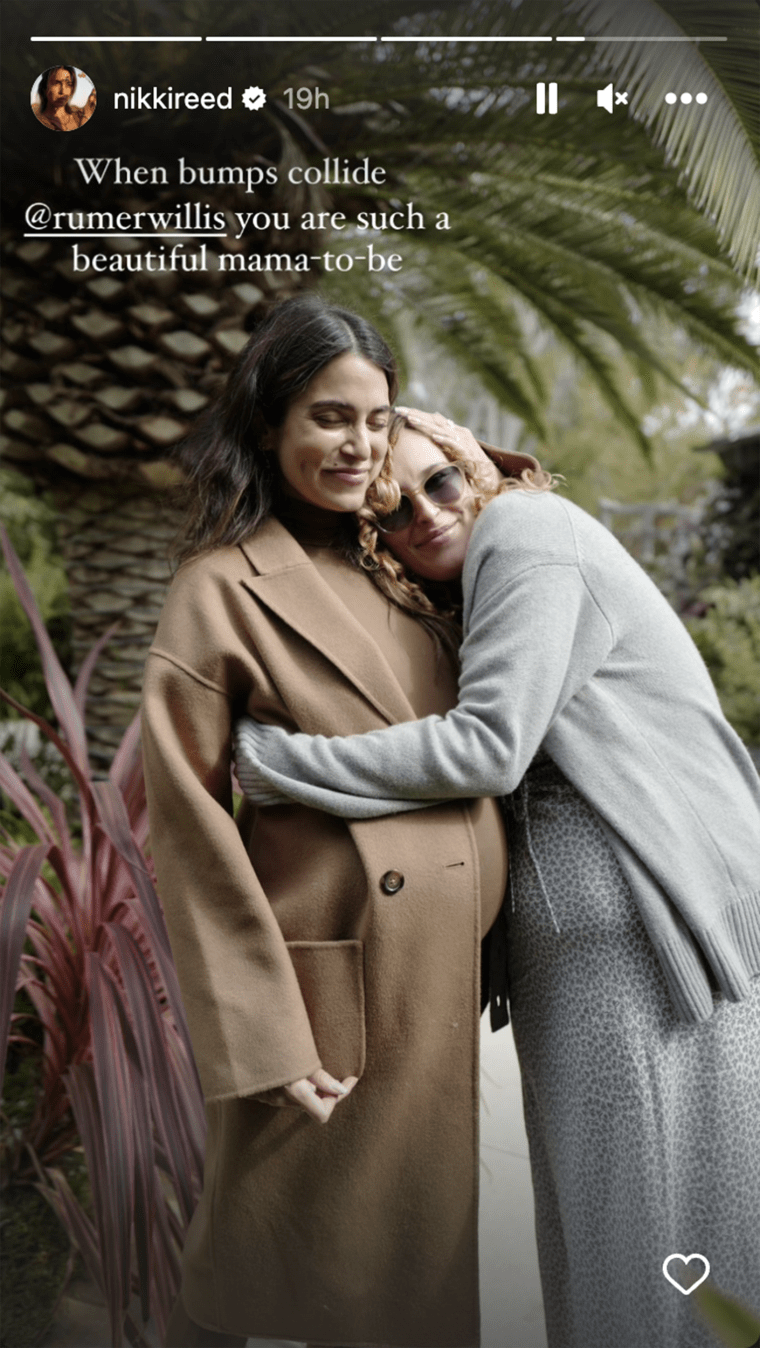 "When bumps collide," Reed, 34, captioned the photo in her Instagram story. "@rumerwillis you are such a beautiful mama-to-be."
Willis, 34, shared Reed's post in her own Instagram story, adding the message, "Oh how I love you my sweet friend."
Willis revealed in December that she is expecting her first child with her boyfriend, musician Derek Richard Thomas.
The eldest daughter of Bruce Willis and Demi Moore broke the news with a series of black-and-white photos on Instagram, showing Thomas embracing her baby bump.
Moore shared the same photos in her own Instagram post, noting that she was "entering my hot kooky unhinged grandma era."
Meanwhile, Reed announced in January that she is expecting her second child with husband Ian Somerhalder. She and the "Vampire Diaries" star are already parents to a 5-year-old daughter, Bodhi. 
Reed shared her baby news with a photo snapped by her husband, showing her holding her daughter while cradling her baby bump.
"2023 celebrating life," she wrote in the caption. "Years of dreaming, manifesting and praying over this very moment. So much love. What a gift."
Somerhalder also honored his wife with a heartwarming Instagram post. 
"All I've ever wanted from the time I was a young boy was to have a big family. Thank you Nik for giving me that gift. ROUND TWO HERE WE GO!!!!!" he wrote in January.
"Thank you thank you to this incredible human for the gift of life and love, for being the most incredible mom and working so hard to make dreams come true!!!" he added. "When I was taking this photo, I could not believe what I was seeing through that viewfinder. There's nothing more beautiful…"