/ Source: TODAY Contributor
While Kaitlyn and Eric Bunch knew that their twin daughters would need to stay in the neonatal intensive care unit after they were born six weeks premature, they still struggled with the stress of having hospitalized infants. But thanks to staff and volunteers at St. Luke's Hospital of Kansas City and the March of Dimes, the Bunches have a holiday moment with daughters, Helen and Vivian, that they'll always remember.
"It turned out to be something that was more special than I even anticipated," Kaitlyn Bunch told TODAY. "It was something special that made us feel like we can celebrate Christmas."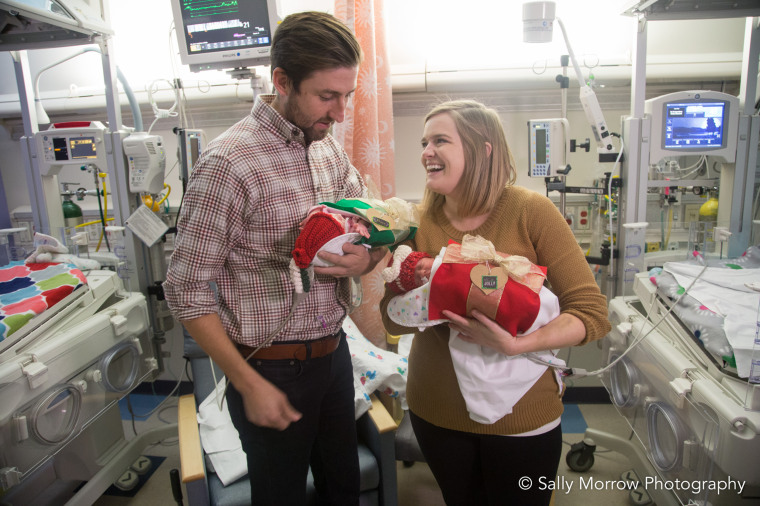 RELATED: 'They really are superheroes': Nurse dresses NICU babies in costumes for Halloween
On Dec. 15, staff and parents dressed up 31 NICU babies as colorful presents for Christmas, Hanukkah, or Kwanzaa. Babies whose families celebrate Hanukkah looked like blue and silver gifts, those who celebrate Christmas wore red and green, and babies who celebrated Kwanzaa dressed as red, green, gold, and black presents. Professional photographers, all of whom had once had babies in the NICU, took photographs for the families. The children also received holiday board books, and Santa visited those who wished.
"It makes things a little bit easier especially around this time of year," said Bunch. "I am really happy to have those pictures; they weren't going to be able to see Santa."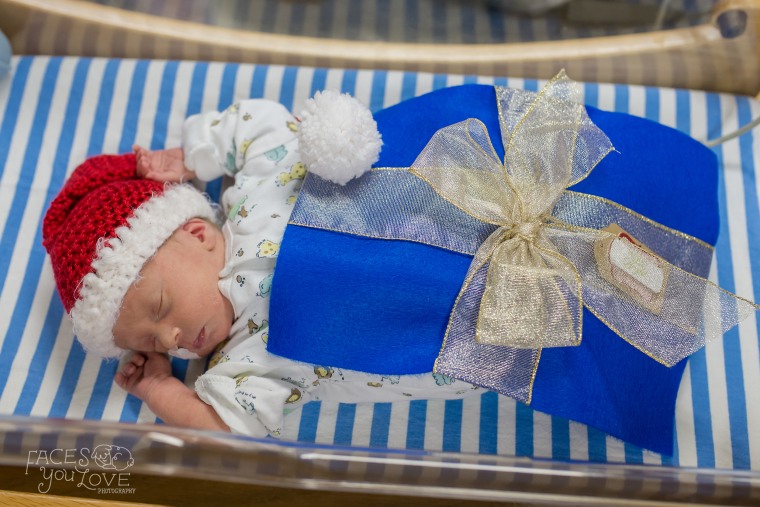 Never miss a parenting story with TODAY's newsletters! Sign up here
For two weeks prior to the event, March of Dimes family support coordinator Rebecca Keunen worked with staff and volunteers sewing tiny felt present costumes that could be placed over the babies without interfering with wires and tubes. Thea Alter, mother of a NICU nurse, made each baby a tiny hat to wear with their costumes.
"Part of my job is to make the holidays special for the families," said Keunen. "When we can do these things for them it just brings them so much joy."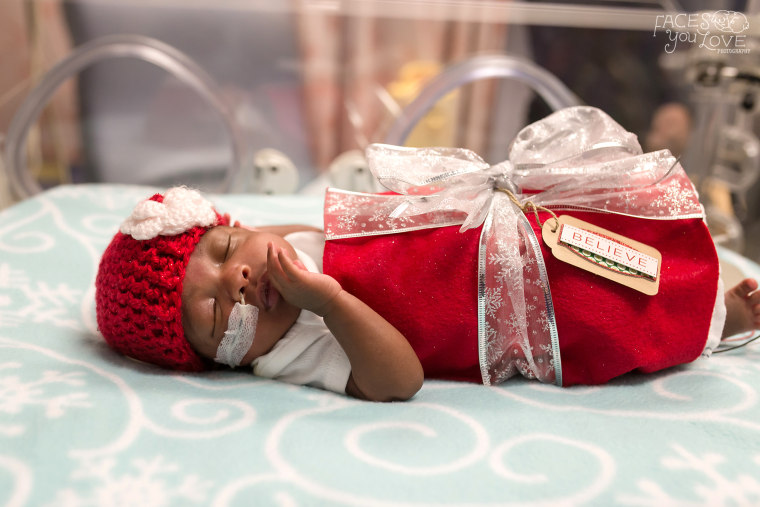 RELATED: Mom sews tiny outfits for NICU preemies too small for standard onesies
Keunen and others conceived of the idea as they considered holiday celebrations for the families. Because of the stress that parents of NICU babies face, celebrating that first holiday can be difficult.
"The pictures are so important to have and to look back on it and remember," Keunen said.
The idea of presents made sense, too, because "babies with good health status are the greatest gifts."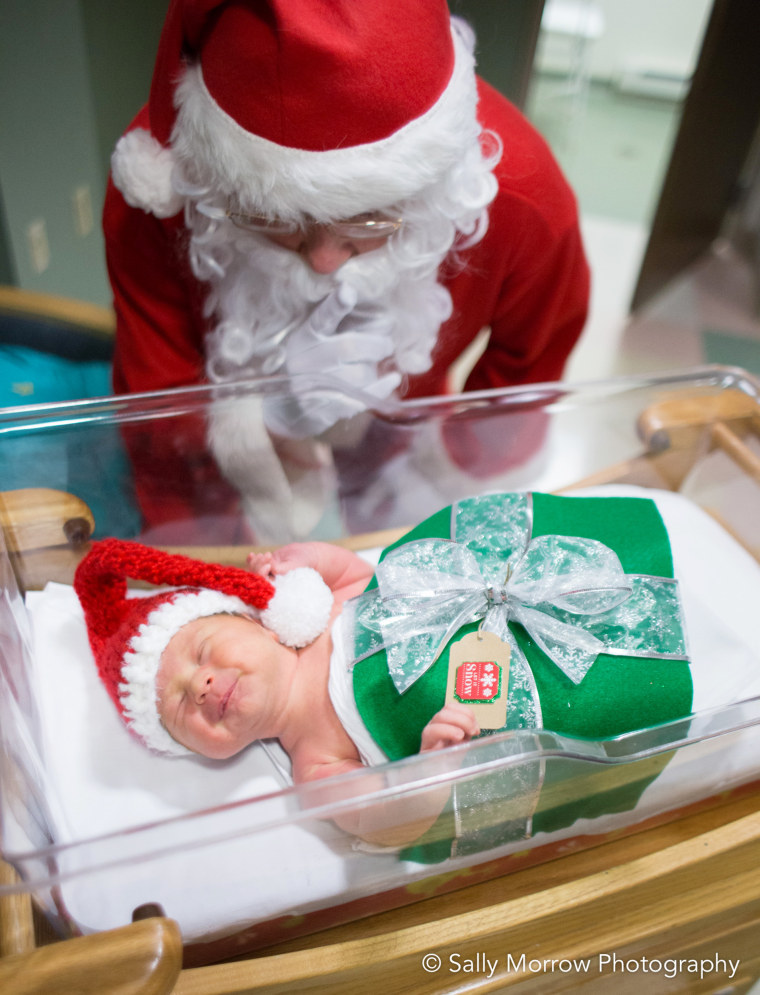 Kaitlyn and Eric Bunch feel grateful Helen and Vivian had a special way to mark their first Christmas even though they're stuck in the hospital. The girls are doing well, but the doctors remain unsure as to when they can go home. In the meantime, the Bunches appreciate how the staff and volunteers make the NICU more tolerable.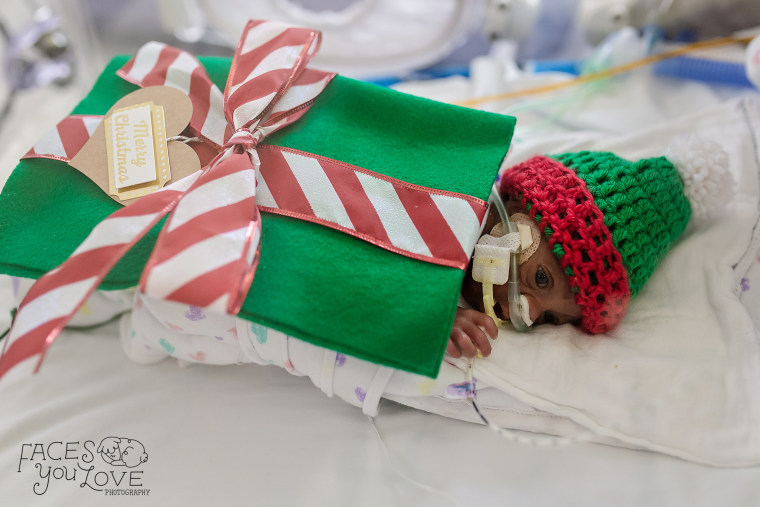 RELATED: Family of 1-pound preemie inspired by 'Finding Dory' director to 'keep swimming'
"They do a lot of things to help us feel a little more normal and part of a community and that we aren't all in this alone," Kaitlyn Bunch said.