The first time Angel Taylor laid eyes on her little boy, Sullivan, following four days of intense labor, she felt a flood of emotions — and Sullivan felt the same.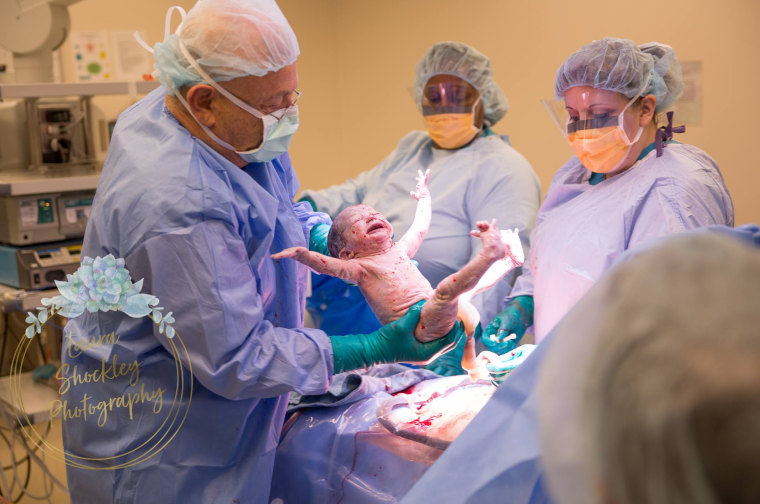 In a series of birth images that have since gone viral online, a bare-bummed, naked Sullivan smiles ecstatically with his arms outstretched as Taylor's doctor, Dr. Tarek Baghdadi, holds him up for the entire delivery room to see.
"I just cried and cried," Taylor, 33, told TODAY. "The wave of relief that washed over me was very intense."
Never miss a parenting story with the TODAY Parenting newsletter! Sign up here.
Taylor had been admitted to the hospital four days earlier, on Monday, March 5, one week before Sullivan's due date. Doctors found Taylor's blood pressure to be dangerously high during a routine check-up, and she was told that she would need to deliver her baby a little sooner than expected.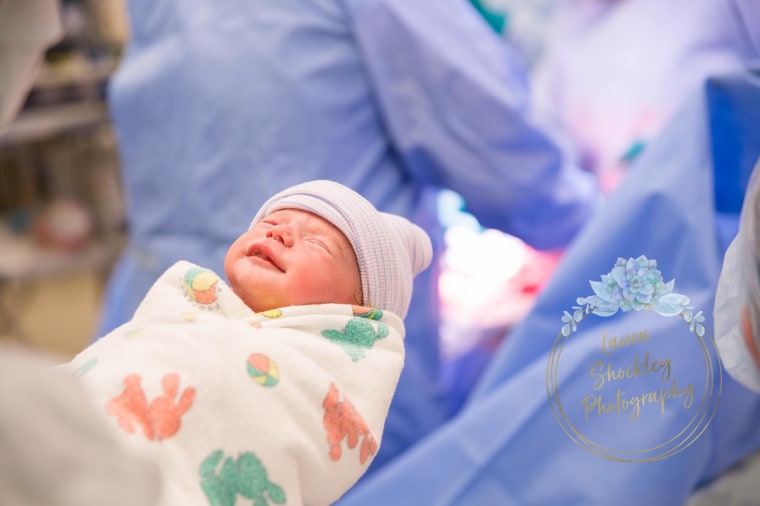 "I was pretty panicked because I was not prepared at all!" she told TODAY. "I was expecting to have another week, so I didn't have the preparations completed or alternate childcare for my two oldest figured out yet. … I was trying to stay calm and focus on the fact that I knew we were in such good hands with my excellent doctor and great hospital with the best NICU in the area."
The Bremerton, Washington, mom had been through two pregnancies before, but this third (and last, she said) one had been tougher. With Sullivan, she had developed gestational diabetes, tested positive for a Group B strep infection and suffered from morning sickness, something she hadn't experienced so much with her two previous pregnancies.
Knowing that Sullivan would be her last child, however, also helped Taylor to put aside the physical pain and really savor the experience of childbirth.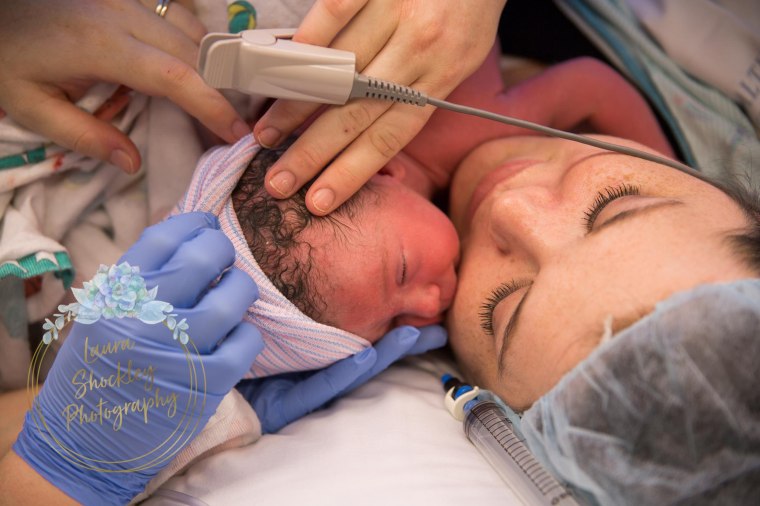 "I really wanted to soak up the experience of pregnancy and birth since I [am] never going to experience it again," she said. "If you stop and really think about it, it's so mind-blowing what a miracle it is to create a new person and grow them from scratch, to feel them moving inside you," she continued. "It's such a precious gift."
Once at the hospital, Taylor, who was admitted with no dilation, was given small doses of pitocin, a hormone used to cause or strengthen labor contractions to induce childbirth. Dr. Baghdadi was careful not to rush the process, however, keeping in mind Taylor's past C-section and how that could affect her body when it was put under extreme stress.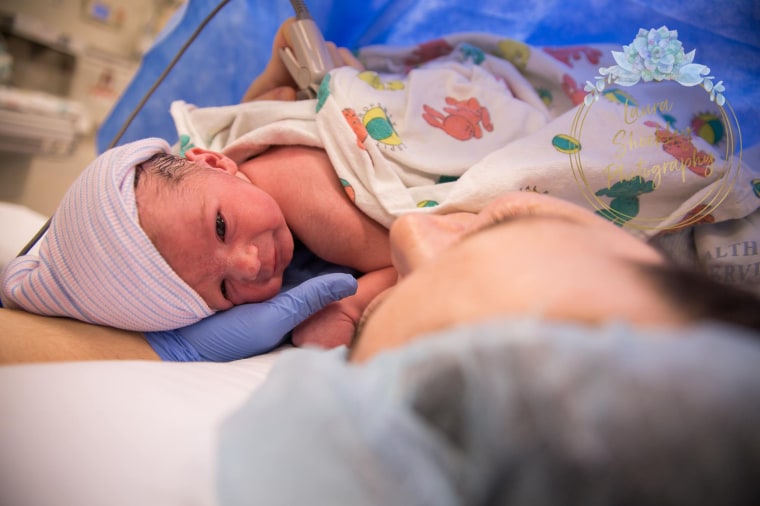 "It was meant to be a slow process so that we would both be able to stay safe," Taylor said, explaining that scar tissue from her previous pregnancies prevented Sullivan from being able to make his way out via a natural birth. This was what ultimately led her doctor to call for a C-section. "Dr. B described my uterus as a funnel, [and] it wasn't opening up to allow [Sullivan] to drop because the scar tissue wouldn't stretch. … I'm so glad we made the call before things took a turn and we ended up with an emergency that could have bee traumatic like my first C-section was."
The result, after four long days of labor, was a very happy baby Sullivan stretching out for all the world to see. Photographer Laura Shockley, of Tacoma, Washington, was on hand to capture the moments leading up to his birth.
"Taking that image, I knew it was special, [but] I didn't realize how special it'd be to other people too," Shockley told TODAY. "But I knew it was amazing when I shot it, I went back and looked at it numerous times before I even got home to upload it on my computer."
Shockley admitted that she was nervous taking photos of a C-section and "started texting with [her] husband frantically, worried and scared of seeing a surgery like that and not able to do [her] job to [her] satisfaction." Ultimately, though, she was able to focus on capturing "the shot" and the results — and the resulting public reactions — have been overwhelmingly positive.
"People are mostly just in awe over a photographer in the OR," she said. "That's so unheard of because a lot of hospitals are worried about getting sued, so it's not common. Moms, especially C-section moms, get all the feels from my image. It's a moment that was captured that shocks people into remembering, or wanting to remember, those events they once had." And Shockley and Taylor have stayed in close touch since the birth.
"Birth is such a vulnerable time and is just so profoundly personal and life-changing, so any outpouring of love and support is so important and very appreciated," Taylor said. "[Sullivan] has fit right in with our family and we all adore him!"