When the New Orleans Saints' Benjamin Watson scored a touchdown in the second quarter of Sunday's game against the Los Angeles Rams, his end zone celebration revealed more than just his excitement. The tight end and father of five stuffed the ball under his shirt, held up five fingers and added two more.
That was Watson's official announcement that his wife, Kristen, is pregnant with twins.
"We have had a couple miscarriages over the last year, which have been really tough, but decided to try one more time to have another child," Watson told TODAY via email. "We went to the first ultrasound at eight weeks we were both anxious, considering the outcome of the last two pregnancies, but were surprised when the ultrasound technician said she saw not one, but TWO babies!"
Watson said Kristen, who's 13 weeks pregnant and due in May, has had morning sickness but is hoping her second trimester will bring relief.
"She is also a migraine sufferer and has had to battle though several while still being mommy to our five children. She truly is super woman," Watson said.
This isn't the first time Watson used a football to announce a pregnancy. In 2008, he put the ball into his shirt when he and Kristen were expecting their first child, Grace (the NFL fined him that time). A representative from the Saints told TODAY that Watson won't be fined this time because now players are allowed to use the ball as props after touchdowns.
After Kristen said it was OK to share she was carrying twins, he knew he wanted to do something similar. Normally, when Watson celebrates a touchdown he holds up five fingers for his children. Adding two seemed like the natural choice.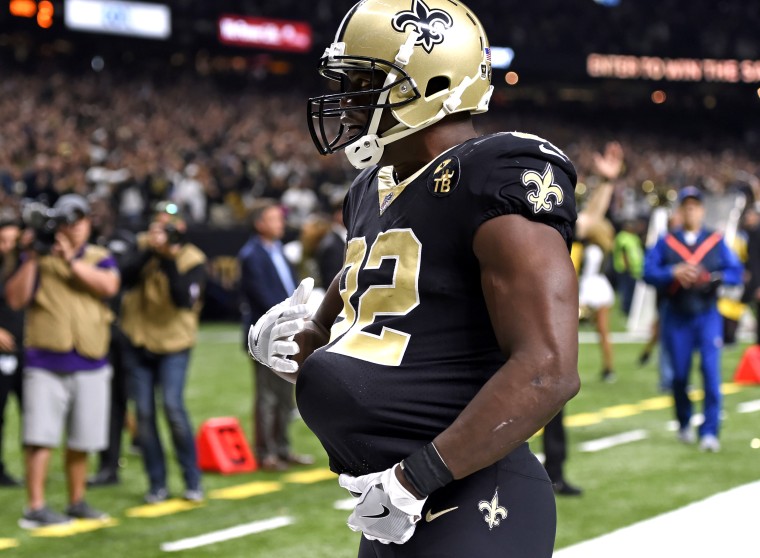 "Once she gave me the green light I decided that I would tell the world the next opportunity I got," he explained. "So the plan was to put the ball under the jersey, hold up five and add two for the twins."
Fans loved the creative touch. Twitter user Charley Bates said:
"Best touchdown celebration of the year. And it's not even close."
"That is a way to announce it congrats Ben," Mile Wiles shared.
The Watsons have been overwhelmed by the support they received both when they grappled with miscarriage and after their happy announcement this past Sunday.
"The response has been tremendous and honestly quite unexpected. It seems the pain of loss and the joy of new life touches everyone in some way," Watson said. "We are nervous and anxious, but also really excited about the months ahead, trusting God for what He has for our family."