Anne Hathaway became a mom eight weeks ago, and now, in addition to a new baby, she has a whole new perspective on things.
For instance, as she revealed to Ellen DeGeneres Tuesday, going to the gym is nothing like it used to be.
"I would normally walk in and feel so intimidated," the actress confessed. "But I [now] walk in and I'm like 'Yeah, I work out with 5 pound weights, but I pushed a baby out of my body! I feel good right now. So I don't care what I look like, I feel great!'"
In short, since she gave birth to baby Jonathan at the end of March, she's had a new sense of confidence. Or rather, she did — until she met a musclebound man who couldn't stop staring at her while she worked out.
MORE: Making space for the baby! See inside Anne Hathaway's new NYC home
"I get off the machine and he comes up to me, and he's like, 'So you been working out at this gym for a long time?'" Hathaway said. "And I'm like, 'Oh, my God! He's hitting on me. Nice, new mom!'"
As it turned out, he was just a trainer looking for work. That, however, wasn't the biggest blow he dealt.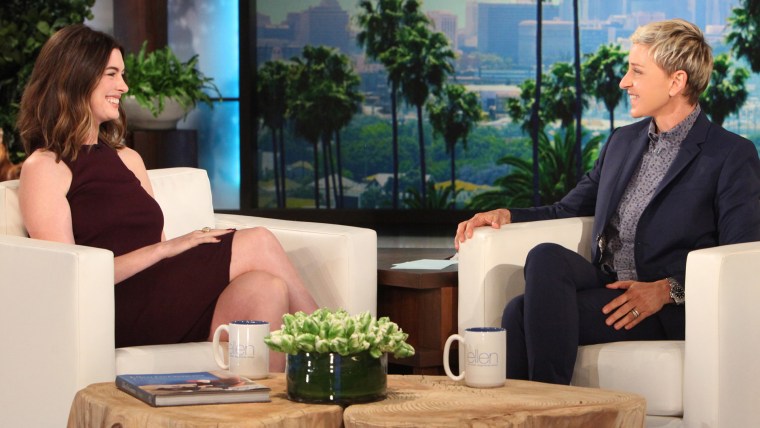 "So then we start talking and I decide that I'm gonna let it drop that I'm a new mom," Hathaway explained. "And I'm like, 'You know, I have worked out here for a long time, but I've been gone because I just had a baby seven weeks ago.' And I'm expecting him to say the thing that you say when someone says that you've had a baby. ... Which is: 'Oh, my God, you look great!' — doesn't matter if it's true."
MORE: Anne Hathaway debuts blond highlighted hair on Instagram
But once again, he surprised her.
"He goes, 'Oh, trying to lose the baby weight?'" she recalled with a sigh. "So I say, 'No, Brandon, it's a little bit too soon to worry about weight. I'm just trying to regain my strength.' ... And he walked away, and I cried a little bit."
Of course, there are plenty of new moms who'd be happy to hand her a tissue — and give Brandon a piece of their mind.
Follow Ree Hines on Twitter.