High school juniors Amanda Donnelly and Sean McGrath met in a preschool classroom at The Goddard School in Hillsborough, New Jersey, when they were just 3 and 4 years old. It was (puppy) love at first sight: Both told TODAY Parents that they quickly developed crushes on the other.
"My parents said I would try to 'protect her' and would never leave her side," said Sean. "I remember Amanda and I always having a good time together."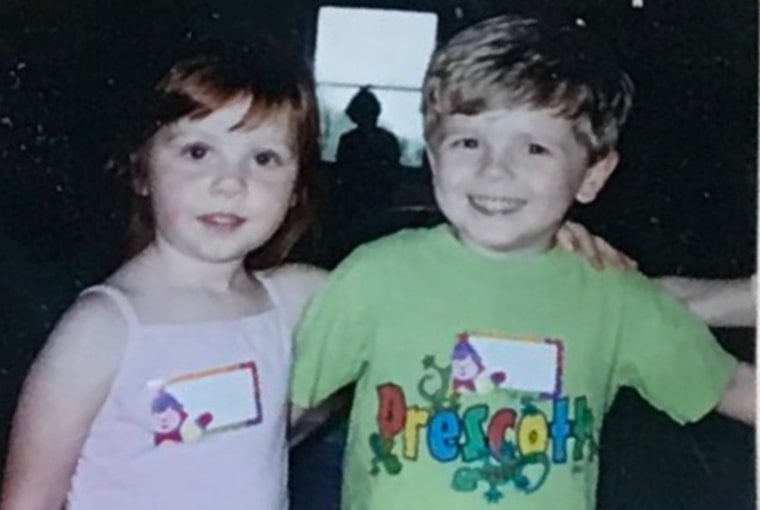 "I thought he was so cute and funny and together we had so much fun," said Amanda. "He was my favorite person to hang out with and made me look forward to going to daycare every morning."
But like many miniature star-crossed crushes, the couple was cruelly separated by time and different elementary schools. "Sadly, we lost touch for a while during that time," said Sean. They made new friends.
Never miss a parenting story with the TODAY Parents newsletter! Sign up here.
Happily, that wasn't the end of their story. The two reunited in middle school and "We slowly began hanging out again and picked up right where we left off," said Amanda. "We even became closer and closer as we went through both the middle school and the high school."
Last fall at Hillsborough High School, the topic of junior prom came up. "Like many girls, I began to feel anxious that I wouldn't have a date to prom," Amanda said, "and I began to think about who was fun and carefree that I would just have fun with."
Sean popped into her head. "I knew he was the perfect guy to take to prom," said Amanda. So she asked him. "Right when the words came out of her mouth, I thought, 'Yes, I need to bring this amazing girl to prom,' and thought how she couldn't have been a more perfect date," he said.
Though Amanda technically asked him first, Sean surprised her with a nostalgic "promposal" just days before the big event.
He went back to where it all began — their Goddard School preschool classroom — and a plan came together. Lured into her old school by a friend, Amanda found Sean waiting for her inside with a poster and flowers. "Held my hand at Goddard... Hold my hand at prom?" the poster asked, decorated with pictures of the two from their preschool days.
"When I walked in, many of the preschoolers were waiting, and when Sean asked they all said, 'Please,'" said Amanda. "I said yes, and the rest is history. I was so surprised, and it really was one of the sweetest things to ever happened to me."
Now, they're looking forward to their senior year in high school and ending their school careers the way they began them: together.
"He still makes me laugh," said Amanda. "I really enjoy hanging out with Sean, and he still makes me look forward to coming to school every day."