In the old days, high school kids wrote nasty things about each other on lockers and bathroom walls. Now, the gossip has moved online – much of it to Yik Yak, a smartphone app that has been banned by several high schools. 

Like Secret and Whisper, Yik Yak lets people post anonymous messages online, which are seen by other users within a set radius. Technically, the iOS and Android app is limited to people 17 years and older, but it's still popular with high school kids. (College students love it too).
Here is a small, relatively tame sample of what users are posting: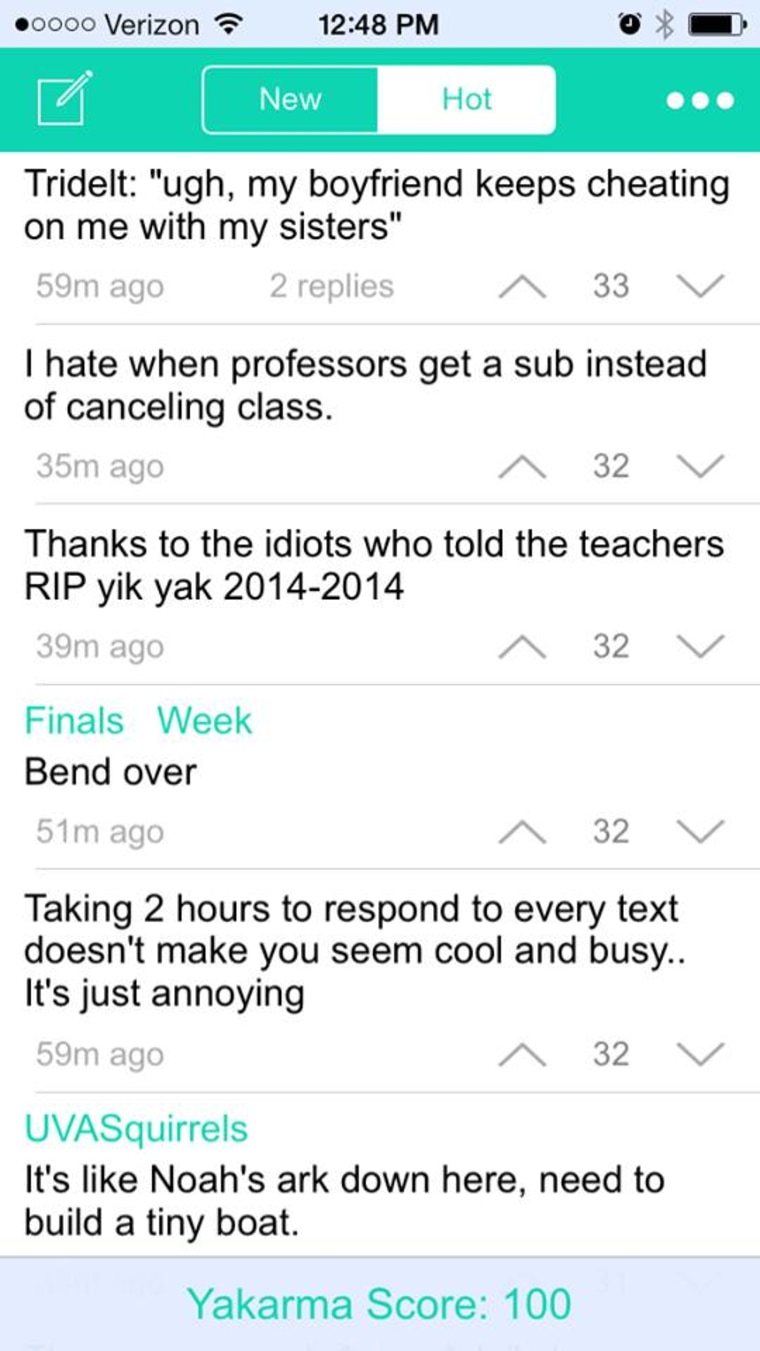 It gets way, way more profane than that. But the biggest problem is when students call out each other by name.  New York Magazine recently highlighted the chaos caused at Staples High School in Westport, Connecticut, when students started talking trash about each other. Kids were called "slut" and "fag." One person wrote, "How long do we think before A. B. kills herself?" (Names were altered to protect students in the story).

It's not just insults that are being passed around. Earlier this month in San Clemente, California, a high school was shut down after an anonymous bomb threat was posted on Yik Yak. But cyberbullying is the main concern, causing schools across the country, like Staples and Lake Forest High School, located near Chicago, to prohibit use of the app on campus.
This is not the first time students have dissed each other online. Last year, Ask.fm, which lets anonymous users post and answer questions, was all the rage. U.K. Prime Minister David Cameron asked Britons to boycott it after it was connected to several teen suicides. Before that, sites like Formspring and Stickygossip were criticized for providing a forum for cyberbullying.

Earlier this month, Brooks Buffington and Tyler Droll, the 23-year-old Atlanta-based entrepreneurs who launched Yik Yak in December, said they would take measures that would effectively ban 85 percent of the high school and middle school students who are currently using the free app.
They plan to accomplish this by "geo-fencing" — blocking people who try to access the app within a certain geographic area, in this case, school campuses. Of course, there is nothing to stop kids from pretending they are over the age of 17 and then accessing Yik Yak when school is out. 

Even if Yik Yak is banned, there is no guarantee that something else won't come along and become the new hot spot for high school gossip. Apps come and go. Teenage drama, however, seems to be eternal. 
Keith Wagstaff writes about technology for NBC News. He previously covered technology for TIME's Techland and wrote about politics as a staff writer at TheWeek.com. You can follow him on Twitter at @kwagstaff and reach him by email at: Keith.Wagstaff@nbcuni.com