/ Source: TODAY Contributor
For Mother's Day this year, viral video creator Kim Holderness wanted something a little more ambitious than breakfast in bed — she wanted her husband to understand just what women go through to become mothers.
That's how the Holderness family — you may remember them from their viral video hit, "Christmas Jammies," and numerous other videos on YouTube — ended up making a Mother's Day video in which dad Penn straps on a fake pregnancy belly, experiences simulated labor pains and tries out a breast pump.
In the video, "Mom Thing," the Raleigh, North Carolina family parody the One Direction hit, "One Thing." While singing about how Penn has no clue about how it truly feels to "push a baby through this," Kim straps 50 pounds of extra weight on her husband, simulates contractions with an electrical stimulator and watches him attempt to use a breast pump.
"So try to get up and get outta bed/ I got a headache, can't take meds/ I just, I just, I just want a drink/ But I'll do that mom thing," Penn sings.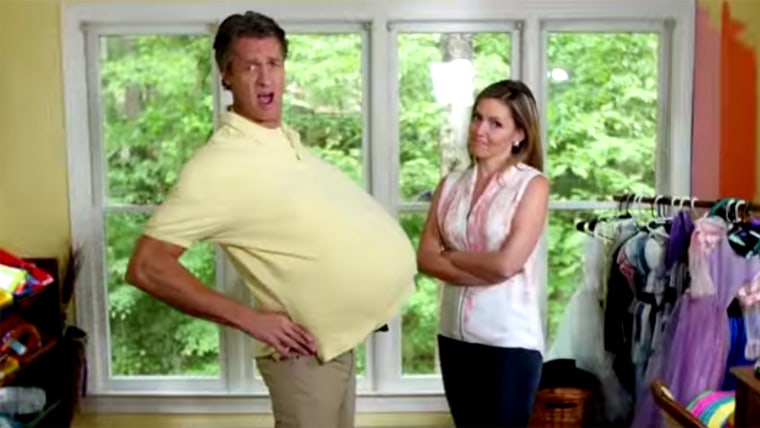 During the delivery simulation, Penn screams and bangs on the table during a contraction, then asks Kim, "How long does that happen?"
"Just like for 10 hours," Kim responds.
Kim says Dr. Sameh Toma, the physician who helped with the labor simulation, told the family the "contractions" Penn felt were likely only a third of what women actually experience. Still, the mother of two says she was pleased with the outcome.
"It was my idea, obviously. Penn never would have volunteered for something like this. He really is am amazing husband and father, but let's face it — men have no clue what it takes to carry, deliver and feed a child," Kim told TODAY Parents.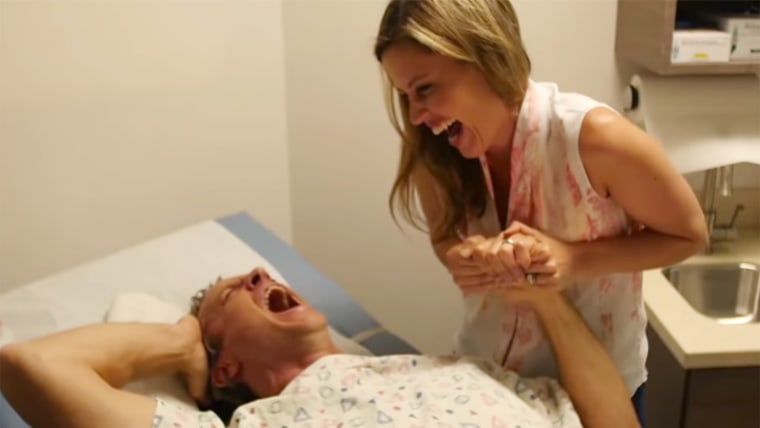 Penn says that if what he experienced was a third of the pain, he would ask for an epidural in the second trimester.
"I was already pretty blown away by my wife, who had natural childbirth for the first one, but now I am even more impressed – not just by the birth process, but also the pregnancy," said Penn. "The 50-pound belly was awful. I was just walking around the house panting terribly and sitting down. There was this crazy weight on my chest, and my lower back really hurt after."
"Oh, and I totally cheated and had a beer after this was all over," said Penn. "A man has to have his limits."
For a more in-depth look at Penn's pregnancy experience, check out the behind-the-scenes video the family posted Tuesday morning: