Could little kids hold the secret to giving senior citizens the attention they deserve? That's what the folks running Seattle's Intergenerational Learning Center are hoping to find out.
The ILC is a preschool housed within Providence Mount St. Vincent, a care center for the elderly. But location isn't the only thing keeping the children and older residents together — the two groups enjoy activities ranging from music classes to dancing, art and storytelling, and even simple visiting time. Lunchtime, too, is shared.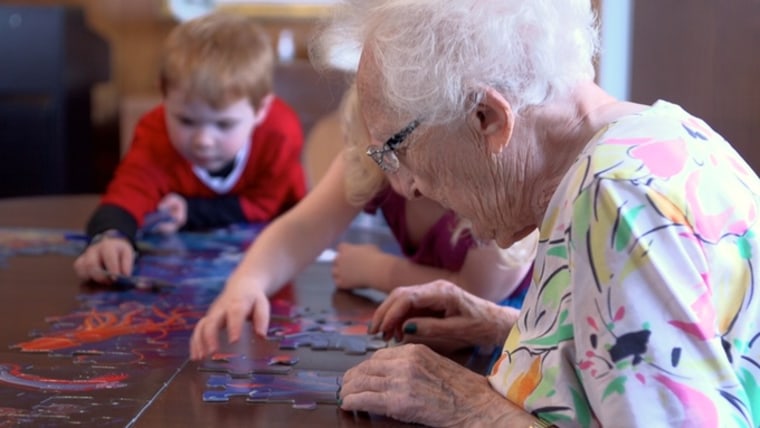 And soon, this progressive school will have its moment in the spotlight — a moment that filmmaker Evan Briggs believes is well-deserved.
Briggs, an adjunct professor at Seattle University, plans to bring the ILC to the big screen in "Present Perfect," a documentary she shot about the school over the course of the 2012-2013 school year because she "wanted to start a conversation."
"I had wanted for a long time to do a film on aging," she told TODAY. "I just felt like that was a topic that was worthy of some serious discussion and exploration. Because, the truth is, we have such an interesting cultural relationship to aging."
She'd mulled over various ways to approach the topic for years, but no idea ever jumped out as special or noteworthy enough — that is, until a friend mentioned the ILC a few years back.
"I loved that lens, because it had a hopeful quality to it," said Briggs. "As a culture, we don't have a healthy relationship to aging, but I didn't want the film to be depressing."
She reached out to the school, which was excited to participate in her film. "They let me come in and sort of hang out there for a year," she recalled.
And now, the Kickstarter campaign she launched to fund the movie's editing process has garnered national and even international attention for the project.
"It's so amazing to see that this story is resonating so broadly," she said. "I think the global attention is saying something about where we are as a society. And I'm optimistic about the possibilities for changing the way we think about aging."