/ Source: TODAY Contributor
Brave and persistent neighbors and a loyal family dog saved a family's life in the Orlando suburb of Longwood, Florida on Monday night.
Seminole County, Florida Sheriff's Department Investigator Margo Feaser and her husband, Brent, along with their 4-year-old son and 2-year-old daughter, are recovering at a local hospital after deputies and firefighters were called to their home at 11:20 PM Monday night.
Before firefighters arrived, the Feasers' neighbors, Chip Dover and his son, Andrew, and Joe Jordan, heard an explosion and saw their neighbors' house go up in flames.
"We were outside with my telescope, looking at Jupiter with my next door neighbor," Dover told TODAY Parents. "We were getting ready to come in when we heard a big explosion, and the house just blew up. We ran over there immediately and it was burning like crazy, and then we realized the family was still inside."
The Dovers broke the front windows of the Feasers' home using furniture from the front porch and was able to pull Investigator Feaser to safety through a window while Jordan called 911. Firefighters then arrived and were able to save her husband, who suffered from significant burns, after knocking down the front door.
Dover said Investigator Feaser immediately wanted to rush back inside the home for her children. Officers had to hold her back while firefighters jumped inside the house to save them instead.
That proved to be a tougher challenge for the rescue workers, since by that time, heavy smoke had filled the Feaser home. It was the family's dog, a German Shepherd named Maxx, who led firefighters through the smoke to each of the two children, according to the SCSO. The family's home was completely destroyed in the blaze.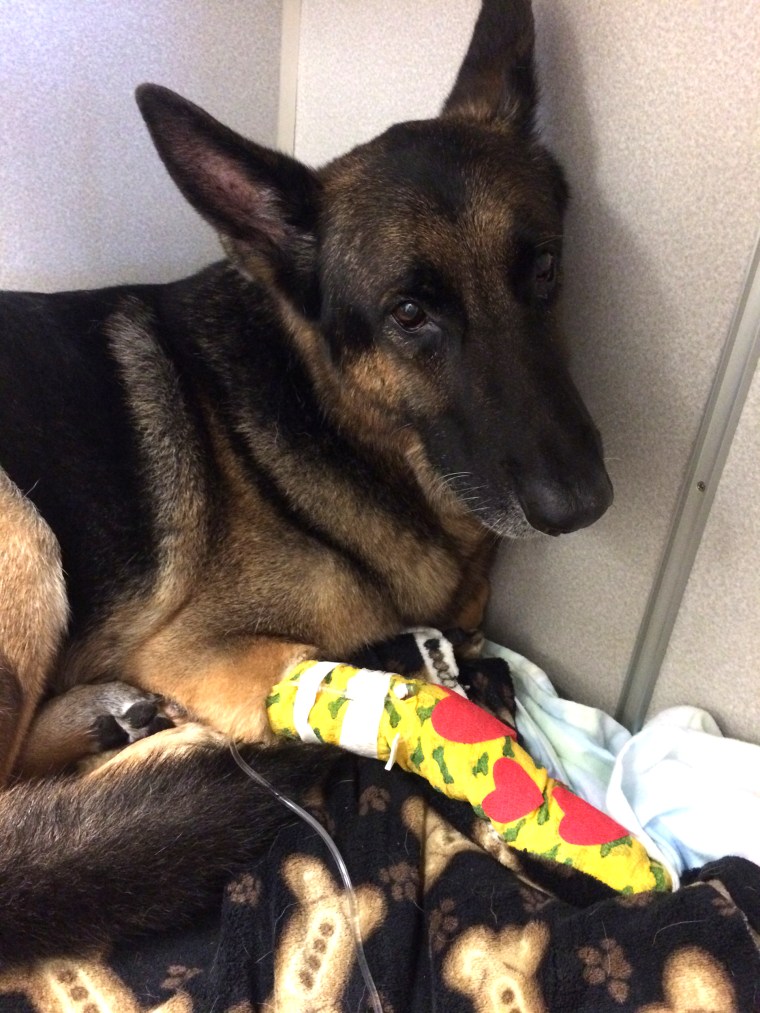 "We are grateful to the neighbors who jumped into action, and we especially thank the firefighters who selflessly entered the burning structure and risked their lives for the Feaser family," said Sheriff Don Eslinger in an SCSO press release. "There is a long road of recovery and rebuilding ahead, but our Sheriff's Office family will be with Margo and her family every step of the way. We know our community is behind them too, and we appreciate the tremendous outpouring of support the family has received."
Investigator Feaser — a 12-year veteran of SCSO who also served with the U.S. Army for three years and was deployed overseas during Operation Enduring Freedom — and her family are currently in stable condition, though their statuses range from serious to critical. Maxx is being treated for smoke inhalation by a local veterinarian and is being hailed a hero.
According to the SCSO, the Florida Fire Marshal's preliminary investigation has determined that the fire was accidental and originated from the back porch of the home.
A fund has been designated to provide assistance to the Feaser family to help defray medical, veterinary, and other expenses. Contributions may be made via check to the "Seminole County Sheriff's Office Employee Benevolent Fund" and sent to 100 Bush Boulevard, Sanford, FL 32773, attention: "Feaser Family Fund." The SCSO has also started a Go Fund Me campaign for the family online.