When Pieter Hanson discovered he was a meme thanks to a tweet his mom shared about him, he felt shocked and angry. The now-deleted post just wasn't accurate.
"This is MY son. He graduated #1 in boot camp. He was awarded the USO award. He was #1 in A school. He is a gentleman who respects women. He won't go on solo dates due to the current climate of false sexual accusations by radical feminists with an axe to grind. I VOTE. #HimToo," she posted along with a picture of Hanson in his Navy uniform.
The Tweet referred to a hashtag popularized during the confirmation hearings of Supreme Court Justice Brett Kavanaugh. Many people have rallied behind it to support men they believe have been falsely accused of sexual assault. Hanson does not agree with #HimToo and he certainly isn't afraid of being alone with women, he told the Washington Post.
Twitter went wild, turning the caption into hilarious memes. An embarrassed Hanson asked his mom to delete it; she agreed and removed her Twitter account, too. Hanson tweeted his thoughts:
"That was my Mom. Sometimes the people we love do things that hurt us without realizing it. Let's turn this around. I respect and #BelieveWomen. I never have and never will support #HimToo. I'm a proud Navy vet, Cat Dad and Ally. Also, Twitter, your meme game is on point," the 32-year-old posted.
While most moms' tweets won't become a meme, Dr. Deborah Gilboa said parents can learn from Hanson's experience.
"She wanted to advocate for her son. I think as parents we can all empathize with that," Gilboa told TODAY. "As parents, it is really important for us to check in with our kids when they are middle school age and older to ask their opinion about what we're sharing."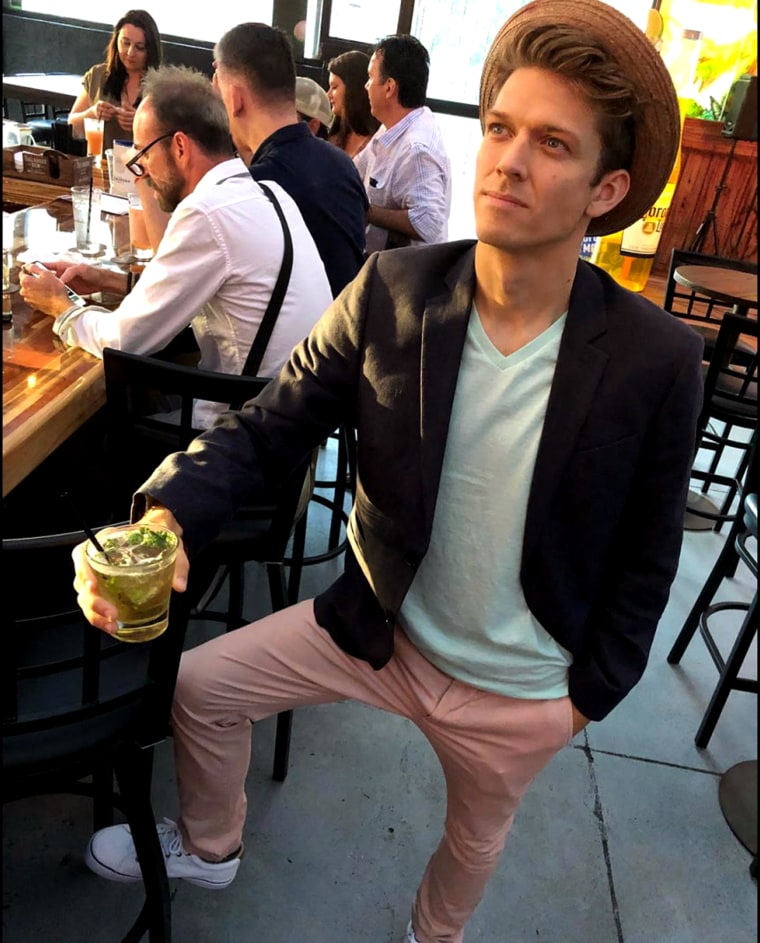 While, many parents believe their social media posts might be harmless or positive — Hanson told the Washington Post that his mom writes loads of flattering posts about him — they should always ask if it is OK to share pictures, videos and stories about their children. If parents don't feel comfortable talking to their children about their social media posts, Gilboa says that's a red flag.
"If you are not willing to talk to your kids about something, you probably should not be writing it about them," she said.
It's not enough simply to inform your children that you're sharing something about them on social media: Parents need to have their children's consent. This sets a good example for children about setting and respecting boundaries.
"We can't advocate for our children without their consent," Gilboa said. "We are saying to our kids you can't post things about your friends on social media without their consent … We have to model what informed consent looks like."
While parents often warn their children that anything they post on social media can spread wildly, Gilboa said parents also need to remember this.
"It is possible it will go further than we think it can. It might go nowhere but we also have to consider it might go everywhere," she said.
Gilboa applauds Hanson's mom for deleting the tweet and her account after she learned her message upset her son.
"She could have easily dug in her heels and she didn't," she said. "Parents will sometimes get things wrong and being responsive and genuinely apologetic does help."
For Hanson and his mom, all is well.
"I forgive my mother. Her and I caught up a couple hours ago. She didn't intend it that way and was mortified I'd disown her. Which is silly! She's mom!" Hanson told NBC News in a statement.