Like with most holidays and birthdays this year, when Veterans Day came, Navy reservist Leonard Viggiani's two sons figured they'd talk to their dad on Skype.
But when they arrived at a school ceremony honoring soldiers on Thursday, they found their dad, who's spent the last eight months in Africa, at the center of the room.
Viggiani surprised his children, Miles, 7, and Mikey, 10, when he returned home to Connecticut and showed up at Colchester Elementary School, which his younger son attends.
"It was absolutely awesome, and a little overwhelming," Viggiani told TODAY about his children's reaction to seeing him.
RELATED: Veterans Day heroes: We salute military moms and dads
"We had done some Skype video chats while deployed but we hadn't seen each other in about eight months, so when it finally happened, I was ecstatic. And to be able to see the look on their face was everything."
Viggiani, a senior chief petty officer now serving in the U.S. Navy Reserve, had been deployed in Djibouti, Africa, since March. He left home for training in January.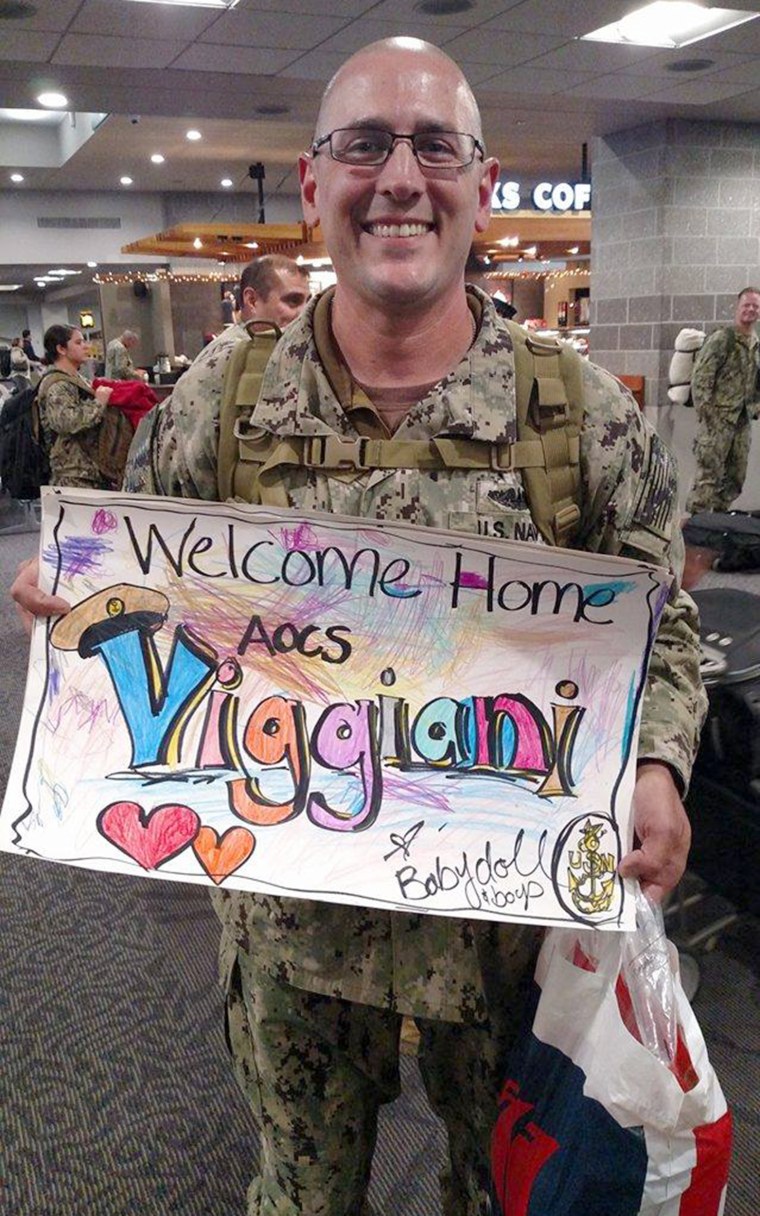 In past years, if he was not away, Viggiani, 37, has participated in the Veterans Day event by visiting classes and answering questions about the different roles of service members.
"It's always a big thing," said Viggiani, who will spend the weekend with his family before heading to Norfolk, Virginia, to help fellow sailors wrap up their deployment.
This is the last time he expects to be deployed for several years, he said.
RELATED: Tea party photos of military dads and daughters brew precious memories
Viggiani's wife, Karen, said the surprise came together at the last minute. Even though he was scheduled to return home this week, the nature of the military means dates are never certain .
Mikey, the couple's older son, attends middle school next door to Colchester Elementary.
School administrators sent him on a pretend errand in order to get him into the gymnasium to see his dad.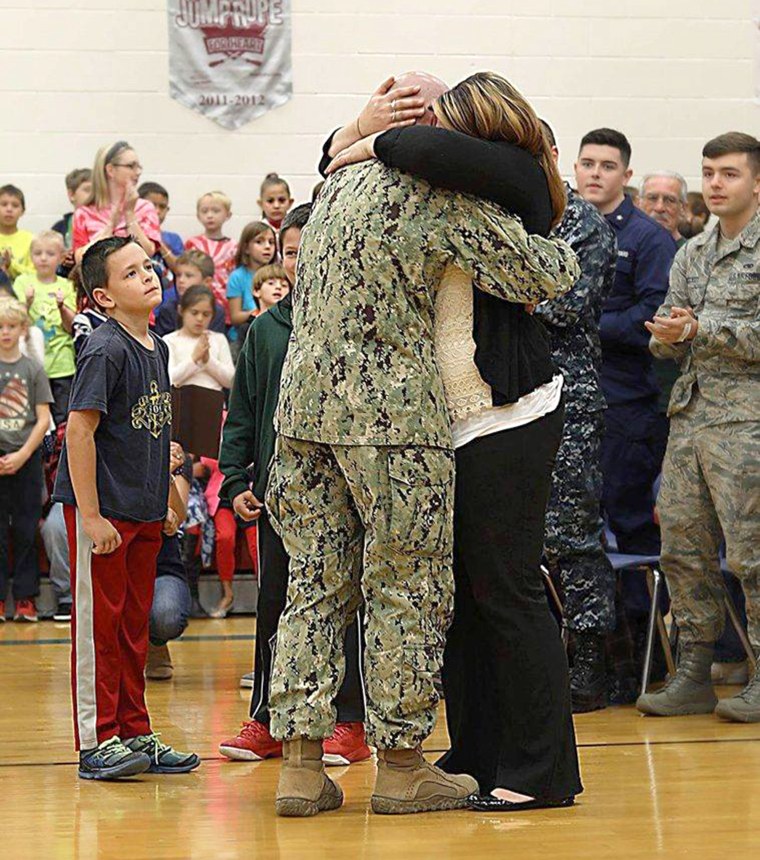 "They said we were going to get books for Mrs. Lang. No, we weren't," Mikey Viggiani told NBC's Connecticut affiliate. "I was psyched. I was really excited to see him."
Karen Viggiani, 37, said since her husband's past deployments have only lasted a month, this year has been particularly difficult for the children.
"They'd see him in his uniform and they were so worried, because he looked like the characters from 'Halo,'" she said, referring to the popular military video game.
"They kept asking, 'Is he going to die? Are we going to see him again?'"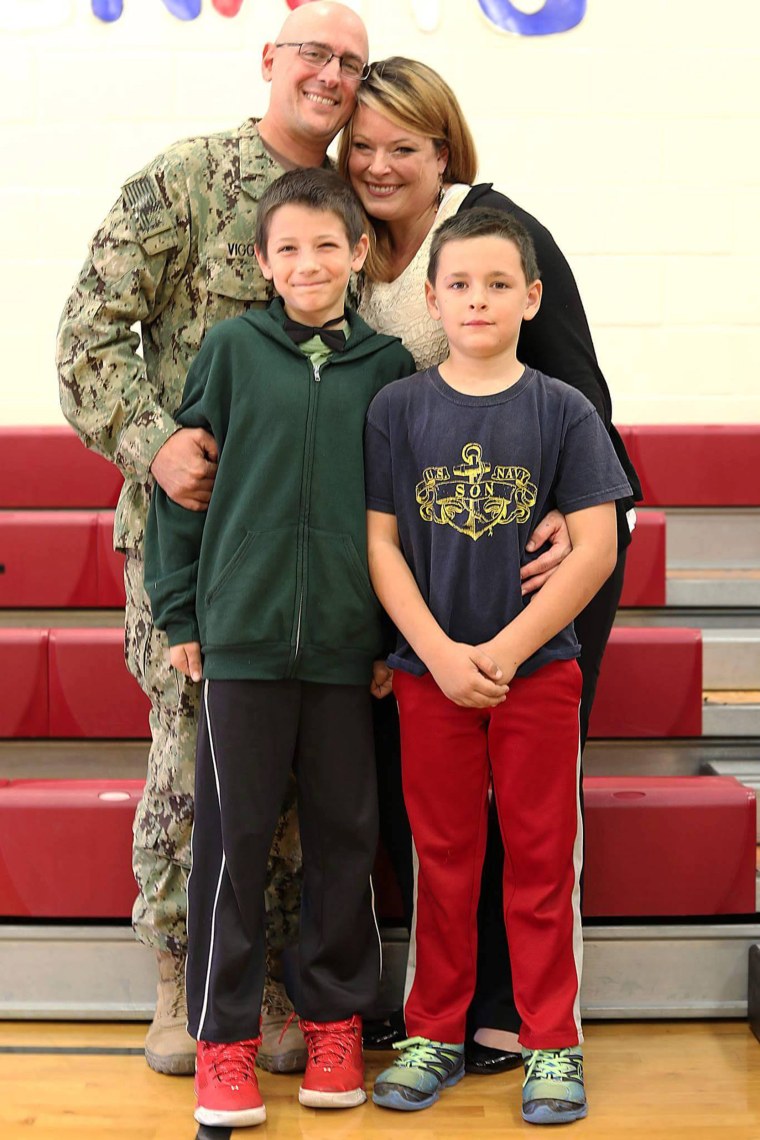 She said the support her family has received from friends and relatives in her town has been crucial.
RELATED: 'Never give up': How an ex-military dog rescued the veteran who needed him most
"We realized how this was not just our event, this is for the whole community, because they really helped us with the boys and helped me get through this whole year," she said.
"They've seen us along the way having good times and sad times and times where everything was falling apart," she said.
The Veterans Day ceremony, she added, "was kind of like the perfect book end for that."