I took our 15-year-old tabby cat, Emma, to be put to sleep this week. She had mouth cancer, and there was nothing more we could do but to allow her peace. After finding out the diagnosis, we gave ourselves one last good night to say goodbye and to tell the kids.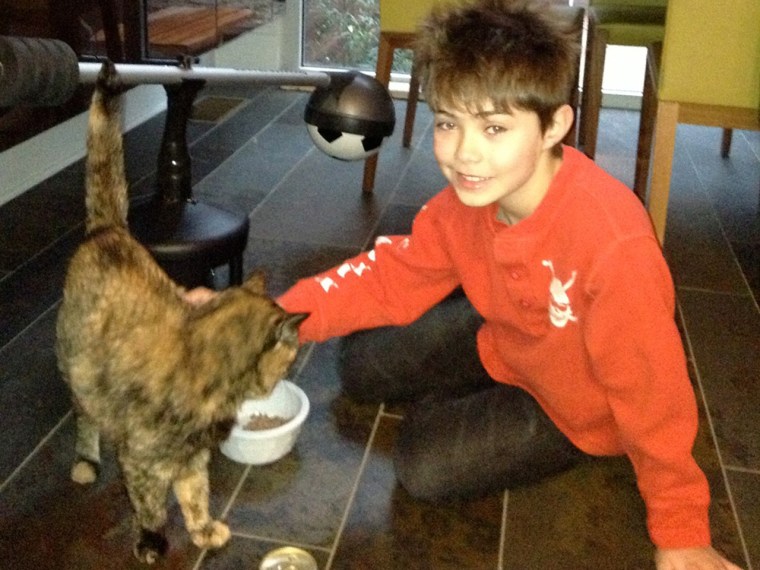 I can still remember the day I adopted Emma from the Humane Society, shortly after my husband and I had gotten married. She was our first "baby," and I remember how excited we were to have her. She was teeny tiny at just six weeks, but she immediately claimed her spot that night, literally on my heart, rolling up into a little ball on my chest.
She would always be "mommy's Emma" from then on, because she was loyal to a fault; she didn't really care for anyone else. She was a feisty cat of one master -- me. After we adopted another cat, had two sons, then adopted a dog… while still loyal, Emma kept her distance. She didn't care much for the other pets or even the kids. She was territorial and they were on her turf -- after all, she came first.
Related link: Natalie's rescue dog tale: Sit, stay, love
But in her last few days, for the first time Emma allowed my 9-year-old son Josh to pet her, purring and arching her back to him. It's almost as if she knew, and was making her own peace. Emma has always been a part of Josh's young life. The kids called her our "cranky kitty," never having known her as the sweet little kitten that claimed me as her own. But over the years, both Josh and and his 4-year-old brother Luke respected her and loved her, and letting go was not easy.
How do you prepare your kids for the hard lesson on the "circle of life?" Fortunately we haven't had to deal with death very much, so this is the first time Josh has had to confront it. Luke is still a little too young to understand. But it's one of the hardest moments in my years as a parent thus far, because not only am I dealing with my own heartbreak, but I have to put on a brave face and help our kids through their heartbreak and fears.
Josh asked lots of questions, like "Where do animals go when they die?" Thanks to a viewer's recommendation on Twitter, I read the Rainbow Bridge poem, which is beautiful and comforting, but it got both of us crying more. He asked how old our other pets were and worried they would be next. I reassured him, and all I could do to comfort him was to tell him our pets will always have a very special place in our hearts and memories, and we have even more reason to love and cherish them now.
There was lots of sorrow and tears, but the morning before I took Emma to the vet, Josh took a picture with her and accepted what we had to do. Emma had a wonderful 15 years and was always an important part of our family. She will be missed and always loved, and I will always think of her as "mommy's Emma."