The Virginia dad who inspired a nation with the short, simple notes he writes to his daughter every morning on napkins slipped into her lunchbox is now sharing his mission in a book, one he began writing weeks after learning he had cancer.
For the fourth time.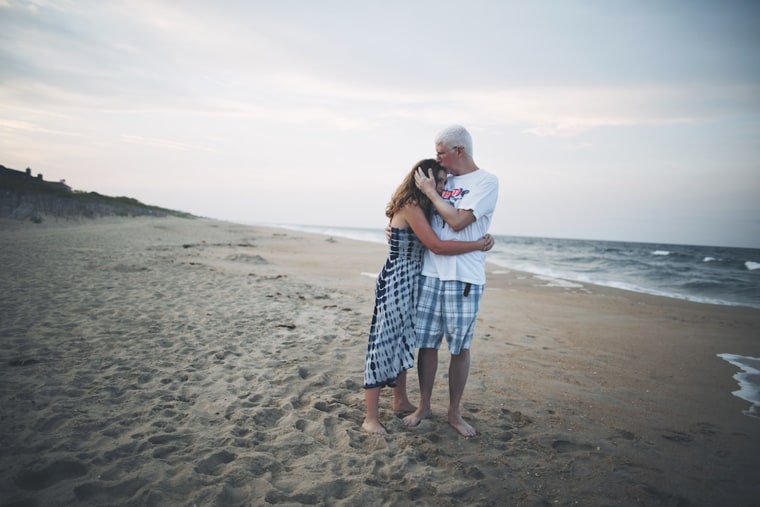 Garth Callaghan, 45, touches upon his health battles and draws parallels between them and the challenges of parenting in "Napkin Notes." The book is named after the one- and two-line notes at the center of his mission to draw people closer to their loved ones.
New Line Cinema has already optioned the book, which will hit store shelves on Oct. 28.
Callaghan started writing napkin notes to his daughter and only child, Emma, when she was in kindergarten.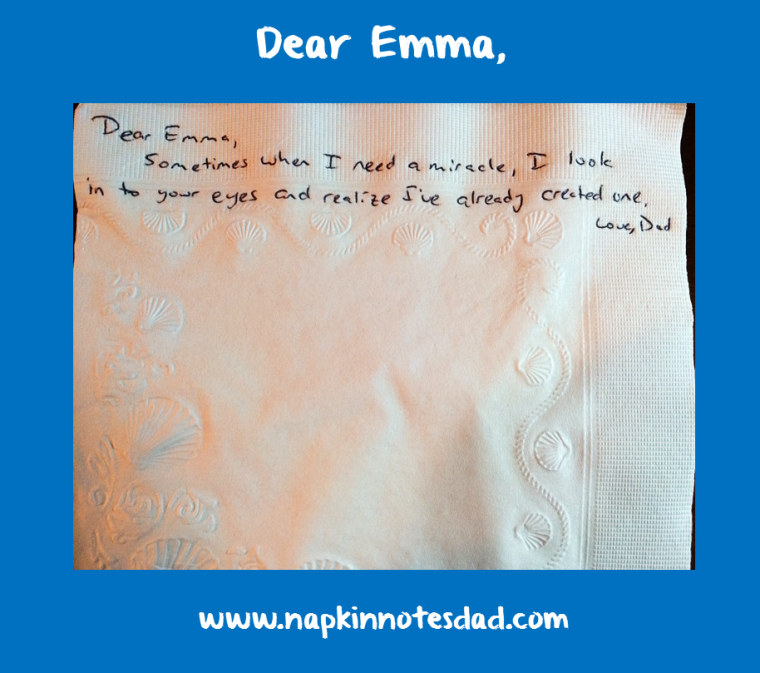 But last fall, while living with prostate cancer and battling a second round with kidney cancer, Callaghan vowed to write Emma 826 notes. That would ensure she had one for each day until she graduated from high school — even if he wasn't around to write them himself.
The story went viral earlier this year and Callaghan found himself at the attention of numerous media outlets and book publishers wanting to tell his story.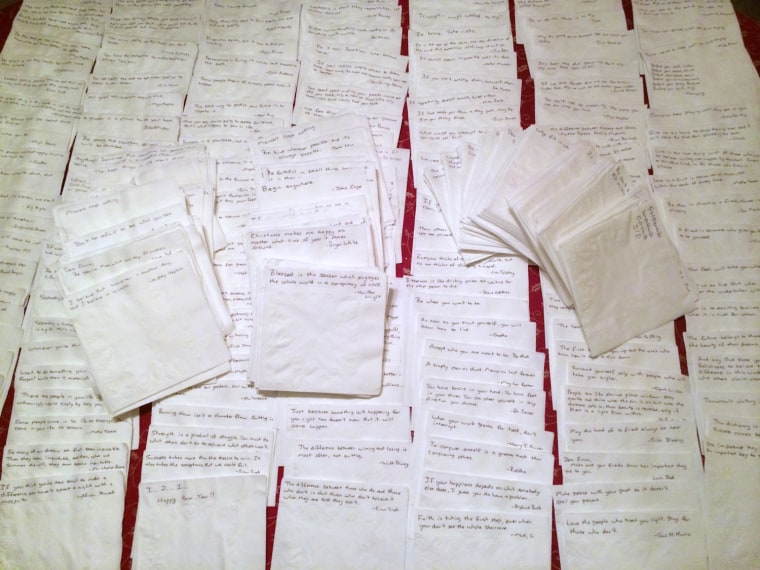 Then in February, during a routine follow-up exam, Callaghan learned the kidney cancer he thought he had successfully fought off had returned and spread to his liver.
Despite daily medicine that debilitated him physically — he likened it to "chemo in pill form" — Callaghan's determination to share his napkin notes with other parents remained steadfast.
"If anything, it solidified that this is what I'm supposed to be doing," he told TODAY.com. While his ordeal with cancer "terrifies" him, he said he refuses to let that fear consume him, or stop him from attending Emma's softball games or school functions. He also knows thousands of people rely on him daily, turning to his Facebook and Twitter feeds for motivation. They copy down his love notes and inspirational quotes, or post photos of the napkin notes they've written themselves.
"I believe in my heart that God has put me on this path and that it is my mission to inspire parents to write notes to kids, as well as to inspire cancer patients to fight like heck," he said.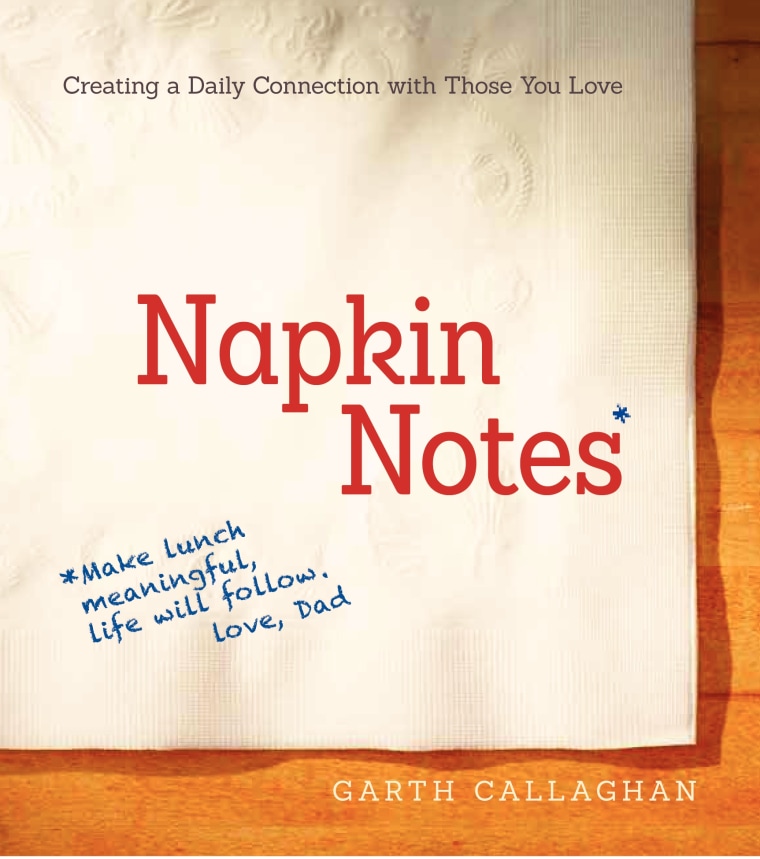 Lisa Sharkey, senior vice president and creative development director for HarperCollins, said Callaghan's story moved her as soon as she heard it. She knew readers would have the same reaction.
"His mission was to spread the word about connecting, not just connecting with a Facebook 'like,' but in a way that's so much more meaningful and thoughtful," said Sharkey, who also felt a personal connection to Callaghan: His daughter, Emma, turned 15 just days after her own daughter earlier this month.
"Here's a guy who barely has any time left. If he's able to leave something behind that allows you, with one napkin and one pen, to shine a bright light on someone you love in a tangible way, every single day like that, it's a beautiful thing," she said. "I think he's a hero."
"Napkin Notes," which already has been translated into numerous languages, concludes with a "life list" of 59 experiences Callaghan wants for Emma as she gets older, like learning how to make a great cocktail, giving away your last dollar to a friend, and even getting fired from a job.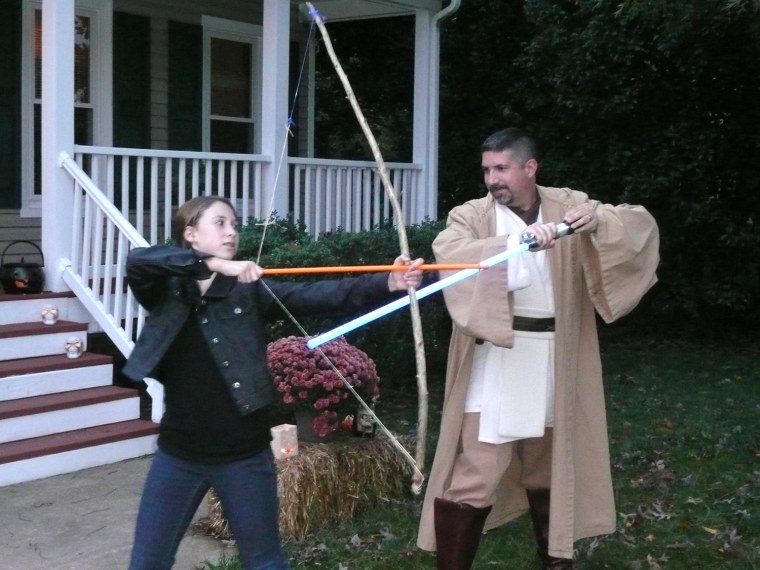 Callaghan continues to work full time, despite being constantly nauseous, fatigued and battling severe diarrhea from his medication. He's lost more than 25 pounds, his hair has gone completely white and he's lost his sense of taste, among other side effects.
"My doctor has been clear with me: I'm going to die from this," Callaghan said. "But he's also been clear that it's his job to stretch that window as long as he can. And can we stretch that window 10, 20, 30 years? We don't know. In my mind, I don't need to make it 10 years. I just need to make it to tomorrow."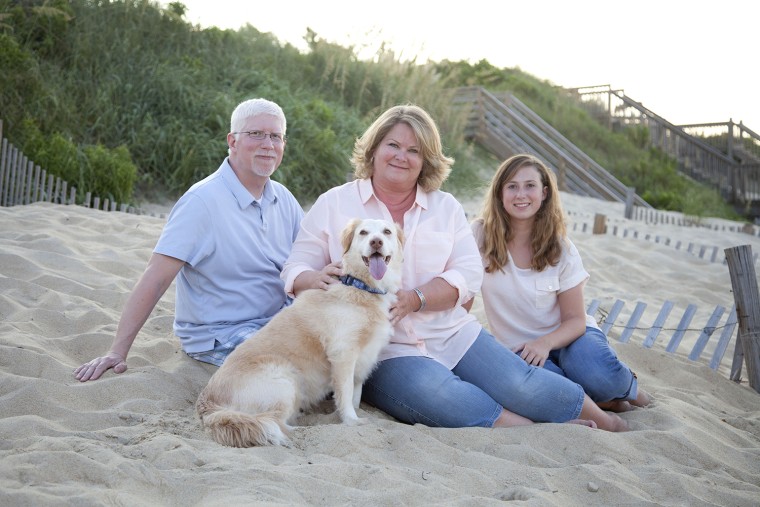 But he stressed that neither his book nor his napkin notes are about cancer, or even about dying, "because everyone dies," said Callaghan, the son of a mortician. Instead, it's about encouraging people to make the simplest connections with each other, whether on a napkin or a sticky note left at someone's desk at work.
He also hopes he can demonstrate by example how to deal with life's challenges.
"I want Emma to grow up with the same sense of perseverance and faith and charity and everything we've learned through these struggles," he said. "At the end of the day, I'm going to die. It may or may not be from cancer, but I need to make sure Emma sees these actions so when she has challenges in front of her, she can reflect on, 'Hey, how did my dad do this?'"
Follow TODAY.com writer Eun Kyung Kim on Twitter or on Google+.